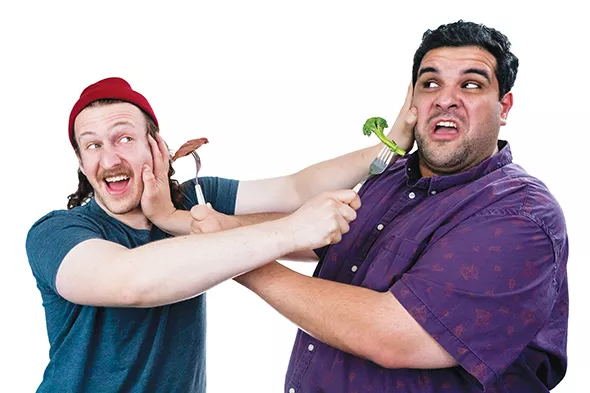 Wyoh Lee / provided
David Zwick and Winston Carter host Try It, You'll Like It.
On one level, the Try It, You'll Like It podcast is a comedy podcast hosted by talented improvisers and "taste buds" David Zwick and Winston Carter. On another level, it is an intersection of psychology and experience as they ask guests to eat a food item they do not enjoy.
Surrounded by racks of ribs, Carter and Zwick keep asking guest Nadia Osman if she's punking them, but her aversion to slow-cooked pork comes from having a Muslim father who did not eat it, and the only time she tried ribs in the past was at a chain restaurant.
Not to be outdone, Carter and Zwick — who own a smoker together — prepare an overwhelming amount of meat for the episode, including barbecue-glazed smoked spareribs, Japanese yakiniku spare ribs, braised beef short ribs over cheese grits, oven-baked spareribs cooked to mimic the flavor of sausage with fennel seed and orange and slow-cooked spare ribs turned into a gourmet McRib.
"I really dig the [yakiniku] ones and the ones that are heartier versus fattier," Osman said when Zwick asked her if she would order ribs in a restaurant. "I don't know; the whole bone thing is still freaking me out."
Carter asked her if she ever buys a rotisserie chicken at the grocery store.
"On the rare occasion that I do, I shred the meat off the bone immediately," Osman said.
"I like to pick at it [on the bone] like I'm a hyena, and I'll hiss at my cats so they know their place," Carter said with his quick improvisational wit.
Carter, who is originally from Tulsa and worked in food service in Stillwater before and after attending Oklahoma State University, met Zwick — a native of northern Chicago suburbs — while taking improvisation classes with Upright Citizens Brigade in Los Angeles and began performing as a duo.
Carter uses his knowledge from working in kitchens and Zwick leans on his years of being a passionate home cook to impart food factoids throughout episodes of the show, which began at the beginning of 2018 and includes guests from the Los Angeles comedy scene as well as restaurant owners and chefs.
"Let's have the guest confront this potential fear in a safe setting," Zwick said in a phone interview with Oklahoma Gazette. "A lot of human life is dictated by fear, and I think that's what is interesting to us, why someone might not like something, and present them with if they should still maintain that fear or if they should change their approach to food."
Carter and Zwick estimate that nearly 80 percent of guests like at least one item presented to them, but only about 20 percent become full converts, like the strawberries and mango episodes.
"People can make these giant claims about hating onions or whatever, and it's usually tied to something in your past, and odds are good that you've never revisited it," Carter said to Gazette. "Food and smell are really tied to our memories and our emotions, and I think it's fun to have other people to try it, but it also forces me to try things I would not normally try or ask myself why I'm not eating this one thing."
Zwick notes that while doing the show, he has learned Carter is a pickier eater than him.
"Everyone in the world is a pickier eater than you," Carter sarcastically responded. "I had to start a podcast so that I would try new shit. I like to travel, and that's part of the reason I travel; so that I'm forced to try new things, but I also like a lot of trash food like diner food or something you can get in a bowling alley."
Every Try It, You'll Like It episode is approximately an hour long and begins with a rotating opening segment to flex their comedy chops before showcasing their cooking skills. They try to present sweet and savory options of the food item even when it veers in the unexpected. The Buffalo wing episode featured a hot sauce cupcake topped with blue cheese frosting. Zwick baked a turnip pie (unusual for an otherwise savory root vegetable), and Carter crusted a steak in cocoa powder for a chocolate episode.
"Bitter melon is a good example because it contains a tremendous amount of quinine, which is also in tonic water," Zwick said of his process. "What if we boiled the bitter melon into a syrup and made a gin and tonic? Would you be able to make it more approachable?"
"The answer is no," Carter deadpanned.
Zwick said he started to become a passionate home cook about 10 years ago, when he moved to Los Angeles to attend University of Southern California. Now he has black garlic fermenting on the porch, makes his own kombucha and brews beer with a roommate.
"The philosophy is that if I want something bad for me, I need to make it myself," Zwick said. "I make my own ice cream."
Zwick's self-reliance led to a meta episode of the show in which he was forced to eat Taco Bell for the first time, culminating in a show-stopping moment. In homage to one of the most famous cooking movies — Big Night — Carter unveiled an il timpano filled with different Taco Bell items.
Carter worked at the original Hideaway Pizza location and a Chinese restaurant in Stillwater before working in catering in Florida and then moving to California with family about 10 years ago. Despite growing up in Tulsa, when Carter returns to Oklahoma, it is to visit Oklahoma City, where his girlfriend is from.
"Growing up, there's a rivalry between the two cities [Tulsa and Oklahoma City]," Carter said. "I used to be like 'OKC, whatever,' then I went out and had pho for lunch, went out to a few places at night and was like 'OK, I get it; there's a lot of fun to be had here.' I went to Pho Cuong three times on the last trip. I was like, 'This is not-messing-around good.'"
Carter craves food from Oklahoma that he cannot get in Southern California, like Braum's chocolate soft-serve and Tex-Mex-style queso.
"I'd say he mentions Braum's on 20 percent of our episodes," Zwick said. "He's planted that seed in a significant way."
Try It, You'll Like It is a Campfire Media production available through all major podcast providers. New episodes are released every Thursday. Follow @tryitlikeitpod on Instagram.