Jacob Threadgill
A selection of weekly prepped meals available for order through Chef Curry To Go's website. Included are roasted chicken, blackened tilapia and turkey meatballs with spaghetti squash.
I'm a firm believer that food tastes better when it's prepared with passion and love. It's why no one will ever beat your grandmother's cooking and entrees from every national sit-down chain restaurant can't hold up against the equivalent locally owned location.
This is on full display at Chef Curry To Go, where veteran chef Kendall Curry provides a fresh menu of soups, salads, sandwiches and pasta in addition to a prepared meal service option.
Curry started cooking professionally as a prep cook at Oklahoma City Golf & Country Club in 1990, but his love of cooking was born at an early age. He's the oldest of three sons of a single mother who would leave food for him to prepare for his brothers as early as 8 or 9 years old.
"I can remember when mom would put too much oregano in a spaghetti sauce or something. Even as a kid, I'd tell her, 'You don't have to cook our steaks well-done.'"
Curry's professional career took him from prep cook to line cook at places like Cafe 501, Pepperoni Grill and Ranch Steakhouse. After graduating from Platt College's culinary program in 2008, he was promoted to sous chef at Ranch Steakhouse. Curry spent time as executive chef at West until becoming self-employed in 2015.
He took business classes as part of the Platt program and started doing meal prep and catering out of his home until he and his wife Lisa secured the 5701 N. Western Ave. location just south of Classen Curve.
He opened his own restaurant in December 2016 with a focus on freshly prepared new American classics. By branding the restaurant with his name, the couple wanted the emphasis on the fact a trained chef was in the kitchen preparing each meal to-order, but it led to some confusion. Customers walked into the restaurant expecting to find Indian or Thai food because "curry" was in the name.
"Now that people have figured out we're not a curry restaurant — even though curry is a spice, not a type of food — they're finally coming in," Lisa Curry said. "We thought about changing the name, but we figured that they'll get to know us."
This year, the restaurant began selling ready-to-eat meal prep available for pick-up at the restaurant each Monday between 2:30 and 5:30 p.m. or delivered. Customers have until Friday the previous week to place orders on its website for meals like turkey meatballs with spaghetti squash, broccoli and marinara or roasted pork loin with sweet potatoes and asparagus.
Most of the meals cost $8-$10 — the price per meal from a meal delivery kit like Blue Apron — except the meal is ready to go.
Adding meal prep has bolstered the restaurant's weekday lunch service, and on a given week, profits are split between the two services. The restaurant also has added a monthly brunch service the first Saturday of every month — except this month, which will be Sept. 8 due to Labor Day. A portion of proceeds will be donated to local charity Pine Pantry, and the brunch service includes a contracted bartender and tableside service.
Chef Curry's popular shrimp and grits usually sell out within the first two hours of brunch, and Lisa Curry said his classic Belgian waffle is also popular.
The fixed menu at Chef Curry To Go is based around sandwiches, wraps, salads, burgers, pasta and seasonal soups that are prepared to-order.
On my first trip to Chef Curry To Go, I tried the pesto chicken sandwich on sourdough ($10.50). The bread was toasted perfectly while the pesto was fresh on the nicely prepared chicken breast — it was not too dry. It was a light lunch that didn't weigh me down and had me excited for the afternoon.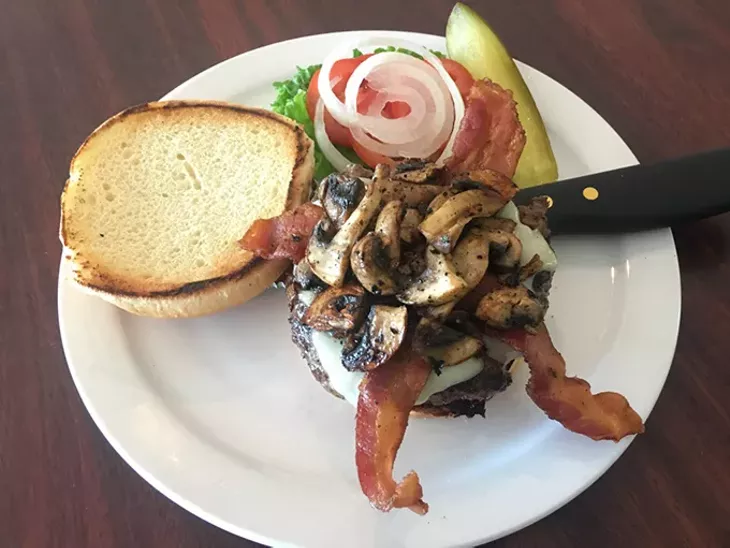 Jacob Threadgill
The mushroom bacon Swiss burger was nicely complemented by garlic basil mayonnaise.
I also tried a flatbread — a special making its way to the regular menu — with salami, cherry tomatoes, olives, artichoke hearts and a house-made marinara ($9.95) that was very good. They will also be adding a pesto vegetarian version to the menu soon.
The garlic and white wine sauce popped in the shrimp scampi ($13.99), a classic dish that got a nice summer pick-me-up from asparagus, bell pepper, mushrooms, grape tomatoes and capers. It was nice to get so many vegetables in the dish.
The star of my visits to Chef Curry To Go was the mushroom bacon Swiss burger. Curry cooked the burger to a perfect medium well upon request, and customers have the option of getting garlic-basil mayonnaise, chipotle mayo or pesto feta sauces on the side. The fresh garlic-basil mayo brought the burger from very good to great. It rivaled a Lip Smackers' burger as the best I've had this year.
The Currys have seen their business grow as they approach their two-year anniversary, and for good reason: It is fresh food prepared with love. I just wish they were open for dinner so I won't have to visit on my lunch break. I will even consider doing meal prep service with them on weeks I don't feel like cooking.
"The biggest key to me in professional cooking is that you should be able to taste some passion," Kendall Curry said. "I want to show a lot of people that I know what I'm doing and I can put out food just as good as big restaurants in the city. It was a confidence-builder to be able to hang, basically. It's the thing that motivates me to this day. When we opened, it felt like I was going up against everyone by myself."

Visit chefcurrytogo.com