Garett Fisbeck
Rawb Carter poses for a photo at his booth at Mind Bender Tattoo Shop in Oklahoma City, Wednesday, July 22, 2015.
We all remember the bleak picture that hand-wringing Okie conservatives painted for us a decade ago when tattoo parlors were still illegal.
Through trembling lips, they described seedy hordes of filthy, painted barbarians loitering on the once-pristine street corners of our fair city, howling at our daughters, parking their choppers on the church lawn, descending on our God-fearing neighborhoods like some Mongol army bent on shattering the peace of the sanctified.
Well, that was stupid.
Mind Bender Tattoo, 4012 N. Tulsa Ave., is more reminiscent of an art gallery than a tattoo parlor because that's exactly what it is. It's clean, brightly lit and inviting, and the walls (and the help) are covered with so much artwork, it's almost difficult to take in. Paintings of every style and medium imaginable — all created by Mind Bender's smiling, Technicolor staff — adorn every flat surface in the building. Portraits of Stan Lee and Sid Vicious, favorite cartoon characters, detailed renderings of the Millennium Falcon — it's like a giant funhouse, but for grown-ups.
The pieces are part of the venue's last art show, which featured the work of the seven talented tattoo artists with booth space at Mind Bender: Bobby Deneen, Jay MF Roberts, Shmitty, Derek Ketner, Josh Reynolds, Adam Antunano and Rawb Carter. The work will be coming down soon to make room for their next show, which promises to be no less eye-popping. All Decked Out, opening Saturday, features 18 local artists with street art, tattoo and design backgrounds who were charged with creating an original piece using a skateboard deck as their canvas.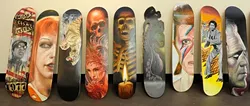 Garett Fisbeck
Painted skateboards at Mind Bender Tattoo Shop in Oklahoma City, Wednesday, July 22, 2015.
About half the decks are already there, and the work is as beautiful as it is diverse.
"We have art shows about every three months," said "shop mama" and self-appointed tour guide Corissa. "We usually try to reach out to our friends in the tattoo community for shows but really show all kinds of stuff. The tattoo community, and the art community in general, is really tight right now, so these shows end up being a lot of our friends."
Their friends produce work as diverse and serious as any group of artists in the city. From painstaking, dark realism to cartoonish design, introspective abstracts to pop-culture hero worship, each artist brings a signature style to the shop that becomes apparent the longer you're there. Tattoo art shows feel a little different from other art shows.
"They're a lot more fun," said Carter, a friendly, bearded canvas of a man who can't help smiling when he talks. "I feel like when I go into a lot of other art shows around the city, there's kind of a quiet atmosphere, kind of a 'behave yourself' vibe. It's not bad or anything; it's just different. But I think tattoo artist shows are more relaxed. They're a celebration."
He's right. The shop buzzes with positive energy, even on a normal Tuesday afternoon. Mind Bender artists quietly work on their own pieces while they're not tattooing customers (or each other), giving the shop an air of a fully functioning, viable art studio. Oldies music plays over the PA system. Everybody seems to be in a fine mood and happy visitors are there. It's way more sunshine and good vibes than Sodom and Gomorrah.
"The shows here are really cool and really fun," Carter said, beaming again, "a lot o' good art and a lot o' good people."
Visit mbtattooart.com to learn more about the venue, its artists and upcoming shows.
Print headline: Talented ink, A local shop strives to be more than just another tattoo parlor.