Emmy Verdin
Thai House serves Gaeng Ped Phed Yang-Grilled duck in red curry on Monday, June 27, 2016 in Oklahoma City.
Why do we dress up for job interviews? Why do we shower before a first date? Why didn't you go back to that restaurant?
Maybe your resume is so strong that you can walk into a Fortune 500 company wearing a Hawaiian shirt and fur sandals and still get hired.
Maybe your natural scent is so full of pheromones that bathing before getting a drink with a girl you met on Tinder would throw salt on your game. But those are exceptions, not rules.
For most of the world, first impressions matter.
Years ago, my first impression of Thai House Restaurant, 500 NW 23rd St., was not great. After a lunch there with friends, I largely avoided it, even as the rest of 23rd Street was springing back to life.
The restaurant's food and service improved noticeably over the last few years. I found out because friends started going and told me things changed. They said it wasn't the Thai House of old. I still needed convincing.
Then I tried the crispy duck ($11.95) and, as in that Monkees song, I was a believer.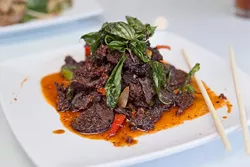 Emmy Verdin
Thai House serves Crispy duck on Monday, June 27, 2016 in Oklahoma City.
I have a love-hate relationship with duck — I love eating it and I hate not eating it — so this dish was a win-win.
The boneless duck was sliced, pounded, dredged in flour and fried to gorgeous deep brown that crackles when you slide your fork into it.
The crunchy chunks of meat are stir-fried in red chili paste, bell peppers and basil. The juice is scant but worth saving. Let it melt into the rice and give your taste buds a little extra sizzle.
When I went back, I found another mallard waiting to be devoured. Gaeng Ped Phed Yang ($10.50) is grilled duck in red curry. Again, it was excellent.
The red curry and coconut milk sauce has a burst of heat that quickly mellows, leaving specks of red on the tender, succulent duck meat. A mix of peppers and peas give the dish's texture an injection of snap, while the tomatoes and eggplant give it a satisfying heft.
Paired with perfectly cooked rice, Gaeng Ped Phed Yang is Daffy and Donald's worst nightmare come true. It is always duck season at Thai House.
If you're less interested in thinning out the waterfowl population, there is still a plethora of delicious options on the menu.
Thai fried spring rolls (five for $5.95) are a perfect argument for freshly made food.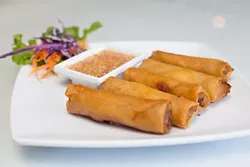 Emmy Verdin
Thai House serves Thai fried spring rolls on Monday June 27, 2016 in Oklahoma City.
Have you had egg rolls that you are positive were microwaved back to life — greasy, lifeless and almost bereft of flavor? Those are not what they serve at Thai House.
There, you get long, thin fingers of crispiness wrapped around pork, vegetables and bean thread noodles. They arrived at my table still sizzling from the oil, daring me to pick one up and test my mettle.
(Spoiler alert: My mettle should have waited a minute.)
Though they're served with spicy peanut sauce, the spring rolls were just as delicious on their own or with a little soy sauce sprinkled inside.
Thai House has a much-loved buffet, but I like ordering off the menu so everything comes out fresh and I get to take home the leftovers. Your mileage might vary.
Another dish I'm almost physically incapable of resisting is Kee Mao noodle ($9.95). This Thai-style drunken noodle dish is sweet, sticky and best with beef, in my opinion.
Emmy Verdin
Thai House serves Kee Mao Noodle-Thai drunken noodle on Monday, June 27, 2016 in Oklahoma City.
There's just something about those wide noodles that I love. With just a bit of chew to them, the noodles in this entree don't disappear quite as fast as those in the better-known pad thai. The sauce is heavy with garlic and chili flavor, though you can ask your waitress for a lower heat threshold and she will only judge you a little bit. However you order it, drunken noodles is a delightful dinner, especially if you're looking for something to fill your belly before a long night's sleep.
If you need a lighter, more lively dish for lunch, I recommend the Kao Pad Kra Pao ($9.75).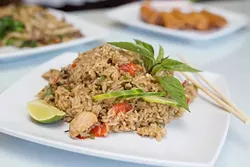 Emmy Verdin
Thai House serves Kao Pad Kra Pao-Sicy basil fried rice on Monday, June 27, 2016 in Oklahoma City.
As much as I love regular fried rice, I am far more interested in Thai House's spicy basil fried rice with chicken or pork. Chicken doesn't add a ton of flavor, to be honest, but it does soak up all that spicy basil sauce. The pork has a bit more character, but it really depends on your personal taste. I'm good with either.
Kao Pad Kra Pao is rich with the sweet scent of basil. The bell peppers and onions give it some crunch, but the rice and meat stay tender. The only issue I have with it is the heat. If I get it as spicy as I want it, then I can't eat it quickly. But it tastes so good, I'm going to keep shoveling it into my mouth as fast as I can. It's a real conundrum.
Thai House Restaurant got a second chance at a first impression and nailed it. It's a reminder that, just like that guy who wore an Affliction shirt on your first date 10 years ago, restaurants can change for the better over time.