ShowBiz Cinemas / provided
ShowBiz Cinemas opens in Edmond on Dec. 18.
The new family entertainment center and cinema complex opening Dec. 18 as part of a major development at Interstate 35 and Covell Road in Edmond has been a long time coming.
The property is a ShowBiz Cinemas —"Bowling, Movies and More!" — concept located at 3001 N. Market St. It will open to the public this Friday, after several years of planning and hard work.
In fact, ShowBiz Cinemas CEO Kevin Mitchell said he has been looking at Edmond as the next place for one of the company's sprawling theaters since 2007. Unfortunately, the real-estate market downturn put a stop to any serious planning early on.
This year, Mitchell is happy to finally expand beyond the cinema company's seven Texas locations. He credits the city of Edmond and those involved in economic development with helping its progress.
"I've always liked the market," Mitchell said. "I think it's very promising. It seems to be growing. And the people there have been fantastic to deal with."
The groundbreaking for the complex was almost exactly one year ago, on Dec. 18, 2017. The original plan was to open the cinemas before Thanksgiving of this year, but excessive rain throughout the summer delayed construction.
The company will still make its new pre-holiday opening date on Friday, just in time for a busy season of family and awards films.
ShowBiz prides itself on being more than just a straightforward moviegoing experience.
"One thing you've got to keep in mind with our concept is we're not a theater," Mitchell said. "We're much more than a theater. We're a destination zone and an entertainment center."
At the new 65,000 square-foot Edmond location, guests will be able to bowl in one of 14 lanes while enjoying food from a nearby cafe or drinks from a full bar. There is also a large arcade on-site, as well as party rooms for events.
The theater itself will have 10 screens with oversized recliner seating. Its Superior Digital Experience theater will have Dolby Atmos sound and an impressive screen that looms four stories tall.
ShowBiz will hold a ribbon cutting and red carpet event Dec. 17. The celebration will feature appearances from Mitchell, Edmond mayor Charles Lamb, members of Edmond Economic Development Authority and the Edmond North High School band.
Director of marketing Beth Miska said ShowBiz is thrilled that Edmond North's band and other public figures are involved in the grand opening.
"For all of our theaters and all of our openings, we really like to make sure that the community feels as involved as possible," she said, "because the locations really are for the community."
Chuck and Gena Norris will also be in attendance. Martial artist and actor Chuck Norris is an Oklahoma native, and he and his wife are close friends of Mitchell.
The ribbon cutting will begin at 5:30 p.m. Guests at the event will be treated to free bowling, games, movies and concessions. The cinema expects up to 1,000 attendees.
ShowBiz will be holding giveaways for VIP passes to the event on its social media pages, and listeners of KJ103 and 101.9 The Twister will have opportunities to win free passes as well.
Miska said there will be additional giveaways during the last few weeks of the year. For instance, ShowBiz Cinemas offers a free Star Rewards loyalty program, which allows customers to earn points toward tickets or concessions. Edmond visitors who sign up for the program between now and the end of the year will be entered to win free movies for a year.
ShowBiz also offers discounted movie tickets on Tuesdays and discounted bowling on Wednesdays.
"It's very important for us to reward our loyal customers," Mitchell said.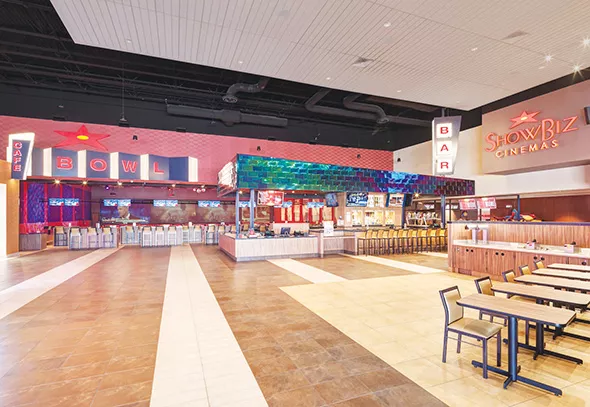 ShowBiz Cinemas / provided
ShowBiz Cinemas features a bowling alley, a bar and 10 screens with recliner seating.
Family flicks
Oklahoma City is seeing more than one new theater chain move into the city, with a Flix Brewhouse coming to Broadway Extension and Britton Road in 2019 and another Texas staple, Alamo Drafthouse Cinema, soon joining the Chisholm Creek development at Memorial Road and Western Avenue.
Mitchell said he appreciates his competitors' business models, but he pointed out a key difference between the various chains.
"I think the name speaks for itself," he said. "They're more of a bar, and we're more family atmosphere and family-oriented. And while we have a bar in our locations, we have zero desire to be in the bar business."
He said ShowBiz Cinemas has the unique ability to be an event space, as well. A staff member will even be available in Edmond to help plan events.
"That's the beauty of our concept," Mitchell said. "We can cater to a variety of groups, and we can specialize these events any way that our customers desire."
The spaces can be utilized for parties, corporate gatherings, banquets, fundraisers and more. Mitchell said one Texas location recently hosted a lock-in. Miska added that the new location is already getting interest for upcoming events.
The Covell Road area where the new center is located is one the city of Edmond hopes will be one of explosive commercial development within the next 10 years, especially as a major entryway into the Oklahoma City metro area along the Interstate 35 corridor.
Edmond has already spent over $12 million to widen and improve Covell Road in anticipation of increased traffic.
According to Janet Yowell, executive director of Edmond Economic Development Authority, the financial impact of ShowBiz Cinemas will be significant, with an estimated $390,000 brought in via local sales tax collections.
At the moment, the area still appears open and green, but businesses like Starbucks, Braum's Ice Cream & Dairy and Shoppes at East Covell retail center are springing up around the anchoring Hilton Garden Inn, where Edmond Conference Center and Edmond Visitors Bureau are also located.
And the brand-new ShowBiz Cinemas building faces the Hilton, ready to lure travelers and locals alike.
Visit showbizcinemas.com.