Garett Fisbeck
Bricked Chicken at Upper Crust Pizza, Friday, March 18, 2016.
It was the chicken that made me worry.
Go into a steakhouse and the steak should be the best thing on the menu. Drop by a taco shop and you'd imagine the tacos ought to be your must-have item. No one is surprised to find out that a Chinese restaurant specializes in Chinese food.
But that bricked chicken at Upper Crust Wood Fired Pizza, 5860 N. Classen Blvd., is better than any pie on the menu.
That might sound like a slight on the pizza, but I assure you, it's just a tip of the cap to a really tremendous piece of bird. Bricked Chicken ($13) is an airline-style chicken breast marinated in garlic and herbs before being smash-seared. The chicken holds onto its moisture even as the flavorful skin is crisped to a lovely bronze, propelling you through bite after bite of this dish until — poof — it's all gone.
Another bit of chicken on the menu that you cannot ignore are the Buffalo-style wings ($9), which are trimmed to make for the easiest hot wing eating experience you can get while still eating actual hot wings.
Do we have to talk about how boneless wings are a joke? Don't fall for chicken nuggets drenched in sauce; get this sweet and spicy version of the real deal. They're crisp, fatty and delicious, and it won't take much work to strip the meat from the bone.
Now if you're still in the mood for chicke— what? Oh, you want to get to the pizza in this review of a pizza place? Fair enough. Let's split the difference and talk about the Al Frey Do Chicken pizza ($17).
Garett Fisbeck
Al Frey Do Chicken pizza at Upper Crust Pizza, Friday, March 18, 2016.
Marinara sauce is the jam, and don't bother saying any different. But as good as a classic crust with red sauce can be, there's something quite alluring about sweet, creamy Alfredo sauce on a pie. Alone, that might be a bit too much, but Al Frey Do breaks up the richness with chunks of bricked chicken and smoked bacon and crisp slivers of spicy red onion and herbaceous chive. The bite of the vegetables is soothed by the creaminess of the sauce and the fatty satisfaction of the meats.
For something a bit more direct in its intentions, the aptly named Some Like It Hot pizza ($13) is all about the spice. Peppadew, pepperoncini, hot cherry peppers and spicy Italian sausage bring the heat and a balsamic glaze gives it that vinegary pop that puts the flavor into focus.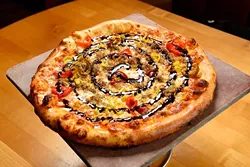 Garett Fisbeck
Some Like It Hot pizza at Upper Crust Pizza, Friday, March 18, 2016.
The eponymous crust of Upper Crust is chewy — a good base for all these strong flavors — but be prepared for a slightly smaller pizza than you'd find at chains. This is a high-quality product, and it's about the same size as pizzas at The Wedge, Pizzeria Gusto and The Saucee Sicilian.
That dough comes in handy in another dish I love: classic turkey piadine ($10). That's a fancy word for a fancy flatbread sandwich, but it's a doozy. Sliced turkey and bacon are a great base for any sandwich, but with that slightly chewy, slightly doughy bread and a mix of Swiss cheese, jalapeños, onions and chili mayo, it has got kick that puts any Subway sandwich to shame. That chili mayo is a killer. Bottle and sell it, Upper Crust. I'm buying.
Garett Fisbeck
Classic Turkey Piadine sandwich at Upper Crust Pizza, Friday, March 18, 2016.
Because I'm sometimes a dainty little flower, I also got the Farmer's Market Salad (small for $5, large for $8), and it was the weirdest thing. You know when you eat something and it tastes good, but then you don't immediately need a nap afterward? That's what it was like eating this mix of bibb lettuce and arugula; thin-sliced apples; crunchy, sweet candied walnuts; and tangy Gorgonzola cheese. I ask for the balsamic vinaigrette on the side not for diet reasons, but just because this salad has so much flavor, too much balsamic is just overpowering.
Ovens are pretty awesome. You can cook pizzas, piadines and other round things, like the ridiculously good cookie pie ($8). This isn't going to change your life. Or if it is, wow, you have led a very sheltered life. It's a big, warm, oven-fresh cookie with ice cream on it. There's nothing not to love here, unless you're like Batman, but instead of a robber, your parents were killed by warm, chocolatey happiness.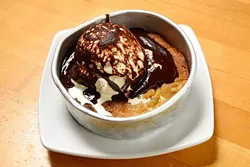 Garett Fisbeck
Cookie pie at Upper Crust Pizza, Friday, March 18, 2016.
Though it's actually an appetizer, I think Little Bit of Goat Cheese ($9) would make a pretty good dessert, too. It's a lovely hunk of creamy goat cheese covered in panko breadcrumbs and fig preserves served with warm pita bread. It's not as sweet, but it goes well with a bottle of wine.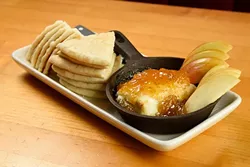 Garett Fisbeck
Little Bit of Goat Cheese at Upper Crust Pizza, Friday, March 18, 2016.
So what if the best thing at Upper Crust isn't pizza, but a delicious piece of perfectly cooked chicken? It's not as if the rest of the menu suffers by comparison. On the contrary, this is a restaurant that has proven over the years that it doesn't matter what you're cooking as long as you do it really well. It's that blend of culinary talent and great service that have put Upper Crust in the upper echelon of Oklahoma City pizza parlors.
Print headline: Bricked house, Upper Crust's pizzas are good, but the bricked chicken steals the show.