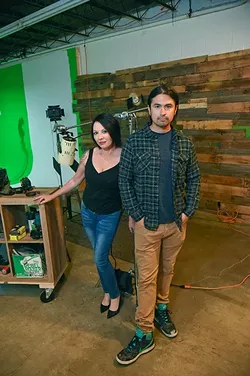 Mark Hancock
Midwest Horror Shorts Festival organizers are Victoria Michaels, and Chris Forest, photographed in their studio in MidTown OKC, 9-21-15.
Oklahoma City creatives Chris Forest and Victoria Michaels designed and organized Midwest Horror Shorts Film Festival because they believe friends that scream together don't get their heads severed or eaten by zombies together.
The event, Oct. 30 at OKC Farmers Public Market, 311 S. Klein Ave., showcases works from around the world that run 10 minutes or less.
"We decided to set up the festival because, in addition to connecting great films with the general public, we saw an opportunity for Oklahoma film buffs and filmmakers to come together for sort of a fall retreat," Forest said. "There's no better bonding experience than getting the crap scared out of you."
He said the filmmaker submission window closes Oct. 10, and he expects to select at least 20 films, many of them made in Oklahoma. The start-up fest also will feature panel discussions with filmmakers, a costume contest, a DJ and other entertainment.
"The local scene is booming," Forest said of the filmmaking industry. "I think the locals are bringing a level of dedication and talent that is outmatched by no one — not Los Angeles, not New York, not New Orleans. OKC is its own brand."
Forest writes and directs, and Michaels' feature-length screenplay Two Birds with One Stoner is a finalist in the 2015 Oaxaca International Film Festival in Mexico. She also is the daughter of iconic local late-night horror movie host John Ferguson, aka Count Gregore, who she said will appear at the event.
Both are self-proclaimed horror fans.
"I think what makes a horror movie good is whether or not it has the ability to, even momentarily, cause me to question my senses," Forest said. "It's not blood, gore or monsters, per se. All can play a part, but a good horror movie has me asking, 'What was that? Did you hear that? Was that a ghost I just saw?' There's a level of mystery and that ominous, calculated suppression of information is part of what scares us."
That's not to say he's immune to a good scare.
"I personally can't watch horror films by myself; my imagination is too vivid," he said. "I'm the guy who has to keep all the lights on for the rest of the night if I watch alone."
Learn more about the event and submit a short film at midwesthorrorshorts.com.
Print headline: Frightful fun, This holiday season, the best way to celebrate horror cinema might just be huddling around the screen at this local film festival.