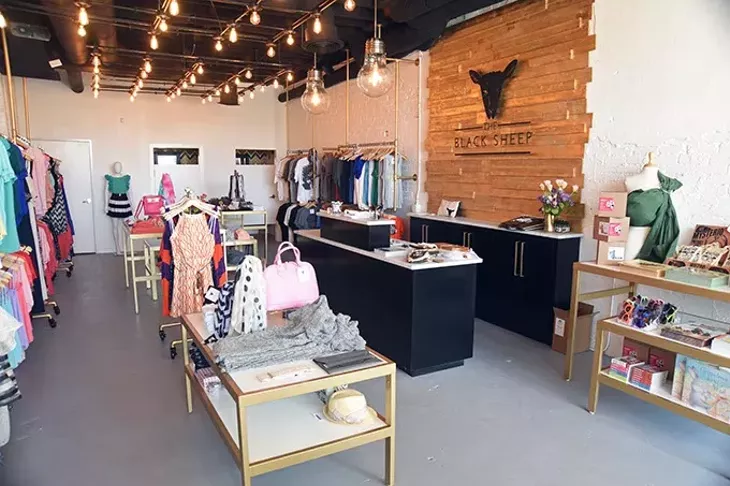 Black Sheep is a new shop near the Walker Circle in MidTown. mh
As the popularity boom in Midtown continues, retail and business spaces are filling up and creating a prime commerce spot for people from all walks of life. It was this groundswell of local pride that inspired Rachael Gruntmeir — who has only been back in Oklahoma a little over two months — to open up the newest shop on the block, The Black Sheep, 1112 N. Walker Ave., Suite 104.
A lifestyle boutique that offers both men's and women's clothing, pet products, children's items and a wide selection of specialty items from numerous Oklahoma vendors, The Black Sheep will carry a full range of goods that reflects Gruntmeir's passion to be a part of the district's Keep It Local movement, creating a shopping experience that she believes will bridge a gap and give the full boutique feel to the area.
"Ever since I can remember, people have always told me I needed to do my own business, and I always just kind of shrugged it off," Gruntmeir said. "But I've always been designing my own clothes, and after so many people have offered to buy my clothes and have had an interest in my designs, that's when I finally thought ... I really could do it."
While acknowledging that she could have opened this type of boutique anywhere in the world, she said that it was the immediate support of the community that led her to realize OKC is where her heart truly was and she wants to contribute to it and be a part of it.
With a background in interior design and having studied boutiques during excursions to countries such as Italy and France, Gruntmeir has the idea of putting what she calls a "true boutique feel" in Oklahoma City — designing every inch of the space and keeping the product selections very hands-on, complete with a custom clothing line that she aims to fit every size need for women, from small to 3XL, because she believes everybody is different and everybody needs to feel good about themselves.
"This is truly shopping local, which is something that Oklahoma is such an amazing place to do," Gruntmeir said. "It not only supports myself and my store, but also the other vendors that I'm carrying in there."
Print headline: Sheep shop, Midtown's newest boutique caters to a local lifestyle.