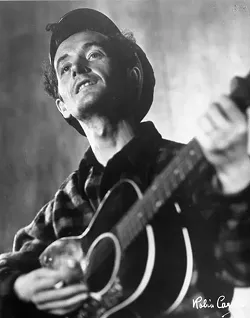 Greg Johnson's annual tribute to Woody Guthrie is in its 26th year, and it's quite possibly more relevant today than it has ever been. And that's saying something.
Johnson owns The Blue Door, 2805 N. McKinley Ave., an Oklahoma City venue that regularly features some of the best singer-songwriters and acoustic artists from across the state and nation. This year's tribute to the Okemah-born working class folk icon and outspoken social activist begins 7 p.m. Sunday. The showcase features John Fullbright, Red Dirt Rangers, Michael Fracasso, Kierston White, Susan Herndon, Andy Adams, Annie Oakley, Gregg Standridge, T.Z. Wright, Miss Brown to You and more.
President-elect Donald Trump's Nov. 8 win added accelerant to a fire in Johnson. He said Guthrie was a man who always looked out for the next person in line and his songwriting and personal beliefs don't gel well with many things the New York businessman said during his campaign.
"Woody was a guy that evolved greatly from growing up in very racist traditions in Oklahoma," Johnson said. "He overcame that and fought very hard for the equality of all men."
Johnson said the spirit of Guthrie is about fighting for the rights of others with no expectation for anything in return. The owner said the folk musician would have been for raising the minimum wage and a vocal advocate for many of today's social movements like Black Lives Matter.
"Woody would have been 100 percent against Donald Trump in every single way," he said.
Guthrie does have a documented history of opposition to the Trump family. The New York Times reported in January that British scholar Will Kaufman discovered lyrics about Trump's father, Fred C. Trump, written while the latter was Guthrie's Brooklyn apartment complex landlord.
Shortly after signing his lease, Guthrie realized that Fred Trump restricted blacks from renting apartments in the building.
Kaufman, author of the 2015 book Woody Guthrie, American Radical, discovered the writings while conducting research at Tulsa's Woody Guthrie Center public museum and archive.
"I suppose Old Man Trump knows just how much racial hate he stirred up in the bloodpot of human hearts when he drawed that color line here at his eighteen hundred family project," Guthrie wrote in his "Old Man Trump" song.
The nomadic songwriter and poet moved to New York City in 1940, and some of his earliest songs were recorded there. His first album, Dust Bowl Ballads, was recorded in New Jersey.
Personal stand
Johnson said Guthrie would not be proud of the political makeup of today's Oklahoma.
"We live in our beloved state of Oklahoma, home of Woody Guthrie and Will Rogers, and seven out of 10 people voted for Donald Trump and we have a governor like Mary Fallin," Johnson said. "We have a lot of work to do."
Johnson clarified that his consternation is not attributable to feuding political parties. He believes Trump's election is a sign that fascism has a foothold in the United States.
"I don't care if it's going to be subtle or if it's going to be blatant; I don't know what's going to happen," he said. "But the fact of the matter is that people voted for hatred."
Johnson said he refuses to be silent when he encounters injustice and discrimination. He said he actively promotes human and civil rights.
"If it means not being very polite sometimes," he said, "that's just tough."
The annual tribute does more than make a political statement. It also provides an opportunity for like-minded artists and music fans to come together and hang out.
"It gives us a sense of unity and it gives us a sense of belonging," Johnson said. "That's one reason we really think it's important to continue, even with the annual Woody Guthrie [Folk] Festival each year in Okemah."
Johnson's Guthrie tribute predates Woody Guthrie Folk Festival, which launched in 1998. His first tribute happened in 1991 in Austin, Texas, when Johnson lived in that city. His first local tribute show happened in 1994 after he moved to Oklahoma City.
The event draws at least a partly familiar crowd each year, though Johnson said he had been involved in the community long enough that it is hard for him to tell if the people he recognizes at the show are regulars from previous years or not.
"The thing sells out so quick that I don't know who comes and who doesn't," he said.
Decked-out December
The Guthrie show is sandwiched between sold-out, two-night gigs by John Fullbright (Friday and Saturday) and John Moreland (Dec. 8 and 9), spearheading a successful and busy month at the venue.
Johnson said he sometimes hears people complain that too many of his shows sell out, but that usually only happens for his most popular shows.
"What most people don't realize is The Blue Door is only sold out 10 percent of the time," he said.
December's schedule features a Thursday Billy Crocket album release show celebrating Rabbit Hole, his first new project in seven years. Austin folk and Latino singer-songwriter Tish Hinojosa performs Dec. 10. Ian Moore performs Dec. 15, and Travis Linville holds an album fundraiser show Dec. 16. Acclaimed Austin guitarist and songwriter Jon Dee Graham gigs there Dec. 17. At 2 p.m. Dec. 18, Red Dirt Rangers hosts its annual kids Christmas show, followed by an 8 p.m. Hard Candy Christmas showcase with Sunny Sweeney, Brennen Leigh, Courtney Patton and Jamie Lin Wilson.
"There's always something going on here," Johnson said.
Visit bluedoorokc.com.
Print headline: Folk fight, The Blue Door owner Greg Johnson's annual Tribute to Woody Guthrie showcase kills fascism.