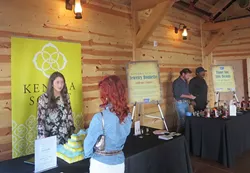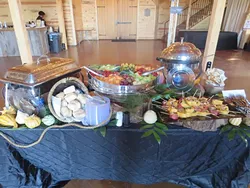 Put on your cowboy hat and your faded blue jeans because it's time for American Cancer Society's annual Cattle Baron's Ball. Now in its 14th year, the Western-themed event is a fun and unique way to connect with Oklahoma's colorful roots while raising money to help fight and cure cancer.
Every dollar raised at Oklahoma City Cattle Baron's Ball helps fulfill the American Cancer Society's vision of a world free from the pain and suffering of cancer, said events manager Devyn Smith.
"From research to education, prevention to diagnosis and from treatment to recovery, the American Cancer Society provides support to everyone impacted by cancer," Smith said. "In fact, 500 lives are saved every day from the disease."
The Cattle Baron's Ball typically attracts around 500 guests, Smith said. This year's event is 7 p.m. Sept. 30 at The McGranahan Barn, 12310 Northwest Expressway, in Yukon. The gala is open to the public.
"This year, we are offering a Taste of the Metro dinner featuring menu offerings from Oklahoma City's favorite eateries like Fassler Hall, Pizzeria Gusto and Whiskey Cake," Smith said.
Roundin' up entertainment
No cattle baron's ball would be complete without entertainment. Stillwater Red Dirt act Bo Phillips Band (Stoney LaRue's brother) headlines and country duo The Rankin Twins also will perform. Along with music and dancing, patrons can participate in silent and live auctions.
The ball also features what Smith called "midway games," including roulette, a mug slide and an annual favorite called Heads or Tails.
"We [also] are recognizing the cancer survivors in attendance and will have a mission moment when we highlight the American Cancer Society's work in pediatric cancer," Smith added.
The American Cancer Society is a nationwide, community-based nonprofit with more than 2 million volunteers throughout the country that advocates to eliminate cancer, save lives and reduce suffering. More than 1 million Americans are diagnosed with cancer each year, according to the American Cancer Society. Two-thirds survive at least five years, due in part to the nonprofit's work.
"The Cattle Baron's Ball is a meaningful way for Oklahomans to collaborate and support our state's ongoing mission to save lives and celebrate life each day," Smith said. "This is always a fun-filled event."
Attire for the Cattle Baron's Ball is "Western flair," Smith said.
"Through the expansion of groundbreaking health systems here in the metro, Oklahoma City has become a destination for critical cancer treatment," he said. "This event has raised more than $1.4 million since it began."
Tickets for the Cattle Baron's Ball start at $200 and can be purchased at cattlebaronsballokc.org.
"Print Headline"; Cowboy way, American Cancer Society's Cattle Baron's Ball returns for its 14th annual gala.