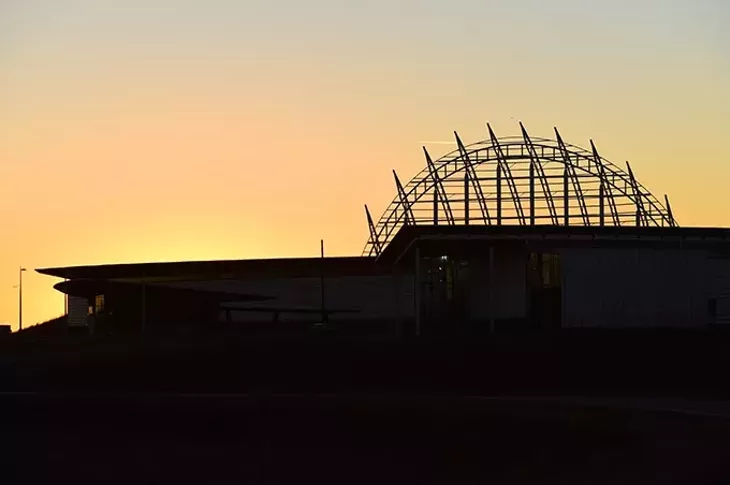 This year, Oklahoma City has dozens of policy interests it wants to advance at both state and federal levels, including funding the completion of a Native American museum, increasing transit funding and allowing the city to collect sales tax on Internet sales.
"The American Indian Cultural Center [and Museum] has got to be resolved," said Jane Abraham, the City of Oklahoma City's community and government affairs manager.
Since 2012, the unfinished museum has sat dormant as state lawmakers debate over where to find the additional $40 million needed to complete it. Some legislators proposed letting the city complete the project, but the city's position is that it's the state's responsibility, Abraham said, especially after its donation of the land for the museum and investments made along the river where it's located.
"There were a lot of promises that the city has kept as part of that project, including putting water in the river, which has made that area around the [museum] attractive for development," Abraham said. "The way that it is sitting out there now, it is costing the state money and it's not generating any revenue."
Another City Hall priority at the state capitol is to increase public transportation funding. Since 2006, annual state transit allocations have stalled at $5.75 million, while highway and bridge funding grew by $132 million.
"It's important for us but also a real challenge when you look at the state budget situation they are facing," Abraham said. "They used a lot of one- time money last year that they are going to have to try and figure out where to get it this year."
At the federal level, one City Hall priority is enactment of the Main Street Fairness Act and Marketplace Equity legislation.
"Municipalities and states have taxes due to them from Internet sales, and we are unable to collect them, and Congress has the ability to close that loophole," Mayor Mick Cornett said about the act during an appearance last week on Bloomberg TV.
The city estimates it loses between $15 and $18 million in tax revenue from Internet sales, and it hopes the U.S. House will pass the act that cleared the Senate.
Jane Abraham, government affairs manager for City of OKC, with legislative district and city ward overlays. mh
OKC also hopes Congress enacts a long-term transportation-funding plan to send cities more money for public transit needs. OKC's transit system reports 30 percent of its buses exceed use limits and need to be replaced.
In the same Bloomberg TV interview, Cornett expressed little confidence in the federal government's ability to move on key issues like transportation and infrastructure funding.
"I think what mayors want right now is action out of Washington, and what I saw [in the State of the Union] was another partisan pep rally," Cornett said.
Back at the state level, the city attempted to better connect with dozens of lawmakers who represent portions of the city. As many as 44 state senators and representatives have districts within OKC city limits, including several new legislators.
The city created a map showing Senate and House boundaries inside city limits and encouraged Oklahoma City Council members to reach out to those who are in their wards.
"It's a very diverse group," Ward 4 Councilman Pete White said about OKC legislators. "This year, we put together a special effort of talking to legislators. You do get this kind of feeling that when [the council] personally sends a note, makes a phone call or sends an email ... It's a good deal for us."
This year, a different lobbying firm represents the city. The council approved a contract with The Taylor Group last year.
"We are working very hard to try and develop relationships with the new legislators that are coming in because there are a lot of new faces," Abraham said. "So much of the success at the capitol is personal relationships, and we are trying to develop it. With a lot of new members, they may not know a lot about how cities are run, and we want to help them understand."
Abraham also stressed the City of Oklahoma City is a nonpartisan organization and that many of its issues are not associated with political party platforms.
"We work with whoever is interested in listening to us, and we work with both Democrats and Republicans," she said.
ISSUES TO WATCH
State:
Local control:
The City of Oklahoma City promotes the ability of cities, especially the state's two largest, to maintain local control over many issues. Last year, the state stripped our city's ability to create a vacant property database and increase its minimum wage.
Sales tax monitoring: A continuing priority for the city is to monitor state efforts to create more sales tax exemptions. Ideas include removing sales tax on some items, such as groceries, which would cost the city $35 million in annual revenue.
Utility bill liens: OKC supports changes to a state statute so the city can collect overdue utility bills on property when it is sold. Many other states provide cities the opportunity to collect delinquent utility payments through liens.
Federal:
Tinker:
Tinker Air Force Base has been in OKC since 1941. It employs more than 27,000 people, making it a critical part of the local economy. With automatic spending cuts in place to the national defense program, city officials are reviewing those cuts and their impact on Tinker.
Air operations: Will Rogers World Airport and Mike Monroney Aeronautical Center (an FAA Regional Office) employ more than 12,000 people. City leadership urged Congress to continue its support for both air transportation services and OKC FAA operations.
Tax-free bonds: City leaders support retention of tax-free municipal bonds, which saved the city nearly $9 million in 2012.
print headline: City agenda, Local leadership focuses on several state and federal issues, from transit funding to sales tax exemptions.