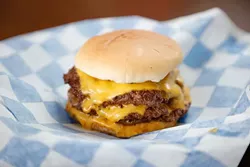 Garett Fisbeck
Jucy Lucy at the Cow Calf-Hay in Edmond, Thursday, Oct. 1, 2015.
There are few questions I hear more often than, "Where's the best burger in the city?"
Those questions are, "Who are you?!" and "How did you get in here?!" and, occasionally, "Will you leave already?"
But when I'm not breaking and entering, I'm burgering and eating, so I have a pretty decent handle on the metro's best bovine patties.
Nic's Grill is amazing and worth the wait. The No Name Burger at Irma's Burger Shack is a revelation. There's a highly underrated burger at Chester's Billiards & Grill and (I've heard) at Red Dog Cafe.
But there is another burger ready to join the pantheon of greats. And it's at the painfully named Cow Calf-Hay, 3409 Wynn Drive, in Edmond.
The pun in the title is followed through inside the charming little restaurant, which gains its fashion sense from the City Bites chain, as there are framed pictures of cattle on the walls, a giant ceramic cow in two parts, ropes and the rest.
This is a restaurant proud of its beef, and that's pride well deserved.
As a starter, it's a difficult choice between fried pickles ($4.29) and fried green beans (small order $4.99), one I was not willing to make. King Solomon himself would have trouble deciding between two deeply unhealthy, deeply delicious and deeply fried appetizers like these.
Garett Fisbeck
Fried pickles at the Cow Calf-Hay in Edmond, Thursday, Oct. 1, 2015.
The fried dill slices are lightly breaded and freshly fried with a zing of sourness in every bite. The green beans are coated in a spicy breading that will zap your taste buds to life. Could you forego a burger and just eat these? Certainly.
Contenders
Better, though, to press on into beefier territory and order the Classic Cow Cheeseburger for $9.99.
Yes, these burgers are $10. Yes, they are worth $10. Also, you get fries, so quit your whining.
My friend ordered his classic cheeseburger plain, and I respect that move. There's a difference between a great burger and a burger with great toppings. This is a great burger: perfectly seasoned, cooked through and still juicy, because fat is a wonderful thing.
To be clear, I think the best burgers are fully dressed; crisp lettuce, juicy tomato, sharp onion and a few pickle slices are all welcome to bed down on my burgers for a short, horrifying nap. But this simple stack of bun, beef and cheese was intoxicating.
But what if you want to eat something ridiculous? That's what the Mad Cow Burger ($9.99) is for. It's a burger covered in diced chicken, covered in two kinds of cheese, covered in grilled potatoes, covered in bacon, covered in homemade spicy ranch dressing.
It's a hot mess.
Hot and fresh, though, that mess didn't make much of an impact. It was good, but there was too much going on. Everything was cooked right, but it was too muddled to be more than a gimmick.
Oddly enough, I did like another weird mix-'em-up burger. The Maui Cowi ($9.99) had bacon, pepper jack cheese and honey mustard and was topped with a teriyaki grilled pineapple ring. It was sweet, it was salty and it was unique.
The best I've had, and definitely the closest to the classic cheeseburger, is the Juicy Lucy ($7.99 for a double, $8.99 for a triple and $9.99 for a quadruple). This isn't quite what I expected, as the Juicy Lucy usually has a hunk of cheese hidden inside a beef patty. Instead, these are thinner patties with lots of American cheese and a few dill pickles. Dang if that isn't just about the tastiest thing I've eaten in a while — so simple, but absolutely perfect.
There's also The Ultimate Chicken Sandwich ($9.99) with a freshly breaded and fried chicken breast, bacon, grilled fresh jalapeños, pepper jack cheese, cream cheese and jalapeño jelly. The only thing I wish this sandwich had was a little thinner chicken breast. It was a bit unwieldy through the middle, and I think a more uniformly sized breast would have helped.
Garett Fisbeck
Ultimate Chicken Sandwich with onion rings at the Cow Calf-Hay in Edmond, Thursday, Oct. 1, 2015.
On the side, I think the french fries, which come standard, are dandy. But for a 50-cent upcharge, the onion rings are my favorite. And I'm not sure what the onion ring sauce is, but that needs to be jarred and sold to everybody.
I know the question will never go away. Cheeseburgers are a nearly universally loved commodity, and one about which diners have passionate feelings.
But if you're looking to add another contender to the already-crowded Royal Rumble that is Oklahoma City's burger scene, The Cow Calf-Hay might just be ready to win the belt.
Print headline: Best dressed, The Cow Calf-Hay is awfully proud of its beef, as it should be.