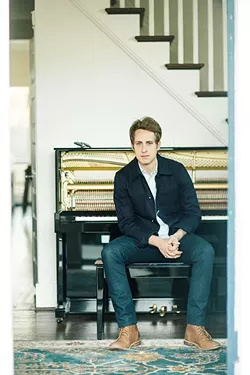 When planning a tour, there are so many people relaying information that sometimes it can turn into a game of Telephone.
Tulsa native Ben Rector spoke with Oklahoma Gazette before his March 26 venue-opening performance for The Criterion, 500 E. Sheridan Ave. He first thought he would perform during its opening week, not on opening night. He realized the distinction a few weeks after he booked the tour.
"I was so excited and flattered when I found out I'd be the first," he said of his gig at the new music hall, which holds 3,500-4,000 guests.
Rector cracked the Billboard Top 10 for the first time with his 2015 release Brand New. In an era when success in independent music is possibly as attainable as ever, he set a gold standard for aspiring artists looking to build careers without major label support. His following is grassroots and loyal.
Scott Marsh, The Criterion general manager, said those factors contributed to the decision to open with Rector. Venue management discussed at length which act should launch the space. All agreed it should be an Oklahoma artist.
"We didn't want to go the typical route right off the bat, and frankly, Ben Rector just fell into our laps," Marsh said. "We got a call from his agent about dates, and it worked out in a fateful sort of way."
Size matters
Rector said he is excited about what a venue like The Criterion has to offer Oklahoma City. Many midsized cities he has toured have a club that will hold a few thousand people, with the next step up being an outdoor amphitheater or small arena that holds somewhere between 6,000 and 10,000.
"That's a huge jump, and there are a lot of bands people love that are somewhere in between those venues," he said. "I think having The Criterion will make Oklahoma City a definite stop on a lot of fantastic tours going forward."
The first show he played in was a battle of the bands at Cain's Ballroom in Tulsa. Marsh said the two venues are not heavy competitors.
The Criterion is larger, for one. Also, the number of Oklahoma City residents attending Tulsa shows is not as high as one might think.
Rector has fond teenage memories of catching concerts at the historic Tulsa venue and said he hopes one day, The Criterion amasses the type of tradition that makes Cain's so unique.
"I really do think a great venue has a huge impact on the caliber of music that comes through a town," he said. "Cain's is such a huge part of that in Tulsa."
The Criterion's goal is to avoid emulating other venues by becoming a catalyst for discussions about Oklahoma City's music and musical identity. Marsh said OKC is filled with great talent but gets little credit as a music city.
"We want that to change, and we hope that providing a top-of-the-line venue will be the spark to help create our eventual musical identity," he said.
Criterion crews are wrapping up finishing touches ahead of opening night. Marsh said the space will make updates and additions, including new art and sound suppression.
The venue also booked acts such as Third Eye Blind, Rick Springfield, My Morning Jacket and Deftones for 2016.
Rector said if he was plucked out of class as a University of Arkansas student and told he would one day sit at the top of Billboard charts or be the opening act for a large-scale venue, he would not have believed it.
Even so, he said he doesn't feel like someone who has risen above anyone or anything. When he performs at The Criterion, he hopes the crowd sees a son of the state christening what will one day be a new landmark on Oklahoma's music map.
"We try to keep the show pretty interactive," he said. "I don't do very well coming off as cool and mysterious, so I try to make the show feel approachable. I don't know what we'll do for the opening, but I bet the band and I will put our heads together and come up with something."
Print headline: Show starter, Self-made musician Ben Rector opens up one of the city's newest music venues March 26.