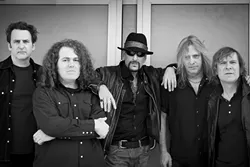 The people at Blue Note Lounge know good music. When there's an opportunity to host history on their small, indoor stage, they take it.
"We're kind of snobs as far as what we listen to in here," said Matt Kirk, bar manager and promoter. "It's not all Billboard Top 40 radio hits that we listen to."
Kirk could hardly contain his excitement when he heard singer "Handsome" Dick Manitoba and guitarist "Ross the Boss" Friedman of legendary proto-punk band The Dictators were looking for a tour stop someplace in Oklahoma City.
Manitoba and Friedman are on the road with former Dictators drummer J.P. "Thunderbolt" Patterson and musicians Daniel Rey and Dean Rispler as The Dictators NYC. They perform May 22 on a lineup with Dallas' The Swingin' Dicks and local bands Don't Make Ghosts and Havana Affair at Blue Note Lounge, 2408 N. Robinson Ave.
Kirk said he first heard from The Dictators NYC near the end of February when the band sent an email to Blue Note's booking address.
"They had heard we were exposing some larger bands now and trying to build a name up. It was something I looked into and gave a couple of people a call and asked part of my team if it was something they would be interested in," he said. "Of course, they all agreed that would be an amazing show and something that could be something to brag about."
This will be the highest-profile show Blue Note Lounge has hosted in recent memory, and Kirk expects a packed house.
The Dictators is recognized as an influential and defining band in New York City's early punk scene. Though Dictators NYC features two members who performed on the band's initial 1975 release Go Girl Crazy! and an additional former member, it doesn't tour under the official The Dictators name as a courtesy to non-touring founding member and principal songwriter Andy Shernoff.
Kirk said the distinction doesn't bother him or any of the other fans he has talked to.
"They still have a pretty cool lineup that's almost the same," he said.
The decision by Manitoba and Friedman to tour under The Dictators NYC label was not met with approval from Shernoff. During a Dictators hiatus, the three formed a band together in the '80s and '90s known as Manitoba's Wild Kingdom. After The Dictators NYC formed in 2011, Manitoba claimed in a 2013 Facebook post as Handsome Dick Manitoba Fan Page that Shernoff threatened to sue Dictators NYC and had videos of Dictators songs they performed removed from websites like YouTube.
Few disagree, however, that Manitoba and Friedman are punk legends. Kirk said he thinks the event will draw fans from across the region.
"They were one of the top influential proto-punk bands from the New York scene," he said. "I see them in the same echelon as the Ramones and New York Dolls and The Dead Boys."
Tickets are $14 at the door.
Print headline: Dictators rule, Blue Note Lounge welcomes historic players from New York's proto-punk scene.