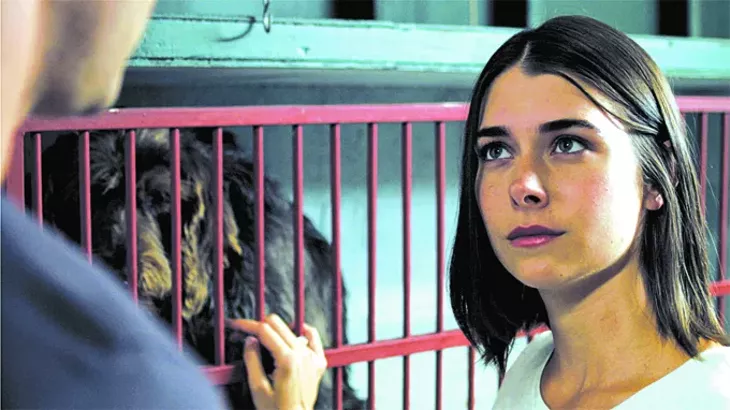 The Dog Lover is an outwardly partisan wolf in golden retriever clothing.
The term "puppy mill" elicits a visceral reaction from a populace conditioned by years of Sarah McLachlan's heartbreaking "Angel" set over a fundraising plea filled with video of the world's saddest dogs. However, those who have lived in this world long enough should know that life is not always as clearly right and wrong as an American Society for the Prevention of Cruelty to Animals (ASPCA) commercial.
Obviously, there are legitimate, law-abiding, animal-loving dog breeders in this world. The possibility that a brash, sweeping law targeted against objectively cruel mills could negatively affect caring mom-and-pop operations presents viewers with a legitimate moral quandary.
It's a scenario The Dog Lover raises and, like the movie shows, endlessly beats over the head with a shovel.
In the film drama, Sara Gold (Days of Our Lives' Allison Paige) is a passionate undercover agent in the fictional United Animal Protection Agency (UAPA), a relentless animal welfare organization modeled after The Humane Society of the United States and People for the Ethical Treatment of Animals (PETA).
UAPA's goal is to stop the vaguely defined Proposition 12, a ballot initiative that would signal a practical end to dog breeding (a practice the group views as immoral).
Sara is assigned to pose as an intern and infiltrate the breeding operation of Prop 12's most vocal opponent, Daniel Holloway (Dexter's James Remar), and take photos and videos to bring down the critic.
Before her mission, Sara's journalist dad (Matthew Glave) advises her to not go into her assignment assuming Holloway's guilt.
"Nothing's that black and white," he says.
It is ironic that The Dog Lover would point out the moral complexity that surrounds most of today's biggest issues because the film does nothing other than deal in absolute goods and evils the rest of the time.
It doesn't take long for viewers to realize that Holloway's operation is not the shady pet factory Sara expected it to be. She falls for Holloway's saintly son, Will (Jayson Blair), and realizes she has made a mistake.
Her epiphany comes too late. UAPA twists video of Holloway killing a dog while defending his daughter to create evidence for a police warrant. The Holloways lose all of their animals (their source of livelihood for many generations), the family's patriarch faces life in prison for animal cruelty charges and Sara must figure out how to right her horrible missteps in The Dog Lover's second half, which becomes a full-blown courtroom drama.
Films focused on pushing a partisan stance on an issue often miss out on the impact a little more subtlety can offer. The Dog Lover does not expose viewers to any worthwhile gray areas, nor does it make any room for the audience to draw its own conclusions. It does the thinking.
It isn't that the movie's message is necessarily wrong. The film's family farm plot does ring disingenuous, though, in the context of who produced the film. The logo for Protect the Harvest scrolls by at the end of the credits. According to its website, Protect the Harvest was created to protect the rights of farmers and respond to "anti-farming extremists."
Protect the Harvest was founded by Forrest Lucas, the billionaire owner of Lucas Oil Products and Lucas Cattle Company, and regularly fights against agricultural regulations.
It would be hard to call The Dog Lover a failed film, despite its obvious leanings. The acting is good, and the premise of the story is unique. In fact, filmmakers accomplished exactly what they set out to do: present a counter-argument in response to a popular dog-breeding narrative.
However, not many debates pit the absolutely right against the absolutely wrong, and issues should not be framed in that way. Nothing's that black and white.
The movie screens at AMC Quail Springs Mall 24, 2501 W. Memorial Road, beginning Friday.
Print headline: All bark, The Dog Lover favors an oversimplified message over substantive storytelling.