Zach Myers hits a long drive on a recent Saturday during a First Tee session at the Douglass Park and James E. Stewart Golf Course. mh
Walk through the front door of The First Tee of Metropolitan Oklahoma City and you will see why children enjoy spending their time there. The environment is warm and welcoming, but it also feels like a nice clubhouse at a golf course. The TV in the main entry airs Golf Channel, and behind the check-in desk are bags of golf clubs. One bag is emblazoned with the name Bob Tway. He is one of Oklahoma's most well-known golfers and a major champion.
The First Tee started in 1997 when the LPGA and PGA tours, Masters Tournament and USGA partnered to find a way to expose kids to golf and its values.
The program has grown exponentially, serving more than 9 million young people in the U.S.
As anyone involved in the program will tell you, The First Tee is not just about golf.
"We want to use this as an opportunity to help young people learn life skills inherent to golf but that can also be applied to their life outside the golf course," said Debi Martin, volunteer executive director of the First Tee chapter in Oklahoma City. "It's a youth development program that teaches leadership skills ... and also helps instill more confidence in those who participate in the program."
The First Tee established Nine Core Values that the organization believes are inherent to the game of golf and life: honesty, integrity, sportsmanship, respect, confidence, responsibility, perseverance, courtesy and judgment.
Cameron Shelton Jr. has participated in The First Tee since he was 5 years old. He said the confidence he has learned in the program has helped him on the golf course and in school.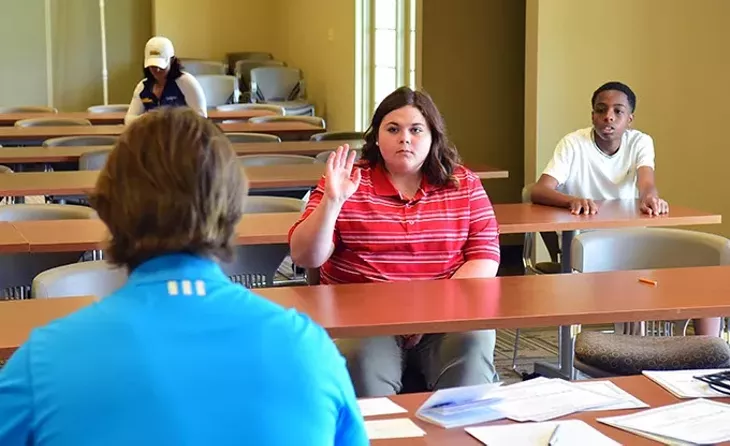 Kirstin Westlake raisers her hand to answer a question during a short classroom session with director Dustin Semsch and others in her age group before the young golfers hit the course on a recent Saturday. mh
"When I'm taking a math exam, I have the confidence that I know I'll do well," he said. "I've really learned to believe in myself."
Zachery Meyers is 16 and has been in the program for twelve years. He believes honesty is the greatest value he has learned.
"That's one of the most important things in life ... you need to be honest with people so they aren't getting a false [impression] of who you are," he said.
The First Tee is trying to break down the stereotype that golf is an elitist sport. With the costs of clubs, balls, greens fees and lessons, golf is inaccessible to many. The program provides all those things with a small enrollment fee of $25 for each session, which is seven weeks long.
"What I've enjoyed about The First Tee is that they're welcoming and don't leave anyone behind. They really want everyone to excel here," Meyers said.
Jeff Westlake enrolled his two children, Keegan and Kirstin, in The First Tee almost two years ago and said they have developed a certain level of maturity and confidence.
"When I take them to the golf course, they seem to act more mature than the adult golfers and seem to have more respect and consideration of others," Westlake said. "A couple weeks ago, Keegan was playing in a tournament in Tulsa with kids three years older than him, and he could not have cared less. And with Kirstin, she's a lot more outgoing now and has a really positive attitude when she meets other kids."
When Westlake saw the benefits of the program through his children, he decided to get certified to become a volunteer coach.
For Kirstin, it's all about being with other kids.
"I like that it gives me the opportunity to meet different people, and every time I learn something new that helps my golf game, it makes me feel better about myself," she said.
As participants reach different levels of certification, they are eligible to apply for scholarships. Since 2003, more than $1 million in scholarship funds has been distributed nationally through The First Tee.
---
Print headline: First approach, A local golf program piques interest in the sport and teaches children about integrity on and off the course.