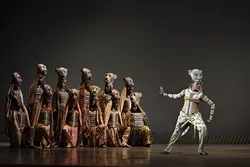 Say the name Simba and many people immediately think of the 1994 animated film The Lion King. More than 20 years after its release, the movie is so ingrained in American pop culture that audiences might assume they know exactly what they're going to get when they see the stage version, which has run continuously since its 1997 premiere. But Dashaun Young, who portrays Simba in the North American touring production, said fans are in for a bit of a surprise.
"I hope they're blown away by the spectacle that it is on stage and moved by what it's like to be transported in the theater to Africa and watch these amazing cast members step up on stage as animals and impact you and you forget that you're watching humans on stage," Young said.
The show runs through May 28 at Civic Center Music Hall as part of OKC Broadway's inaugural season. While the touring production stays mostly true to the original, some changes have been made to transform the original 90-minute story into a 2 and 1/2-hour stage show, including an enhanced storyline. For example, Nala, Simba's childhood friend and later love interest, has a much larger role in the stage production.
Set on Africa's Serengeti plains, The Lion King follows young cub Simba, who is destined to be king. However, he has a rival in his uncle Scar, who wants the throne for himself and kills Simba's father King Mufasa. Simba flees, living in exile in the jungle among fellow outcasts who become his friends and allies. As an adult, he returns to challenge Scar for the throne.
"He gets to a dark place and then figures out through meeting other people how to get out of that dark place and step up to the plate and become the man that he was supposed to be," Young said.
It's a lesson everyone can learn from and one of the most important messages of the production, said Young, who said this transformation is one of his favorite aspects of portraying Simba.
"Be true to who you are and to follow your heart and your faith and what you believe and let it manifest in you and see the outcome," Young said.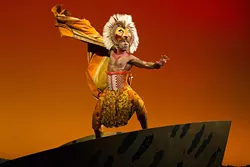 ©2010, Joan Marcus
Lion King NY
Cast members perform eight shows a week, and Young said it's a physically demanding job that requires keeping your body ready for sometimes-intense physical components.
"Most people in the show stay consistently in the gym, in yoga classes and in stretch classes," Young said.
Young first joined the touring production about 10 years ago and has performed in The Lion King on Broadway and with a London company before rejoining the North American tour.
He took a few years off to do other projects and returned to the tour about six months ago.
Young became interested in acting as a child, when he started attending a local rec center. He tried basketball and wrestling before signing up for acting. He auditioned for and was admitted to a performing arts high school and later studied theater at California State University, Fullerton. He was 22 years old when he was originally cast as Simba in the touring production. He cried when he discovered out he landed a major role.
"It was a lot of overwhelming emotions that I felt, so it was pretty amazing," Young said. "Then I called pretty much everyone in my family directly after to let them know."
The cast for the North American touring production includes Broadway veterans along with actors and vocalists with several TV and film credits. Mark Campbell, who portrays Scar, has acted in several touring productions, including the 25th anniversary tour of The Phantom of the Opera, but also makes frequent guest appearances on Fox's Sleepy Hollow series as George Washington. Gerald Ramsey, who plays Mufasa, is a dancer and actor who has starred in Ha: The Breath of Life and Te Here and My Name is Gary Cooper. Nia Holloway, who portrays Nala, has appeared at the famous Apollo Theatre in Harlem. Buyi Zama, who plays the shaman Rafiki, has performed in The Lion King's touring and Broadway productions.
Featuring music by Elton John and lyrics by Tim Rice, The Lion King is the third longest-running play in Broadway history and the highest-grossing production of all time.
While it has its share of dramatic moments and show-stopping musical numbers, Young said its "Circle of Life" tune at the beginning of the show often gets the biggest reaction, sometimes prompting applause multiple times throughout the number.
"I think people are curious as to how the show is going to bring all these animals to life on the stage, and it's the first number, and it doesn't disappoint, so I think people get really excited," Young said.
Showtimes are 7:30 p.m. Wednesday-Friday, May 16-19 and 23-25; 2 p.m. and 7:30 p.m. Saturday and May 20 and 26-27; 1 p.m. and 6:30 p.m. Sunday and May 21; and 1 p.m. May 28.
Visit okcbroadway.com.
Print headline: Roaring success, The Lion King has long been the pride of Broadway and makes Civic Center Music Hall its territory through May 28.