It's the big No. 241 for the grand ol' United States of America, meaning it's time to light fuses and strike up bands. Central Oklahoma knows how to unfurl the red, white and blue for Independence Day, and with July Fourth hitting on Tuesday this year, the fun and fireworks begin this weekend and carry through to the big birthday date. Here are some of the best and brightest city and metro-area communities that will fill their parks and public spaces with the rockets' red glare.
Red, White and Boom
Beginning 8:30 p.m. Monday at State Fair Park, 3001 General Pershing Blvd., Red, White and Boom offers what could be the definitive music event of the holiday as Oklahoma City Philharmonic performs patriotic favorites such as "The Stars and Stripes Forever" and military songs before the fireworks display begins at 10 p.m. Maestro Joel Levine conducts the orchestra featuring solo performances by Oklahoma City theater star Renee Anderson, Broadway star Mat Govich and Lyric Theatre of Oklahoma star Vince Leseney.
The gates open at 6 p.m. Admission and parking are free, and entrance to State Fair Park is available through gates 5 and 6. Visit okcphil.org.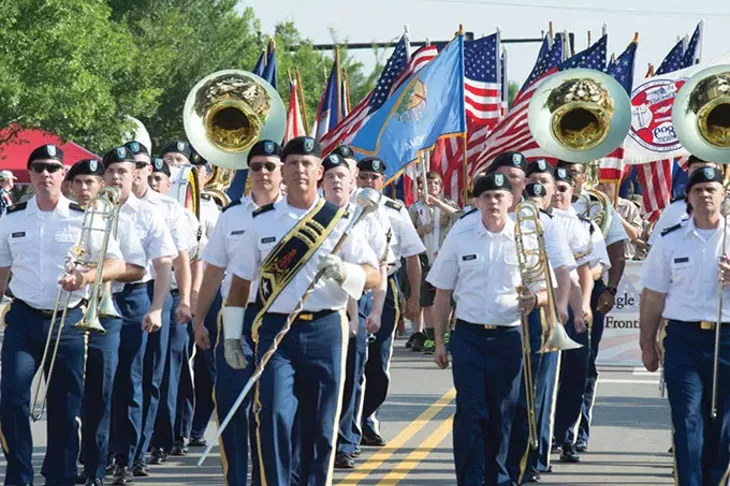 LibertyFest
Edmond's LibertyFest gets a jump on the patriotic festivities every year, starting in the last week of June with kite festivals, park concerts, a rodeo, car shows and more continuing through the big day. At 9 a.m. Tuesday, the LibertyFest Parade will attract more than 50,000 guests to downtown Edmond.
The party continues at 6 p.m. with Parkfest on the University of Central Oklahoma (UCO) campus, 100 N. University Drive, featuring rides, inflatables, a cliff jump, music, toddler activities and more. Chosen by CNN and USA Today as one of the Top 10 Fourth of July celebrations in the country. LibertyFest culminates with a 9:30 p.m. fireworks display at UCO. Admission is free. Visit libertyfest.org.
Red, BRIGHT and Blue Festival
A daytime festival in the shadow of the Wheeler Ferris Wheel, the Red, BRIGHT and Blue Festival features food trucks, The Big Friendly Craft Beer Bus, pop-up shops and gelato and snow cones 2-9 p.m. Tuesday at Wheeler Park, 1120 S. Western Ave. In addition to the food and fun, Casey and Minna fiddle and guitar duo performs 4-8:30 p.m. on the main stage. Fireworks start at 9:30 p.m. Admission is free. Visit wheelerdistrict.com.
Freedom Fest
Yukon's Freedom Fest at Chisholm Trail Park, 500 W. Vandament Ave., and City Park, 2200 S. Holly Ave., delivers two days of fun, music and fireworks. At 5 p.m. Monday, see the Rodeo Opry Band and Dr. Irv Wagner's Concert Band perform for veterans, followed by a 10 p.m. fireworks display.
At 8 a.m. Tuesday, children ages 8-13 can test their endurance in the Cherry Bomb Triathlon, in which contestants in separate age groups will swim, bike and run to the finishline. The triathlon begins at City Splash public pool in Yukon City Park. Admission is free.
Other Freedom Fest events are the Freedom Fest Car Show, the annual children's parade, free swimming at City Splash, a best-decorated bike contest, music by Mike Black and the Stingrays and Superfreak and an 8:30 p.m. patriotic concert by Oklahoma City Philharmonic followed by 10 p.m. fireworks. Visit yukonok.gov.
Bethany Freedom Festival
Starting at 10 a.m. Tuesday, Bethany Freedom Festival at Eldon Lyon Park, 7400 NW 36th St., in Bethany includes a classic car show, inflatables, pony rides, festival food, Wagner's Carnival and live entertainment. At 9:55 p.m., organizers present one of the largest fireworks displays in Oklahoma. Admission is free. Visit cityofbethany.org.
Tribute to Liberty
Midwest City's free, family-friendly Tribute to Liberty kicks off at 6 p.m. Tuesday with music by the 100 Bones Band, followed at 8:30 p.m. by Dr. Irv Wagner's Concert Band. Fireworks begin at 10 p.m. Guests are encouraged to bring picnics and blankets.
It all happens at Joe B. Barnes Regional Park, 8700 E. Reno Ave., in Midwest City. In addition, Uncle Sam and Lady Liberty will be strolling through the park on stilts beginning at 7 p.m. Visit midwestcityok.org.
A Celebration in the Heartland
The City of Moore's A Celebration in the Heartland starts at 10 a.m. Tuesday with arts and crafts, food vendors, inflatables, winery displays and $40 helicopter rides at Buck Thomas Park, 1903 NE 12th St. Music performances by Hook and Stars precede a massive fireworks display at dusk. Admission is free. Visit cityofmoore.com.
Do-It-Yourself Celebration
The DIY spirit is alive and well in Mustang, which allows people to shoot off their own fireworks 9 a.m.-11 p.m. at Wild Horse Park, 1201 N. Mustang Road. It is legal to light and sell fireworks in Mustang through Tuesday, so this is the most libertarian of liberty celebrations. Admission is free. Alcohol is prohibited, though. Call 405-376-3411.
Norman Day – 4th of July Celebration
Beginning mid-afternoon Tuesday, Norman Day offers a family-friendly celebration featuring food trucks, live music by DT5 and John Arnold Band, inflatables, pony rides, a "nickel find" and, perhaps most interestingly, the annual Baby Crawl race.
The festivities culminate in a 9:45 p.m. fireworks display at Reaves Park, 2501 Jenkins Ave., in Norman. Visit visitnorman.com.
Print headline: Patriotic parties, Metro Fourth of July events offer everything from baby races to fireworks displays.