Think of Jimi Hendrix re-conceiving the National Anthem at Woodstock with screeching feedback and blistering fuzz. Eddie Van Halen shredding a forty- minute solo soaked in saturated distortion, the sound whipping and phasing around you in an arena.
You can see the guitars in their hands and the amplifiers at their backs, but what you might not see is what's at their feet.
Since Hendrix first began blowing minds in the late-60s with his early Fuzzface and Wah units on the floor, guitarists worldwide have scrambled to get their feet on the newest, best, and sometimes craziest effects pedals. For a few decades, this mostly meant turning to a small handful of tried-and- true electronics manufacturers and incorporated producers like Vox, Boss, and MXR/Dunlop, or looking to hobbyists and one-man workshop operations knocking out just a couple dozen units in a year, like the now-fabled Klon.
But right around 20 years ago, all of that changed as a sprawling, legitimate industry for boutique effects and pedal builders began to take shape, spear- headed undeniably by an Oklahoma guy named Robert Keeley.
This year marks the 20th Anniversary of the small effects pedal company that Keeley started in Oklahoma City. Keeley Electronics
burst onto the scene with players world-
wide praising the tones and quality inherent in his little stompboxes. The ever-growing operation kicked off a continuing explosion of boutique build- ers around the world, with Oklahoma still leading the charge, not just with Keeley, but now also with internationally-lauded producers like Walrus Audio and Old Blood Noise Endeavors based out of the metro.
Oklahoma Gazette caught up with members of Keeley and Walrus, as well as small, Stillwater-based Pinstripe Pedals to discuss the pedal game in Oklahoma, and what makes our state such a hotspot for the craft.
Keeley Electronics
By the late-90s, the "tech boom" had driven down prices and driven up availability for materials like circuit boards, capacitors, transistors, and all the other little components that can shape and drive a guitar's tone when you pass the audio signal through them. This made for perfect tinkering for aspiring engineers like Robert Keeley.
"I wanted to make amps, but it just cost too much," Keeley said. "Pedals seemed like the best option."
The remarkably low cost of pedal manufacturing at the time wasn't the only encouragement. Nu-metal and pop-punk had pushed guitar-based rock music back into the mainstream, and kids all over the world were discovering the instrument and turning to pedals as much cheaper alternatives for the kind of dense, crunchy distortion that usually required multi-thousand dollar tube amps. The demand for better pedals with more options, wider tonal ranges, and better customer service was growing every day, and Keeley first began addressing that demand by modifying existing pedals, tweaking the circuits to provide that more that players wanted from their gear.
"I would just look at the circuits and then read online about how people were modding them," Keeley said of his earliest interest in pedal modification, "and I'd think 'well, I can do that!'"
With a degree in electrical engineering and a lifelong love of guitars (two interests that he inherited from his father), Keeley proved to be a natural at fiddling with the circuitry in some of the world's most popular mass-produced pedals, and with a particular talent for selecting high-quality, low- cost components for his mods, Keeley- modded pedals began circulating, showing up in stores, and quickly gaining major buzz among guitarists. Keeley Electronics had arrived as a serious player within the infant market of boutique pedals.
"I loved the idea of building some- thing from the ground up," Keeley tells us. "I loved the idea of real American manufacturing, and of making something right here."
Of course, he still needed to design and build some pedals of his own.
"The earliest ones were the boost and the compressor," he said. "They were just such easy, simple circuits, and there really weren't that many other options for that kind of thing on the market at the time. Just talking to guitarists and players, it was obvious that they wanted something like that."
The policy of communicating with — and really listening to — clients and customers is still paramount, according to the Keeley team, and it has resulted in a number of successful pedals that began life originally as requests or collaborations with players, some of whom are significant names among guitarists. Keeley isn't too quick to name names, but some of the highest-profile artists in music are well-known fans of these little boxes from Edmond. Nancy Wilson of Heart, Captain Kirk Douglas of The Roots, and even the ubiquitous Mr. Mayer are all Keeley users, as is the legendary Bob Weir of The Grateful Dead, a fact near and dear to Robert Keeley's Deadhead, hippie heart.
Walrus Audio
Just barely south of Keeley in north OKC sits yet another world-renowned bunch of pedal producers under the name Walrus Audio. Originally founded in 2011 by Brady Smith, who had learned the tricks and trade as an employee at Keeley, Walrus almost immediately set their sights on the kinds of fuzzy, psychedelic, driven sounds that had been dominating indie rock at the time. Entering into the market just as the pedal-crazy subculture was starting to hit its peak, Walrus Audio jumped straight from conception to the tops of every gearhead's wishlist with their vintage-style tone-shapers like the Voyager and the 385 Overdrive.
"Sometimes we'll hear an album with a sound or effect that gets us inspired or see a band live that is using a unique instrument that gets our wheels turning," said Creative Director Tyler Evans when pressed about how the team finds and comes up with new sounds and approaches. "We strive to have a great culture that makes a great experience not only for customers, but for our dealers. We also work very hard at making intuitive products that are easy to use and ready for extensive use on the road and in the studio."
Even though Walrus, and Brady Smith's following pedal company, the Norman-based Old Blood Noise Endeavors, are very much their own animals with wildly differing sounds and aesthetics, even Evans has to acknowledge the influence of OK's OG pedal man.
"We all have roots in Edmond and OKC and some of us even went to school together, but Keeley is definitely a big part of the connection. He's paved the way for a lot of people. If Brady had never worked with him, he may not have ever started Walrus and eventually OBNE."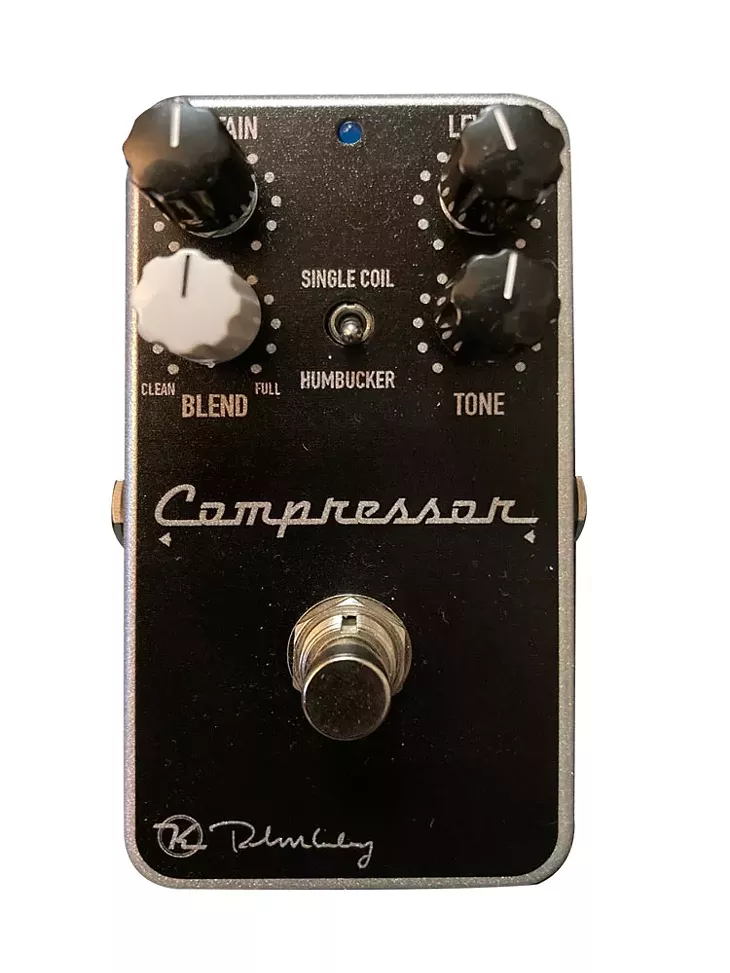 Pinstripe Pedals
Heading way up the turn- pike now, all the way to Stillwater, you'll find a much smaller, focused, and admittedly less flashy operation in Pinstripe Pedals. Not as concerned with making wild or fiery tone-trans- forming devices, Pinstripe's priority is helping to preserve and perfect your guitar's tone. Owner, founder, and Nashville native Charlie Fox is all about "utility pedals," little boxes designed to keep your signal clean and usable whether plugging into an amp or a com- puter.
"Having come from Nashville, I could never really play to the level I wanted to," Fox said with a laugh. "So that's what really got me into pedals and gear."
When he started designing and building products of his own, he also sought just to listen closely to what players were wanting. In a field flooded by then with effects, it was clear that there was a hole in the market for things like direct-box- es and guitar-focused interfaces. Working to fill that hole ended up being a smart move, as his little, handmade utility boxes have made it all the way from Stillwater to notable stages with players like Kenny Wayne Shepherd and members of Kelly Clarkson's band.
"We just started four or five years ago and now we've got dealers in Singapore and Australia and Canada. We've sold into 20 different countries worldwide."
And yet again, even while discussing his own global success, Fox is quick to point back to Keeley as the one that paved the way for the rest of the upstart build- ers to follow, not just in Oklahoma, but anywhere.
"He's the godfather. He's really the reason that it's not just Boss and MXR and Dunlop anymore. He just didn't give up and kept going after it."
Twenty years on from modding pedals and tinkering with circuits, Keeley is set to move into a new purpose-built, state- of-the-art facility that will allow their operation to expand even beyond the roughly 1,300 pedals they're already producing every week. So the next time that you see a guitarist steal the spot- light and rip a solo, look at their feet. There's a surprisingly good chance that they'll be standing over a piece of Oklahoma engineering.