Garett Fisbeck
Dan Staughan and Jerod Shadid at the Homeless Alliance, Thursday, June 22, 2017.
The lack of affordable housing in Oklahoma City is a leading contributor to homelessness, which takes a devastating toll on adults and children who must live on the edge of society, officials said following last week's release of the 2017 Point-in-Time study.
Almost 1,370 people were counted as homeless in OKC by Point-in-Time outreach workers on Jan. 26. While OKC's homeless population has fallen nearly 10 percent in the last year, one segment is on the rise.
"As a community, we've invested heavily in this work, and it has been very successful," said Dan Straughan, executive director of Homeless Alliance. "We are at a point where if we can't address the issues of affordable and accessible housing, it is going to be really challenging to make significant progress."
According to the 2017 Point-in-Time study, 118 families, totaling 359 adults and children, experienced homelessness, compared to 92 families a year earlier. Straughan and other homeless advocates say the fastest-growing segment of the homeless population — families — is also the most difficult to house and the solution lies beyond the boundaries of nonprofits and social services organizations. Straughan said addressing homelessness is about increasing and expanding affordable housing solutions.
While the report focuses on numbers and percentages, Straughan knows about the people behind the statistics, including families whose heartbreaking struggles with homelessness now dictate every aspect of their lives and their futures.
While each family's circumstances are unique, rising housing costs are squeezing working families out. For the poorest families, homelessness can be the end result.
"We are pooling community resources to make real progress, but it all goes back to the affordable housing issue," Straughan said. "The nonprofit and the faith-based community can do a lot, but we can't do it all. We can't get to zero without [housing subsidy vouchers and affordable housing stock]."
Hidden dilemma
Oklahoma City is not alone in the rising number of homeless families. The nation's affordable housing shortage continues to play a major role in rates of family homelessness in America's cities, according to researchers at Harvard University's Joint Center for Housing Studies.
Thanks to a national strategy to deal with homelessness among veterans and the chronically homeless, the number of individuals living in a shelter or on the streets is decreasing in OKC and many other major cities. Expanding rental vouchers for veterans, implementing "housing first" models — in which a person moved into the housing while receiving services for help with employment, mental health or addiction issues — is overshadowed by the troubling numbers of families losing their homes.
In OKC, Straughan describes a perfect storm leading to a growing number of families experiencing homelessness. In recent years, the city has experienced some of the fastest growth in median rent, causing families to pay more in housing costs with fewer dollars left over for groceries, clothing, education and health care.
At the same time, a downturn in the state's economy has left many Oklahomans jobless or earning less, which creates a greater demand for government Housing Choice vouchers, which subsidize rent for low-income individuals and families. Such demands have created long voucher waiting lists and long public housing waiting lists, both moving at a very slow rate.
When a family in which the adults work full-time minimum-wage jobs struggles to find affordable housing or receive a voucher, the end result can be sleeping in a car, on a family member's couch or on the streets. Should the family seek services, they enter a social services sector with limited resources to help, Straughan said.
"Without a doubt, there are more people in need than services available," he said. "You have inflow driven by the cost of rent, and you have outflow held back by just the availability of financial resources."
Homeless Alliance operates the WestTown Homeless Resource Campus at NW Fourth Street and N. Virginia Avenue. Since 2011, workers representing a variety of nonprofits and government agencies have assisted veterans, youth, individuals and families through programs designed for those experiencing homelessness or near homelessness.
Within the context of poverty and the lack of affordable housing, additional factors like mental illness, addiction disorders and domestic violence might push people into homelessness.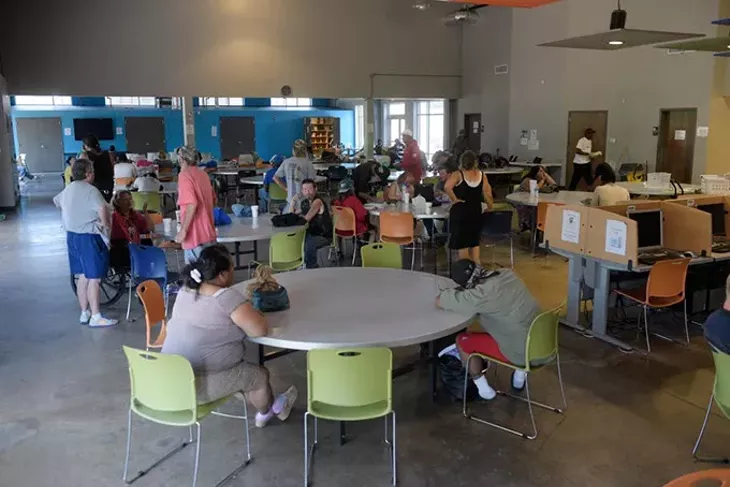 Garett Fisbeck
THe Homeless Alliance, Thursday, June 22, 2017.
City struggle
In a recent presentation to the Oklahoma City Council, city staff revealed more than 40 percent of households in the metro pay housing costs that exceed 30 percent of their income.
Economic stresses affect the city's renters and homebuyers as well as its homeless population.
Recognizing the needs of the city's homeless, the City of Oklahoma City coordinates the U.S. Department of Housing and Urban Development (HUD) Continuum of Care program, sending federal grants to local organizations providing housing and support services for people who have experienced homelessness.
Jerod Shadid, the City of Oklahoma City's community development division planner, said federal emergency solutions funds, which totaled $388,987 for the current year, are invested into programs to help homeless families.
While city planners have seen an increase in federal funds to benefit homeless veterans and the chronically homeless, funding for families has remained flat.
Shadid, who authored the Point-in-Time study with assistant planner Stacy Triply, said the Point-in-Time count gives an imperfect but useful snapshot of the highly fluid homeless population at a point in time.
The number of people experiencing homelessness in OKC is estimated to be more than four to five times greater on any given night. Since the study highlights present trends among the city homeless, Shadid felt it necessary to include affordable housing data in this year's report.
"To meet the growing demand for low- and very low-income housing, OKC must see more rapid growth in the development of new affordable units than it has in the past five years," the report stated. "If not, we may expect a gradual but possibly significant rise in homelessness and the working poor populations over the next 10 years."
According to the report's figures, a person or household earning minimum wage must work 63 hours per week to reasonably afford a one-bedroom apartment at OKC's fair market rate.
"We have put a lot more affordable housing data in this report," Shadid said. "I think that problem will continue to be a problem if it is not addressed."
One hopeful sign of affordable housing comes from the 2017 General Obligation Bond program, approved by the Oklahoma City Council earlier this month. One of 11 propositions will provide $60 million in funds over a decade in economic and community development, some of which are earmarked for affordable housing. OKC voters are scheduled to vote on that bond proposition and others Sept. 12.
Print headline: No relief, Advocates say lack of affordable housing in Oklahoma City contributes to a dramatic rise in the number of homeless families.