Garett Fisbeck
J's Special Roll at The Sushi Bar in Oklahoma City, Tuesday, July 19, 2016.
Growing up without cable, I watched a lot of unsuccessful comedies on local broadcast stations. One of my favorites is Richard Pryor's Brewster's Millions.
Tasked with spending $30 million in 30 days, his character asks a woman to keep redecorating a room in a hotel until he finally tells her, "Marilyn, this is the room I could die in."
I found the room I could die in without spending nearly $30 million. It's in The Sushi Bar, 6432 W. Memorial Road.
This is the restaurant's second location, but it's the more beautiful spot by a country mile. (The original is at 1201 NW 178th St. in Edmond.) The dining room is open and well-lit, especially during the day, when sunshine filters through the windows for a natural but not overwhelming bright feeling.
In addition to the usual sushi bar with pull-up seating, there's a giant round table for diners to sit, shoeless, in the traditional style with tatami mats and enough space for parties of eight to 12 who want a classic Japanese experience.
Honestly, there didn't seem to be a bad seat in the house, regardless of the number of your dining companions.
The first dish delivered to the table was agedashi tofu ($6). If you want a light way to start your meal, this is a good choice. Silken tofu is cut into cubes, rolled in starch, fried to a strawlike gold and served in a dish with tempura dipping sauce.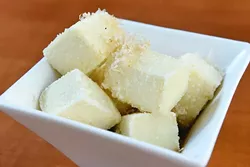 Garett Fisbeck
Agedashi tofu at The Sushi Bar in Oklahoma City, Tuesday, July 19, 2016.
It's more of a textural dish than a flavorful one. The crust has a mild crispiness while the tofu is so tender teeth nearly glide through it. Be sure to roll it around in the sauce at the bottom of the dish, which is where most of the flavor is hidden.
The miso soup ($2) also is quite light but satisfying. For me, it's almost not a sushi experience without miso soup.
But The Sushi Bar saves the biggest flavors for its namesake.
The restaurant offers plenty of fried rolls and rolls made with cooked ingredients, in case you're averse to eating raw fish. By this point, it seems like most people would be used to the idea of raw fish in sushi, but this is Oklahoma and we are a landlocked state. If you only eat cooked fish, this menu is friendly territory.
Speaking of friendly, the Baja California roll ($7) is what some might call beginner's sushi. But the great thing about a California roll is that it is popular and ubiquitous for a reason.
Garett Fisbeck
Baja California at The Sushi Bar in Oklahoma City, Tuesday, July 19, 2016.
Inside the rice and seaweed are crabsticks (a mishmash of cooked fish colored a vague, crablike pink), cucumbers and avocado — classic flavors that won't really offend anyone, regardless of palate. On top, the chef drizzles spicy mayo, wasabi mayo and masago (tiny orange fish eggs).
In sushi terms, this is comfort food. The sauce gives each bite a little added pop while the filling has a bit of crunch and chew for texture.
The vegetarian-friendly Master Room roll ($10) was a favorite if only for the unique blend of flavors missing from some other rolls. Inside each piece, diners discover a base of marinated shiitake mushrooms paired with kaiware (sprouts from the daikon radish), asparagus, cucumber and romaine lettuce. The big flavor comes from caramelized onions with a jammy sweetness that doesn't overpower the other ingredients and serves as a counterbalance to the honey mustard ginger dressing served on top of it.
Garett Fisbeck
Master Room at The Sushi Bar in Oklahoma City, Tuesday, July 19, 2016.
Veggie rolls can be extremely simple — a cucumber roll or an avocado roll are just $4 — and they add heft to a meal rather than flavor. The Master Room roll is light on calories, generous with flavor and probably pretty healthy all around.
Less healthy are tempura-fried rolls, including J's Special roll and Wackymaki roll ($9 each), which are dipped in batter, dropped into the fryer until golden brown, and then sliced into bite-sized portions.
I had high hopes for Wackymaki, stuffed with smoked salmon, jalapeños and avocado, but the flavor of the fish and the heat of the pepper seemed smothered by the tempura and the sweet sauce drizzled on top.
Garett Fisbeck
Wackymaki at The Sushi Bar in Oklahoma City, Tuesday, July 19, 2016.
If you're looking for smoked salmon flavor, a better choice is the Philadelphia roll ($8), an American sushi classic. Smoked salmon, avocado and cream cheese are rolled up in rice and seaweed. It's a great selection for someone who might be nervous about trying sushi or who, like me, loves the flavor combination.
J's Special roll was better with a filling of baked eel, avocado, cream cheese and crabstick.
If it seems like a lot of these have avocado and cream cheese in them, they do. With a squirt of spicy mayo and sweet sauce on top, J's Special roll was more balanced than Wackymaki, but it was still kind of heavy.
If you want a meal that won't weigh so heavily, stick to the fresh rolls menu.
A pretty straightforward example is Hatori Hanzo roll ($9), which pairs fried calamari with spicy tuna and asparagus. The flavors were good, but to my palate, the mix of chewy calamari and the macerated tuna was an odd one.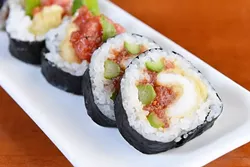 Garett Fisbeck
Hatori Hanzo at The Sushi Bar in Oklahoma City, Tuesday, July 19, 2016.
A dining room alone does not make a restaurant outstanding, but the care in the design of The Sushi Bar is reflected in its food presentation, attentive service and quality of the fish. It's a menu and a space sushi fans will want to explore.
Print headline: Raised Bar, An immaculate dining room and fresh ingredients await visitors at The Sushi Bar.