Jared Kinley
Grand Gentlemen, From Left to right Sterling Abernathy, Korey Eakers, DeQuan Cooper
If the clothes make the man, then Korey Eakers and his Grand Gentlemen are as sharp and cool as a blade.
"I was 14 years old and the very first time I ever saw Barack Obama, he changed my life. I had never seen a black man who spoke like that and looked like that, in my lifetime," Eakers said.
That indelible image was left in his mind and he continued his way through Edmond Sante Fe High School where his father had placed his son after a rocky middle school experience. In Edmond, Eakers played football and ran track, securing a track and field scholarship at Southern Nazarene University where he made All-American four times and was twice a national champion, he said.
"I got my degree in sports management and business administration. I was convinced that I was going to go to law school and be a sports agent up until 2018. I started getting really involved and really active in the community. And I decided that community work was actually where my heart was at. The law stuff is still something I think about from time-to-time but I kinda scrapped that to focus on Grand Gentlemen. I really want to do this full-time."
Eakers worked his way through college for GQ Fashions. Afterward, he co-founded The Wardrobe.
"We literally built that from the ground up. I'm super proud of that," he said.
In addition to making custom suits, Eakers and Grand Gentlemen started to lead photoshoots and, at the same time, teach tie-tying to school age children.
"We call it positive propaganda. A lot of times, if something happens, you always see mugshots, mugshots, mugshots of young black men, so we just wanted to show an alternative. We call it 'changing the narrative.' We want to show well-dressed, professional-looking black men looking happy, fun, with other black men in a good environment. But we wanted to stop doing that and just do something more real, something more tangible, really give back to the 'hood, give back to our kids' communities. And so after I graduated, we started doing a lot more of the tie days where we go to elementary schools and talk to the kids and teach them how to tie ties and donate ties. The crazy thing about doing community work, especially working with kids, once you get into it, you get absorbed and sucked into it and the feeling is unmatched. We just wanted to do more. So we did a coat drive that year and then we had a team meeting, and I was like, 'Guys, the most impactful thing I think about is a scholarship. A part of our message is that we want to spread the gentleman's lifestyle, culture and fashion, so I was like, you know, I think we should be gifting some young men with suits, so they can take their first steps into that world, as Obi Wan Kenobi would say," Eakers said.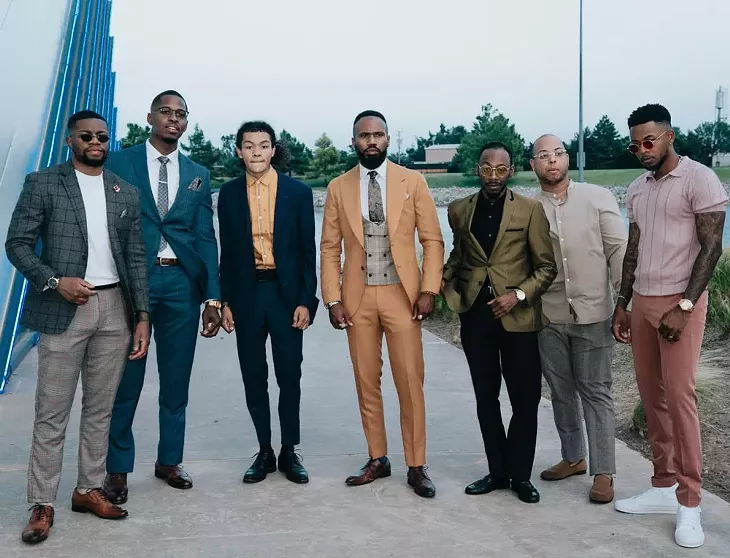 Grand Gentlemen — now a 10-man organization — has been awarding its "Man of the Year" scholarships, funded by its own events and private donations.
The first year, they gave out $500 and a tailored suit to two young men. The next year, they did three.
"The Wardrobe actually sponsors our suits that we give to young men who win our scholarships every year. Once we start our custom suiting company up, we're going to start doing it ourselves, but they've been a big help … This year, we awarded ten young men $1,000 each, a free suit, free shirt, free custom bow tie, and a copy of The Autobiography of Malcolm X. We got them a free photo session too with their new suits on and we have their families come out for a little ceremony. We got them free extra senior pictures and free family pictures. It was a great event. Great day," Eakers said.
After a $10,000 donation from Nextep during the pandemic, Grand Gentlemen are poised to give out exponentially more scholarships during its next round.
Next round, he plans to award ten scholarship recipients from Oklahoma City, three in the Tulsa area and two in Dallas. If the Dallas plans fall through, that pair will be awarded to two more young men in Tulsa, Eakers said.
At the same time, he is fostering a parallel organization with the same purpose designed for young women.
"I'm of the opinion that if somebody is going to give back to the females or, excuse me, young women in this capacity, it needs to be a female organization led by women doing this. So, my sister, who's actually the CFO of Grand Gents, is actually starting a sister organization," Eakers said.
The working title for the scholarship will be the Leading Ladies, though the final name of the organization itself has not been chosen.
Concurrently, Eakers and his gentlemen have established the Grand Gentlemen Supply Company, which will produce lines of products vetted by Eakers and his men.
"Out of everything, the whiskey is actually moving the fastest … We're also doing beard oils and beard balms and stuff like that," he said.