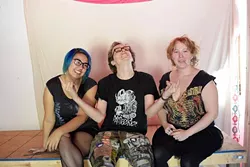 Garett Fisbeck
Kelsey Birnbaum, Elecktra Stanislava and Davil Dee pose for a photo at The Unkempt Beaver, Monday, May 8, 2017.
Folk-punk has a little secret in northwest Oklahoma City. Yet despite tongue-in-cheek innuendo from the house concert-style venue organizers, The Unkempt Beaver is mostly a wholesome, do-it-yourself (DIY) music cove.
Stepping into The Beaver, located on NW 89th Street between N. Classen Boulevard and N. Western Avenue, it's easy to see how it earned its moniker. About as large as the average living room, the venue is a converted garage or shed within a larger housing unit. Tenant Kelsey Birnbaum rents the space and lives in an adjoining bedroom.
The floor is dusted with a thin layer of dirt, not unlike many average American basements. A sheet spray-painted with the words The Unkempt Beaver flutters in the breeze of several box fans that cool the room.
Aside from several milk crates, furnishings are a second- or third-hand couch against the wall and a plywood stage donated by local artist and performer Leslie Hensley, also known as Balthazar.
"When Kelsey moved here, there were a bunch of holes in the wall, which is punk rock, but it's also dangerous," said Elecktra Stanislava, who manages audio and equipment for The Beaver.
Those hoping to make themselves houseguests will soon have their chance. Gritty New York-based alt-country songsmith Radiator King performs with Brain in the Sky, Cabot Unknown and more 8 p.m. May 27 at the venue, 800 NW 89th St.
The space is no Radio City Music Hall, but The Beaver isn't trying to be anything extravagant. The small house crew has made some improvements to the space, including plastic foam insulation to soundproof the walls, but its raw aesthetic is exactly what they are aiming for.
"A lot of the DIY people are folk-punk, crust-punk people," Stanislava said, "so they like it a lot."
Former home
The Beaver moved into its current location relatively recently. Birnbaum held her first house shows down the street in a rent home she shared with members of the band Semi-Feral. It included a spacious garage, and Birnbaum said she had long dreamed of hosting her own DIY shows.
She calls the first show she hosted, which was around two years ago, a colossal failure. A massive storm blew in while the bands performed and nobody showed up.
She did not let an initial flop deter her. Birnbaum was set on a flashy return. What she needed was a name. She scoured dictionaries and thesauruses to come up with a long list of funny terms. When she showed the list of finalists to her friends, they unanimously agreed on The Unkempt Beaver, a name Birnbaum said carries feminist and animal themes important to the punk ethos.
"It sounds like an Irish pub, and it's also a funny beaver joke," Birnbaum said. "Also, it's animal-friendly and little kids don't get the joke."
Setting gigs
After the lease ended, Birnbaum's roommates decided to go their separate ways, which convinced her to move into a house down the street with its own spacious garage. The Unkempt Beaver has called the new address home since last fall.
The venue hosts many kinds of DIY-focused punk and rock acts, including a wide array of folk and crust-punk bands such as Escape from the Zoo, Steve Strong, Days N Daze and international acts from as far away as Japan. Former Black Flag bassist and Edmond native Dave Klein recently took in a show.
The Unkempt Beaver makes most of its bookings through promoter Folklahoma, run by Beaver team member Davil Dee. Dee said what he likes most about the house venue is that it is a space that is truly open to all kinds of people, young and old.
"I'm just glad there's a space where anyone can come and feel comfortable," he said. "Just all ages, everyone can come and experience a show."
The Beaver is about a five-minute walk from 89th Street - OKC, another venue known for hosting DIY punk and rock acts. Dee said he does not see the two as competitors because their niche genre interests mostly do not overlap.
"I've never experienced anything that was like, 'Man, I really want to go see this band at The Beaver, but this other band is playing right across the street,'" he said. "But I'm sure it happens."
'Cool place'
Birnbaum said she has passed through just about every live music venue in the city. What she wanted for The Beaver was a space where she and her friends could just simply be. There is no beer or alcohol sold, and there are no pool tables or dartboards.
What they have is each other.
"I always wanted to open a cool venue where people could just hang out," she said. "There was never a cool place where anyone could hang out."
As a young child, Birnbaum longed to attend house shows her parents sometimes barred her from. With The Unkempt Beaver, she's turning those pent-up dreams into a reality.
"Basically, the whole thesis of this place is like, 'Be what you wanted to be when you were a kid,'" she said. "All the places that I wish I could have gone to is what I'm trying to do here."
Visit facebook.com/theunkemptbeaver.
Print headline: Good furtune, The Unkempt Beaver house venue makes a name for itself in the do-it-yourself music community.