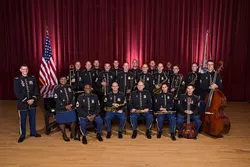 Chief Warrant Officer 2 Daniel Wood was serving in Afghanistan in the 10th Mountain Division Band when he learned that the U.S. Army Jazz Ambassadors were looking for bandmasters. At the time, he and his band were entertaining troops on the front lines, and all soldiers face the same day-to-day dangers, whether their instrument of choice is a French horn or an M4 rifle.
"It's interesting, because of course we're musicians, but we have to go through the same basic training as everyone else," said Wood, a native of Las Cruces, New Mexico, who will perform with the U.S. Army Jazz Ambassadors 7:30 p.m. Saturday at the Oklahoma City Community College Visual and Performing Arts Center Theater, 777 S. May Ave. "We learn to use our weapons and whatnot, and when rockets are coming in, we're in the bunkers just like everybody. But we have this great job of being able to lift the spirits of our fellow soldiers. We remind them of the good things about home. The other thing, unfortunately, is having the honor of playing for those who have fallen as their remains are transferred to the planes on their way home."
Wood was selected in December 2014 as officer-in-charge/bandmaster of the U.S. Army Jazz Ambassadors, "America's big band," which he now conducts and serves as master of ceremonies. With the new job came new responsibilities; the band members are literal ambassadors for the U.S. Army, a 19-piece jazz combo playing everything from big band classics and bebop to Dixieland and Latin jazz for mostly civilian audiences. The group includes the full range of jazz instrumentation, including vocalists, as well as audio engineers and veterans who serve as drivers for the bus and equipment vehicles.
"We are able to incorporate a lot of great jazz and introduce that to a lot of the audience, but also for people who are already jazz fans, being able to give them that thing that we don't get to hear a lot of anymore, which is a really kicking big band," Wood said.
Beyond the consummate musical skill of the players — military bands are known for the brilliant precision of their sounds — the purpose is to provide a tangible conduit between those civilians and military personnel, but also to recognize those in the audience who served.
"Our real point of being there is to leave our audience with a sense of patriotism and pride in their military," Wood said. "You know, it's so great to be able to represent our fellow soldiers who aren't there to get all those tributes, and we can be there to let those people in the audience know they shouldn't forget these people — they're fighting for our country."
During each performance, the U.S. Army Jazz Ambassadors play a medley of patriotic songs and ask veterans in the audience to stand. Wood said it can be a moving experience to see how many people have served.
"It's seeing those people and their family members have that pride, people who gave so much so that we can have the freedoms we have in this country," he said. "We do have a lot of veterans in the audience. Very few people come to our programs who don't have a connection to the military, and a little bit of that is because so many of us, our grandparents and great-grandparents, were from that 'greatest generation,' so many of them served, even if it was for a short period of time and not for a career. Many people are standing up in their honor. So we have very few people who don't stand up at all, which is a very cool thing."