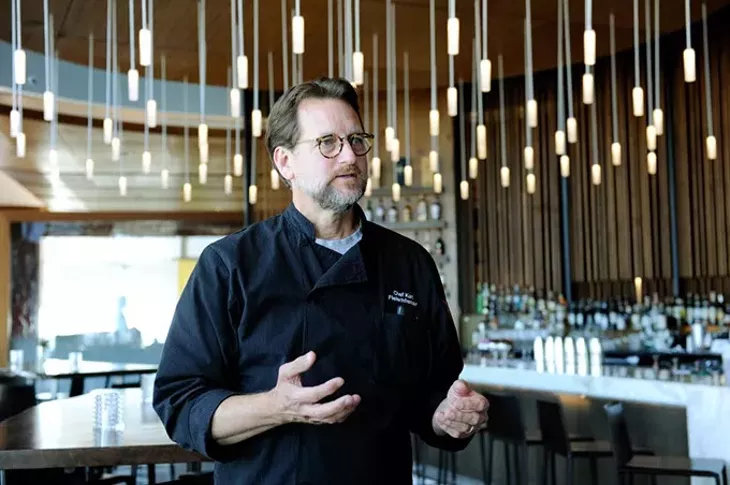 Garett Fisbeck
Chef Kurt Fleischfresser talks about changes at Vast in Oklahoma City, Thursday, May 21, 2015.
For a short time after he took over the restaurant, Kurt Fleischfresser considered changing Vast's name.
"I thought, 'Vast sounds cold and impersonal.' And I wanted to turn that around," he said.
But as he talked to more people in the community, he learned that almost everyone knew the name. However, their opinion of the restaurant wasn't always positive.
Located on the 49th and 50th floors of Devon Tower, 333 W. Sheridan Ave., early reviews lauded the view but panned the menu.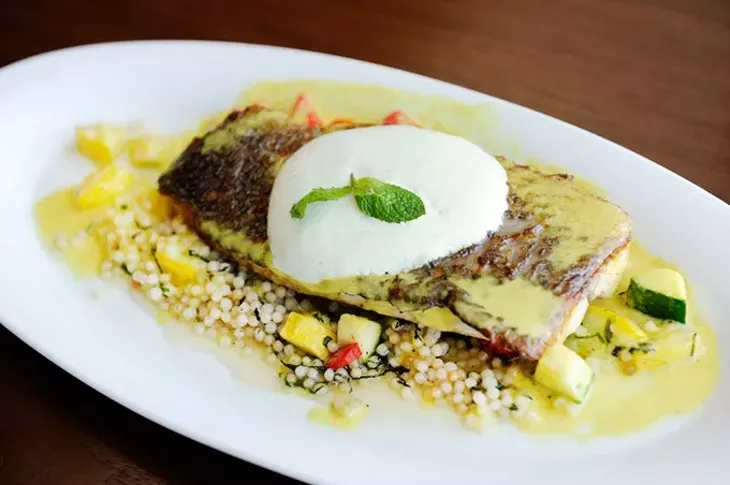 Garett Fisbeck
Pan seared redfish at Vast in Oklahoma City, Thursday, May 21, 2015.
It was that reputation that nearly kept Fleischfresser — food and beverage director at Western Concepts Dining Group and owner of The Coach House (one of Oklahoma's two AAA Four Diamond Restaurants) — away.
"I was wrestling with whether to do it, and it seemed like everywhere I turned, there was the Devon Tower," he said.
So Oklahoma City's culinary King Kong climbed to the top.
In the dining room, Fleischfresser highlights a few changes he made to the look and feel of the restaurant.
Some might be considered small touches — the addition of art to the walls and wine displays and tables arranged farther apart — but they belie an attention to detail that has served him well.
The resulting space, he said, is more welcoming and grand. Creating intimacy in a restaurant that large is challenging, but as he walks room to room, it's clear he succeeded.
Perhaps his biggest and most celebrated move was "unleashing" executive chef Patrick Williams, whose love of regional Southern and low-country cuisine brought new life to the menu.
"Some people you give more freedom and they freeze up, but Patrick just gobbles it up," Fleischfresser said.
Williams' signature is found on every page of the menu, from the seared gulf shrimp appetizer served with smoked paprika butter and sweet potato polenta to a selection of steaks that reads almost like a wine list — it's organized by cut, origin, size, price and how long the steaks were dry-aged in-house.
"This isn't Southern like plain old fried-chicken served family- style," Fleischfresser said. "There's an elegance in the plating and refinement in the ingredients. Fine dining is about making sure you pay attention to all the details and making sure you get them right."
To experience the purest expression of the kitchen's vision, Williams recommends the features, which change weekly. On the Three Course Chef's Tasting Menu ($65), a recent list of courses included a play on fish tacos made with blue marlin, a No Name Ranch filet with shrimp, a fried egg and bacon foam and a white chocolate mousse torte.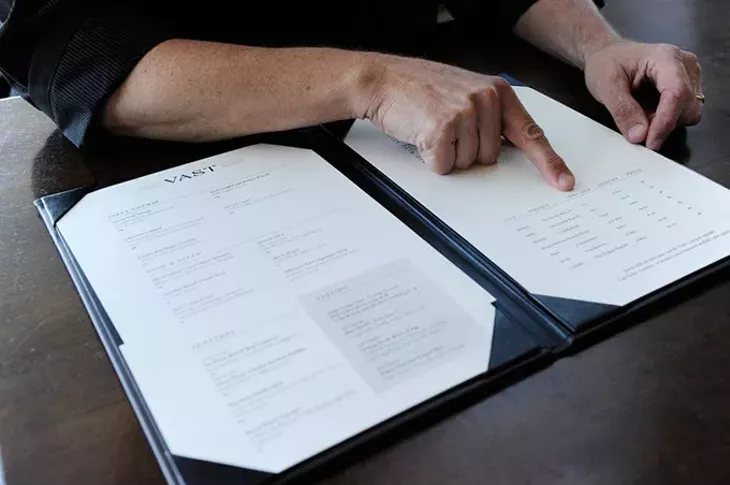 Garett Fisbeck
Chef Kurt Fleischfresser talks about the new menu at Vast in Oklahoma City, Thursday, May 21, 2015.
Gone too soon was an appetizer of frog leg ragout on toasted brioche with a dijon cabbage coleslaw and a pan-seared redfish over couscous.
Williams lived through Vast's initial missteps, taking the criticism in stride, and has now emerged a stronger chef. A favorite of both Williams and Fleischfresser is Vast's signature rack of lamb ($46), which is based on a South Carolina-style barbecue with smoky rib bones and a roasted loin.
Another favorite they agree on: chef de cuisine Kevin Lee, who came up through The Coach House's apprentice program.
"I can't emphasize enough the impact Kevin Lee has had on the menu and the kitchen," Williams said.
Having an able lieutenant on whom he can rely is a boon both personally and for customers, he said.
Vast might seem like primarily a dinner spot, but it's open at lunch and at 4 p.m. for drinks and early dinner with corresponding menus that appeal to a broader base of customers.
With the metro laid out around you — you can see all the way to El Reno's wind farms on a clear day — it's a more affordable way for diners to experience the city's tallest building.
Plus, who wouldn't want crab deviled eggs ($12) or a plate of shrimp and grits ($19) for an upscale, downtown lunch?
Since opening in 2012, the reviews at Vast have turned around considerably. Once again, the city is excited about the restaurant, and Fleischfresser said it has become a destination spot for visitors.
With Fleischfresser, Williams and Lee in the kitchen, what arrives on the table has become even more captivating and beautiful than what is outside those giant windows.
Print headline: High hopes, The view from the top of Vast is even better after menu and management changes.