Anna Lee, Provided
Members of Medicine Brother pose for a photo.
While some bands use a first record to establish chemistry or poke around at finding their place in the sound spectrum, guitarist Aaron Robinson said Medicine Brother's self-titled debut is a natural and logical progression for a group of old friends.
The four-song EP is the danceable rock quintet's first project under the Medicine Brother moniker, and it's set for a Jan. 26 online release via iTunes and Spotify. Still, most of the hometown friends from Ada have been making music together for over 10 years.
Medicine Brother EP features vocal coaching from local singer-songwriter Graham Colton and mixing from OKC native and former Coldplay and Philip Glass engineer Michael Trepagnier. Robinson, who lives in New York while working for a dance company, said some have compared the project's sound to post-rock act Explosions in the Sky or British-American rocker Fleetwood Mac.
The group recently released a live recording of "The Milk" as a free, streamable, bonus track via its website, medicinebrother.com. The upbeat, pop-rock tune showcases the charisma vocalist Laura Medcalf brings to the band. While not a founding member, she has been friends with the act's core lineup since high school.
"She brings the party; she has great energy onstage," Robinson said. "She had a performance quality about her that I think we all didn't have before she came into the band. She's all smiles, so we all feed off that."
Medcalf's impact on the record could only have been enhanced by Colton. The Medicine Brother EP was recorded the first week of October at the singer-songwriter's Lunar Manor Recording Studio in Oklahoma City.
Robinson said Colton would come in, listen to them and suggest ideas. Though likely to go unnoticed by most listeners, Colton also contributed accenting vocals to the project.
"We took him up on a lot of his suggestions," Robinson said. "There's backup vocals on all of the songs that weren't there until we met Graham. A lot of changes happened in the studio that I think the EP really benefits from."
Robinson said he hopes the band gets to work more with Colton.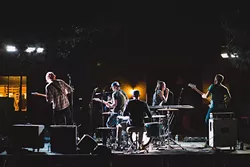 Anna Lee Media / Provided
Medicine Brother
Big, loud
Robinson grew up in Ada with fellow guitarist Dillon Branscum, bassist Spencer Bennett and drummer Bart Estes. They formed their own, semi-formal band in high school that would play at house parties and various shows around the area. The friends did not become Medicine Brother until the summer of 2014.
The Estes family, Robinson said, owned a lot of land outside of the city. On that land was a large garage where the teenaged friends practiced their music loud and proud any time of the day or night.
"Today, we always try to sound really big and really loud, and I think that's why some people say we sound like Explosions in the Sky, because we have really big choruses and stuff," Robinson said. "I think a lot of that came from playing in this really big, high-ceiling garage and just being loud all the time. We're probably going to suffer ear damage."
In those days, Robinson said the group was heavily influenced by bands like Incubus and Red Hot Chili Peppers, though now they have added some more eclectic tastes, including The Weeknd, Adele and Father John Misty as well as local bands Deerpeople and The Non, now defunct.
After high school, Robinson accepted a basketball scholarship from East Central University, but at the time, the school did not offer the musical degree he wanted. After a year, Robinson and Branscum became among the first to enroll at the University of Central Oklahoma's Academy of Contemporary Music in the fall of 2009. Both were included in the school's first graduating class.
Robinson said there was a sense that he was venturing into uncharted territory when he signed up for the then-fledgling school in downtown Oklahoma City.
However, the risks he took paid off. Robinson said even outside of the education the school provided, the connections he made during his time there and the guest speakers he heard were invaluable.
"I kind of like diving into the unknown," he said. "Maybe that's a characteristic of our whole band."
Future plans
The main drive behind recording Medicine Brother EP, Robinson said, was simply to share music the band members were excited about with the rest of the world. The group hopes to release about two EPs a year from now on.
Another part of sharing music includes touring. The band is planning a small Midwest tour in the spring. It also plays Saturday at The Blue Note Lounge, 2408 N. Robinson Ave., and Dec. 29 at Nice Tuesdays, 714 Hardin Drive, in Norman.
The band also regularly collaborates with Hartel Dance Group and hopes to bring some of their dancers along.
Whatever the future might hold, Robinson said it excites for no other reason than the opportunity to work more with his friends.
"We walk into rehearsal space and nobody's worried about anything," he said. "There's no drama. A lot of times in bands, people are worried about different things. We just show up and play; we play music together and have fun."
Print headline: 'Big' Brother, This local band's formal debut was a long time coming, but the wait and the work is worth it.
Editor's note: The online version of this story was updated to correct the release date of Medicine Brother's self-titled EP.