Garett Fisbeck
Jesus Cortez cuts a pizza at The Wedge, Monday, Oct. 24, 2016. Cortez has worked at The Wedge for 8 years.
KC Ortega has been general manager of The Wedge Pizzeria, 4709 N. Western Ave., for five years.
During that time, she's received "stacks and stacks of comment cards" from guests telling her how much they love the place.
The local restaurant's 10th anniversary is quickly approaching, and she's ready to celebrate.
The birthday bash is 6-10 p.m. Nov. 15 at the restaurant. A $20 ticket gets guests all-you-can-eat pizza, beer from several local breweries and wines that soon will be added to the menu.
Local love
Working at the same venue for so long can be challenging, but Ortega said The Wedge makes it easy.
"I really strongly believe in what we're doing and what we continue to do," she said. She added that she often hears from guests who say, "I used to go to The Wedge all the time. Why did we stop?"
She tells people that there are lots of new businesses out there and she understands everybody wants to try new things. When they remember how much they love The Wedge, they always will be welcome.
"I'm hoping the party will be a kind of catalyst to refresh people's memory about us," she said.
When it opened in 2006, The Wedge was touted as the metro's first wood-fired brick oven pizza eatery. Diners would sometimes wait an hour or more to be seated or pull up a seat at the bar. Though crowds have slowed, Ortega said the restaurant has remained consistent.
"We're the same Wedge that opened 10 years ago," she said.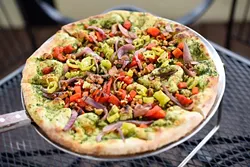 Garett Fisbeck
The Brandon vegan pizza at The Wedge, Friday, March 18, 2016.
Little changes
In some ways, it is exactly the same. In addition to using the recipes that made customers fall in love with the pizza place, The Wedge still employs servers who have worked there since it opened.
"You don't last very long at The Wedge if you're not a thoughtful server," she said.
Staff improvement includes ongoing training, like making sure everyone knows about vegan and gluten-free menu options.
"When we first opened, we were really focused on local, which we still are, but now we've added a few other things that are specialty options," Ortega said. "You could always build your own, but now it's on the menu and we've added cashew cheese and a gluten-free crust."
It also built up a great patio crowd. The overflow from the dining room at its Western Avenue location naturally found its way to the inviting backyard.
"It really is an excellent, healthy local alternative to the fast food restaurants with places for kids to play," she said. "Our playground isn't as expensive, but they have just as much fun, and the kids get to eat real food."
It also has a natural flair to it.
"Our patio is more like a backyard," Ortega said.
As a mother, she knows customers appreciate having space for their kids to work up an appetite before dinner is served.
There's no set timetable, but Ortega said The Wedge wants to cover the rest of the patio to create a year-round dining area. She said the importance of patio dining is a reason there hasn't been a third location of the eatery. (Its second location is in Deep Deuce, at 230 NE First St.)
"We're always looking for the right property for a third store, but we have to have that patio," she said. "One thing about Oklahoma weather is that it's nice to have a significant amount of patio time."
Garett Fisbeck
Brisket Pizza at The Wedge, Friday, March 18, 2016.
Food first
From day one through day 3,653, Ortega said, the heart of the business is great food.
"Our dressings, sauces, meatballs, sausage — we still make it fresh," she said.
If anything, The Wedge looks for more ways to put those ingredients to use.
The staff is creating a new brunch menu and recently added pasta to its roster.
Both locations have an $8 lunch that includes a salad and a choice of pizza, pasta or a calzone.
"It's funny that people are still surprised we do calzones," Ortega said. "We've done it for years, but now that we put it on the menu, people are ordering them like crazy."
She credits the restaurant's excellent dough, which has always been popular.
"Someone told me the other day it's the only place where people actually eat all the crust," she said.
Freshness and consistent quality extends all the way down to the croutons, which are made from Tulsa-based Farrell Family Bread.
"Any manager could come in and say, 'Why not buy croutons?'" she said. "But we keep making them, and I think they're the best in the city.
"I think that's why we're still here. Guests notice the small stuff."
Print headline: Constant comment, The Wedge Pizzeria plans a beer-and-pizza bash to celebrate its 10th anniversary.