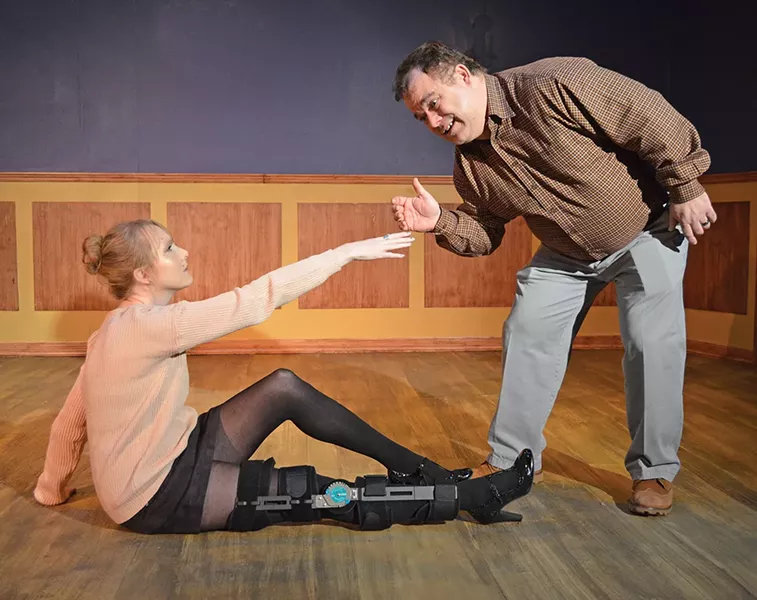 Carpenter Square Theatre / provided
from left Chelsea Davis plays Senga and Daniel Willsey plays Ever in Carpenter Square Theatre's production of Dancing Lessons.
The romantic comedy is a genre that gets at everything: love, life and the individuals who journey through both. Carpenter Square Theatre's upcoming production of Dancing Lessons — a heartwarming look at the nuances of identity and romance — encapsulates all of this and more.
The show runs Friday-Jan. 29 at Carpenter Square Theatre, 800 W. Main St. Tickets are $5-$25.
Written by Mark St. Germain, Dancing Lessons follows its two-person cast closely as they move beyond what's comfortable and into love. Ever is a man with Asperger's syndrome, an autism spectrum disorder (ASD) condition wherein social interactions are frequently more difficult. When Ever discovers that he will have to dance when he receives a service award at National Autism Coalition, he enlists the help of Senga, a Broadway dancer who lives in his building.
"He's really nervous about being conspicuous," said Daniel Willsey, the actor who is playing Ever, "because he's never danced in his life."
Senga has injured her knee, and frustrated by this setback to her career, she accepts the exorbitant sum that Ever offers her for a single dancing lesson.
"She's used to being a dancer, where she's just able to do whatever," said Chelsea Davis, who plays Senga. "She really has a lot of anger, but she works through it."
Brought together by circumstance, Ever and Senga discover all that they have in common.
"What we find out over the course of the play is that they're very similar," said Willsey. "He has a lot of difficulty making connections and making friends and understanding social cues, and she has pretty much cut herself off socially. She doesn't really have any friends; she's not close to any of her family."
The titular "dancing lessons" become the catalyst for Ever and Senga's initial connection and the subsequent deepening of their relationship.
Rehearsing, representing
Dancing Lessons is Davis and Willsey's debut at Carpenter Square and the sixth play that director Tom Cowley has overseen. All three were hooked by the show's premise and the nuanced humor of its script.
"It looked like just a great show from the description that I saw online," Davis said. "The themes of it — you don't really see a lot of shows that touch on autism."
Willsey said that he hadn't considered auditioning since he usually does musicals, but he decided to go out for the role, if just for the audition experience. After he got the news that he would play Ever, Willsey said the first thing the cast did was schedule an initial read-through.
As part of his preparation process, Willsey read the script and searched it for clues so that he could figure out who Ever is and what he wants. Willsey also did some online research about Asperger's and the autism spectrum as well as watching shows like The Good Doctor and Atypical.
"My goal is to create a real person up there," Willsey said. "I want to go up there and bring a whole, real guy into this role."
Willsey also contacted Autism Oklahoma, a nonprofit organization that aims to serve Oklahoma families and individuals affected by autism. In particular, Willsey connected with one of the organization's professional development programs, Invisible Layers Productions, which consists of college-aged people on the spectrum who act in, produce and edit their own films. Willsey said the script encourages theaters to reach out to such local organizations and individuals in order to create a context of accurate and respectful representation onstage and engagement offstage.
"It's been really fun to work on this," Willsey said. "[Ever] is a wonderful character. It's been fun to dive in and learn who he is and bring him to life. I'm just really thankful to Carpenter Square for giving me the opportunity to do that."
Cowley, who has performed over a hundred roles himself, said that he encourages actors to bring their creativity to the stage and aims, as a director, to create conditions that allow for optimum artistic expression.
"It's the director's job to interpret what the author has presented, and then I set limits on that," Cowley said. "Within that, the actors are free to develop their characters. If they get too close to the edge, I'll push them back, but other than that, I like to give the actors a great deal of freedom because it allows them to bring out a great deal of their creativity."
Davis said that the role of Senga is one characterized by physicality closely tied to her anger and frustration at her situation in life.
"I'm in a leg brace the entire show. That definitely helps; getting into the leg brace helps me get into character a lot," Davis said.
She also draws from within herself to tap into frustrations that are then transformed on the stage.
While Ever doesn't like to be touched, Senga is used to physical contact as a necessary part of dance routines, Davis said.
"It's really a challenge for both of them to get out of their comfort zones and try to learn from each other," Davis said.
Staging connection
Being a two-person show, Cowley said Dancing Lessons is relatively easy to stage. Most of the events take place in apartments. What's difficult, though, is the timing — an essential component of dance (and comedy).
One element that requires specific timing is the show's soundtrack, which Cowley said is replete with ringing phones and doorbells announcing entrances that have to be perfectly synched with the onstage action.
Cowley described another pivotal movement wherein Senga and Ever dance to a spare and simple arrangement of Andy Williams' "Moon River" before it expands into the full bombast of a symphonic orchestra arrangement, accompanied by dance.
Part of Cowley's process when it comes to directing is also to focus on the creativity of everyone involved in the production — not only the cast, but also the tech crew and the designers.
Dancing Lessons takes as its central conceit something associated with both romance and social anxiety — dancing in public — and uses it as a catalyst to tell a story of love, acceptance and, of course, connection.
"It will be a worthwhile evening for people on many levels," Cowley said. "It's a great story. It's very entertaining, it's very funny, and it's got some subtext when you think about people that are trying to get along in this world who don't necessarily have to the tools to do it. It's got some meat, and it's presented very nicely."
Visit carpentersquare.com.