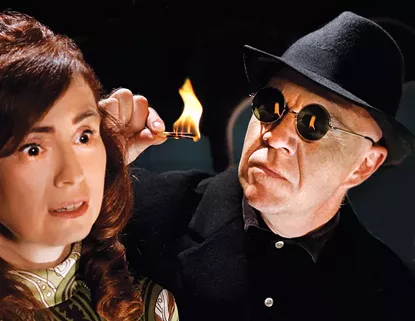 Jim Beckel / provided
J. Christine Lanning and David Fletcher-Hall star in Jewel Box Theatre's current production of Wait Until Dark.
Traditionally, there's a moment just before a play begins when the house lights have been turned off and the auditorium fills with suspenseful anticipation. In Jewel Box Theatre's upcoming production of Wait Until Dark, that thrill pervades the entire production and keeps audiences on their toes (and, occasionally, in the dark).
Wait Until Dark runs Thursday-Oct. 28 at Jewel Box Theatre, 3700 N. Walker Ave. Tickets are $25 for adults and $20 for students and seniors. They are available by calling 405-521-1786 or visiting jewelboxtheatre.org.
Originally a 1966 Broadway play written by Frederick Knott, Wait Until Dark made its way to the silver screen the following year, starring Audrey Hepburn in the main role of Susy Hendrix, a blind woman who lives in Manhattan's Greenwich Village.
Frequent Jewel Box director Don Taylor has fond memories of the film, saying it was one of the first movies to scare him. The film adaptation was both formative for Taylor and faithful to Knott's script.
"It's almost word-for-word," Taylor said. "Unlike most adaptations, there's not a lot of difference between one and the other."
Both film and play tell the story of Hendrix after she unknowingly comes into possession of a children's doll filled with heroin.
"Her husband is given the doll at the Montreal Airport by one of the criminals that's the mastermind, with the idea that he will take it to a little sick girl in a hospital in New York. She comes to collect it while it's at their apartment, but they can't find it," Taylor said.
Consequently, Susy finds herself alone, in her apartment, having to outsmart three dangerous criminals — Roat, Mike and Carlino — who are after the heroin.
"It's two small-time con artists who have, for years, been conning housewives out of petty money. Then they meet Mr. Roat, who is more of a big-time, very smart, on-the-ball kind," said Taylor. "He's hiring them to get this doll by just doing their regular con game, but of course it doesn't go that easily. They don't realize how smart [Susy] is."
Susy's narrative of feminine agency against masculine villainy remains timely and relevant in 2018, over 50 years after its debut. The criminal trio underestimates her intelligence and abilities, and she exploits their ignorance to her advantage, employing keen powers of observation and her heightened other senses in her attempts to preserve her own life.
"She puts two and two together pretty well," Taylor said.
Susy catches on to the fact that Roat is playing two different characters once she notices that they wear the same cologne and have an identical squeaky shoe, Taylor said. Although Susy is blind, the criminals don different costumes when they interact with her, which helps distinguish their performative identities for the audience, according to Taylor.
"She can hear them opening and closing the blinds, and so she knows they're signaling each other outside, where there is a phone booth. She notices that every time the blinds are opened and closed, the phone mysteriously rings right after that," Taylor said.
Susy's primary enemy is the "cold-blooded killer" Roat, said Taylor.
"You never know when he's going to stab someone," Taylor said. "He's like a little band that's getting wound tighter and tighter and tighter, and you know it's going to pop; you just don't know when."
Suspenseful stage
Staging Wait Until Dark at Jewel Box has brought its own set of special considerations for Taylor, who has been at the theater for over two decades. After starting out as an actor, Taylor began directing shows over the past 11 or 12 years, he said. Wait Until Dark represents a break from his traditional approach, though, as Taylor frequently directs more comedic shows.
"Since I do so much comedy, I thought, well, it would probably be fun to do a drama and just try my hand at that," Taylor said. "This was just one of my favorites, and we needed an October slot, a Halloween slot."
Taylor saw the show when it was last performed at Jewel Box 12 years ago. He loved the production and is excited to bring it to life now. As Jewel Box is a theater "in the round," where the audience surrounds the central stage, Taylor said there have been several elements of staging designed to maximize suspense. One condition of working in the round is that actors must be kept moving, but the kinetic tension of Wait Until Dark ensures that movement is pretty constant.
"We have four doors at the Jewel Box Theatre. Two of them go through the audience. I've decided not to use those two," Taylor said. "I'm only going to use two doors that are up on the platform and make the space smaller so that it psychologically traps the audience in this little studio apartment with the killers."
Wait Until Dark will also incorporate strategic restrictions on the lighting in order to most effectively ramp up the suspense during key scenes. There are also other technical considerations: a burst of fire in an ashtray, a knife thrown and stuck into the wall. Taylor said Jewel Box was working on developing stage tricks in order to bring these effects to life in a realistic way.
Wait Until Dark serves up a slice of suspense appropriate for the Halloween season, full as it is of both tricks and treats.
Visit jewelboxtheatre.org.