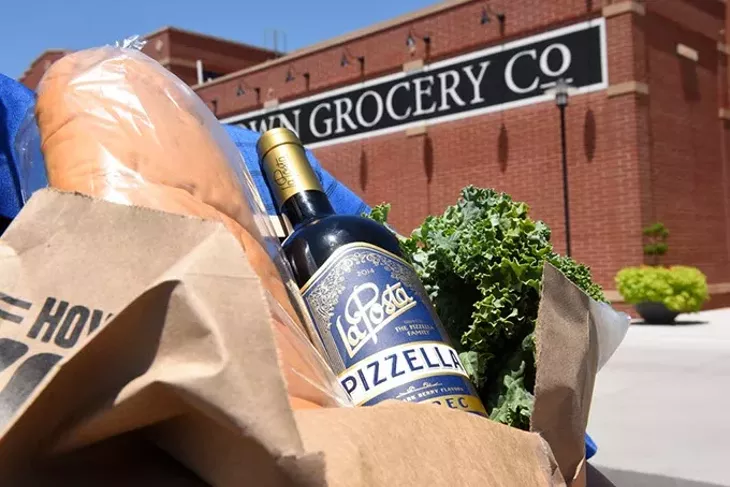 Garett Fisbeck
Photo illustration for SB 383, Monday, July 18, 2016.
Politicians across the nation are warming up for a Nov. 8 election showdown between former Secretary of State Hillary Clinton and businessman Donald Trump, but Oklahomans are also considering a measure that could make major changes to the state's liquor laws.
State Question 792 puts to a vote of the people the repeal of Article 28 of the Oklahoma Constitution (Alcoholic Beverage Laws and Enforcement) and the enactment of Article 28A, as outlined in Senate Bill 383, authored by District 22 State Sen. Stephanie Bice.
If SQ 792 passes during the Nov. 8 vote, SB 383 becomes law Oct. 1, 2018. If it doesn't, the proposed law is voided. Why? Because alcohol laws are enshrined in the state constitution. A constitutional change requires approval by a vote of the people in the form of a state ballot question.
The best-known changes would allow the sale of refrigerated strong beer and wine in grocery and convenience stores, which currently only sell 3.2 percent alcohol by weight beer and malt beverages. Changes also would allow liquor stores to sell chilled strong beer and wine. They currently sell strong beer and wine at room temperature.
But there's more to it, said Bice, who wrote the proposed changes.
"The reason I did that is, over the years, so much legislation had been passed and added on to existing statute piecemeal," she said. "I wanted to reorganize it in a way that was easier to read and easier to find. It makes more sense to restructure and consolidate definitions."
Stable ABLE
There are no changes to the Alcoholic Beverage Laws Enforcement (ABLE) Commission, except that, with the elimination of 3.2 beer as a category, all beer and wine sales will fall under the agency's jurisdiction, Bice explained.
"There were a lot of concerns from outside entities about changes to ABLE. That discussion can happen in the future, if it makes sense," she said. "One thing we might look at changing are requirements for board members. It's a difficult process to find board members for ABLE. You can only have so many from one political party and from different congressional districts."
Moving ABLE out of the state constitution makes it easier for lawmakers to make changes to the agency.
License driver
Part of the reason ABLE's jurisdiction is increasing is because the new law would require more regulation.
"Everyone selling alcohol is to be licensed through ABLE. We pushed hard for that," Bice said. "If someone is selling to a minor, they can have their license revoked, whereas right now, it would be up to the employer."
If SQ 792 passes, the law will give ABLE more direct control of alcohol sellers and the ability to more quickly revoke licenses and stop sales to minors. If someone sells 3.2 beer to minors now, she said, it's a local law enforcement problem.
Ship shape
Another provision that flew under many people's radar is section 3-106 of Title 37A, which would allow direct shipment of wines. Currently, it is illegal to ship out-of-state wines into Oklahoma, even for personal use.
If passed, wineries would be able to ship up to six 9-liter cases of wine annually to an Oklahoma resident age 21 or older, as long as it's not for resale. Under this law, state residents would be limited to 30 9-liter cases of wine annually.
"There are some caveats to protect retailers," Bice added. "But if I wanted a specific kind of wine I couldn't get here, I could have it sent to me, up to a certain amount of bottles a year."
Wineries would need a paid ABLE permit to ship wine to consumers, which costs $300 for initial registration and $150 annually for renewal. Consumers would also need a permit to receive wine shipments, but it would be free.
And residents better be home when it's delivered, because it will require a signature of someone age 21 or older to receive the shipment.
Later liquor
Though many hoped for a provision to allow liquor stores to remain open seven days a week, that did not make it in. However, SB 383 includes language allowing stores to stay open later, Bice said.
Title 37A Section 6-103 allows liquor stores to operate 10 a.m. until midnight. Currently, the shops must close by 9 p.m. Stores also could open on holidays, excluding Thanksgiving and Christmas, as long as the holiday doesn't fall on a Sunday.
Those changes aren't enough for some, said Dale Blackburn, owner of Grand Cru Wine & Spirits, 9275 N. May Ave. The shop is in a tricky location — between Homeland and Uptown Grocery Co. stores.
"It was a not a well-prepared bill," Blackburn said. "They took no input from us and wrote the bill in the interest of the bigger chain."
Competition isn't the problem, he explained. The way laws are set up, he can own interest in two package stores while grocery store owners can own more shops. This makes it harder for Blackburn to buy in bulk, while grocers negotiate on volume prices.
"Make the rules the same for everybody," he said. "I just want things to be fair."
Blackburn said he's also frustrated by a provision that would prohibit liquor stores from earning more than 20 percent of its sales revenue from nonalcoholic items. There is no equivalent rule for grocers.
Bice said change and uncertainty are challenging but Oklahoma hasn't made any significant changes to its alcohol laws in 57 years.
"If you look at surrounding states with beer and wine in grocery and convenience stores, liquor stores still doing well," she said. "People have been asking for change for a long time."
---
Lawsuit filed
Retail Liquor Association of Oklahoma (RLAO) filed a lawsuit July 20 in Oklahoma County District Court asking to remove SQ 792 from the November ballot. The group alleges it violates the 14th Amendment of the U.S. Constitution.
"State Question 792 ... creates an unfair marketplace for retail package stores by giving a series of advantages to other stores to sell as much beer and wine as they like without any of the restrictions placed on package stores," said RLAO president Bryan Kerr.
If a store sells only wine and strong beer, laws created by SQ 792 could mean the store could open 24 hours, allow children in the store and its owner could own a chain of locations — all things that are now illegal, he said.
Kerr hopes the nail in the coffin for 792 is the "inexplicable" provision limiting package stores to making 20 percent of their income on nonalcoholic items.
"You have to make laws that adhere to the Constitution, or else you waste people's time and money putting something together that is going to be struck down by the courts," he said.
Kerr said the goal is not to stop liquor modernization, but to make a level playing field for everyone.
A hearing on an injunction blocking State Question 792 is set for Monday. If Oklahoma County District Judge Aletia Haynes Timmons does not grant the injunction, Kerr said the group plans to take the issue before the Oklahoma Supreme Court.
By Greg Elwell
Print Headline:
Questionable changes,
There is more to State Question 792
than cold beer and wine sales.