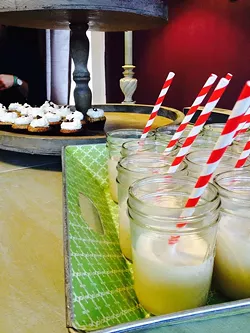 Some folks can barely make it to the kitchen without their morning cup of coffee, but the metro's third Caffeine Crawl will have 150 ticketholders roaming the streets Edmond, Norman and Oklahoma City for their next sweet, sweet hit of jitter juice.
Masterminded by Kansas City, Missouri-based The Lab, the Caffeine Crawl is a chance for a city to highlight its coffee, tea and chocolate offerings to a crowd of energetic enthusiasts, said founder Jason Burton. The events began in 2011, and Oklahoma City joined in 2013.
"We really wanted to bridge the gap between coffee shops, mainly baristas, and the passionate consumer," Burton said. "I started working in the specialty coffee world in 2004 and saw a huge difference between that interaction within craft beer and cocktails at bars. We felt like coffee needed this outlet, too."
Though the idea began with coffee, it soon spread to tea and chocolate as a way to get more businesses involved.
This year's event includes stops at Elemental Coffee Roasters, Cuppies & Joe, Kitchen No. 324, Junction Coffee and t, an Urban Teahouse in OKC; Café Evoke and Compass Coffeehouse in Edmond; and Gray Owl Coffee, Mariposa Coffee Roastery, Second Wind and Syrup in Norman. Ticketholders purchase one of six routes and will visit about six shops.
Shops chosen or asked to be a part of the event can't be part of a national chain, Burton said.
"This is for the individuals and families that work hard on creating a local business for their community," he said. "You have to fit under the craft or specialty umbrella, and there's a good amount of room under there. We have a wide range of diverse shops and roasters. Some [are] uber geeky and progressive, and others more old school and thrive on baked good pairings with your morning joe. There's room for everyone who cares and has passion."
Though coffee gets a lot of attention, t owner Kristy Jennings said she joined the crawl to help bring more people into tea culture.
"So often, people are still learning a lot about tea, so at my stop, I'll be doing a Tea 101," she said. "With the coffee shops, they can focus on country of origin or roasting methods, but I need to give a larger view of tea."
Compass Coffeehouse owner Ally Moore said her shop will show off its Tulsa-based Topeca Coffee and make samples of its brews.
At Elemental Coffee Roasters, ticketholders will see a demonstration and tasting of its sparkling cold brew.
The entire event wraps up that evening at Coffee Slingers for a Latte Art Throwdown.
The businesses aren't closed during the Caffeine Crawl, Burton said. "Cities like Portland and San Francisco have had some packed shops, but it's cool and odd that ticketholders are OK being packed like sardines at a shop when they are sipping on some of the best coffee they've ever had," he said.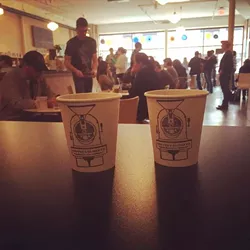 Print headline: Jittery jaunts, The third annual Caffeine Crawl is so popular it sold out all six routes.