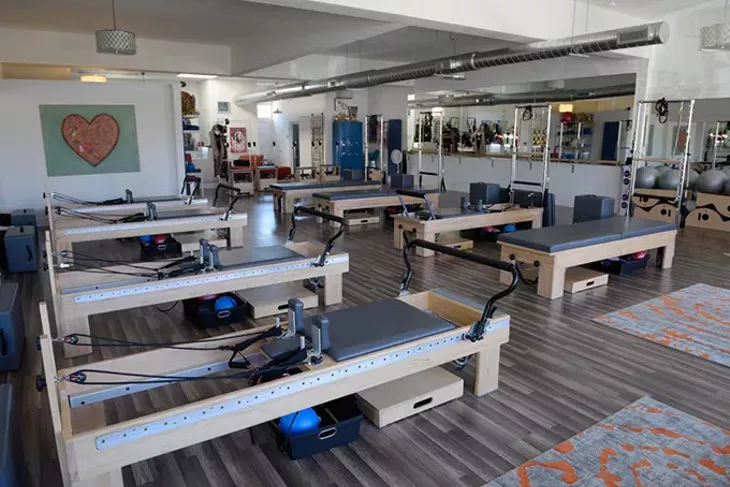 Garett Fisbeck
Pilates On Western in Oklahoma City, Tuesday, Nov. 29, 2016.
Many local residents might not readily know the address 3714 N. Western Ave., but "Bruno's Home Furnishings" is instantly recognizable.
The 35,000-square-foot store at NW 36th Street and Western Avenue was home to Bruno's for over 50 years. It sold some of the finest furniture and home décor in the metro. It closed in 2010, but the Bruno spirit lives on in a new generation.
"Bruno's may be gone, but it's not forgotten," said Gina Bruno-Dunn, whose father Frank Bruno opened the store. "For all those years, Bruno's was the entire building, but now we have four separate tenants."
Bruno-Dunn said part of the structure was leased to The Vine Community Church. Other tenants are K&N Interior Consignment and Pilates on Western, Bruno-Dunn's Pilates studio. She and husband Allen Dunn also own Designer's Decor by Bruno & Dunn, and Brickstir's Coffee and Café opens in early 2017.
"My paternal grandmother founded the company with a mattress store on SW 29th Street, and then my father expanded and opened Bruno's," she said. "We are very excited about our third-generation development."
Reinventing the Bruno's legacy has been a bit of a challenge, Bruno-Dunn said. The biggest issue is getting the word out about the new businesses.
"It's been very hard getting customers to realize Bruno & Dunn is open," she said. "We had no idea how well-trained all our past customers and even friends and family were to entering the one building and having it all connected."
Designers Decor is a unique concept that offers modern antiquities, art and accessories and is a departure from the original family store.
"We sell rugs, lighting and accessories, and we also feature artwork from local artists," Bruno-Dunn said. "Right now, all of our walls are filled with the work of eight Oklahoma City-area artists, and we are always looking for more."
She said the Pilates studio has long been a dream.
"My partner Linda Tillotson and I met at another Pilates studio," she said.
Their joint love of Pilates brought them to their current studio, which caters to neighbors in Crown Heights, Putnam Heights and Heritage Hills.
It opened in March, renovated with modern high ceilings and keeping the original Capital Hardware door that's now used for its dressing room.
"We are living our dream and look forward to many years to come," Bruno-Dunn said.
The former Bruno's warehouse facing NW 36th Street is home to Rust & Rot, which opened late last month and features custom dining tables and unique furniture and accessories.
The businesses are planning a grand-opening celebration after Brickstir's opens, which they expect will be in March or April.
"We are so excited about the new cafe," Bruno-Dunn said. "It will basically be a coffee shop that also serves breakfast and lunch, sort of an old-fashioned type of cafe that serves hot lunches."
Brickstir's will feature a coffee bar and lounge area with Wi-Fi. Renovations begin soon.
Print headline: Fresh fixtures, The former Bruno's Home Furnishings site is reborn as a multipurpose shopping, cafe, Pilates and worship destination.