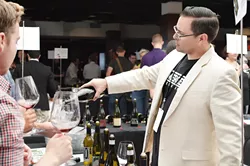 The impact of Thirst for a Cause could be counted in empty wine bottles, exhausted chefs or ever-growing attendance numbers.
But for organizers Alex Kroblin, Kurt Fleischfresser and Verej Jazirvar, the number that matters is two.
"This money has made a difference," said Fleischfresser, Western Concepts Restaurant Group director of operations. "It's saved two lives. To me, that makes the whole thing worthwhile."
Thirst for a Cause celebrates its eighth year raising money to help members of Oklahoma's hospitality industry pay for urgent medical needs and expenses 6:30-9 p.m. Sept. 14 at Jim Thorpe Museum, 4040 N. Lincoln Boulevard.
Since it began, the event helped save the lives of a hostess with Stage 4 leukemia and a line cook who needed to pay for a kidney transplant and has kept others from crushing medical debt.
"It's amazing that we can facilitate something like that," Fleischfresser said. "People get to eat and drink and enjoy the event that makes it happen."
Sips and nibbles
While the evening helps support a worthy cause, Thirst Wine Merchants managing partner Kroblin said it's far from a solemn event. Thirty wineries participate, opening up more than 600 bottles of 200 different wines. For wine lovers, it presents a unique opportunity to meet the people who make their favorite wines.
"It's a go-at-your-own-pace event," Kroblin said. "People go from table to table that are serving tastes of all kinds of different wines, and the people serving them are from the winery. They know what they're talking about."
Fleischfresser said Thirst for a Cause exceeds expectations for wine drinkers.
"They get to taste the wine and meet the people. It's kind of an undersell and overwhelm mentality," he said. "From the restaurant side, everybody wants to have the best dish there. It's not a competition, but it's a competition."
Interspersed among winery tables are 10 restaurants serving up bites for attendees to taste. Though some tasting events include judging food, Thirst skips over the scoring sheets and just lets the crowd enjoy the food. But Fleischfresser said that doesn't mean there aren't rivalries.
This year's evening features unofficial matchups between Boulevard Steakhouse, Cattlemen's Steakhouse, Vast, Cafe 501, La Baguette Bistro, Packard's New American Kitchen, Paseo Grill, Stella Modern Italian Cuisine, West and Running Wild Catering.
With so many chefs in one room, especially in front of a crowd of winemakers and wine lovers, there's a real drive to create something special.
"Being paired with winemakers you've known for years means you have to do great things," Fleischfresser said.
Keeping things fresh, Thirst aims for about 30 percent of the restaurants each year to be new to the event. Fleischfresser said it's hard to get through it all in just three hours.
'Greatest hits'
The fundraiser wouldn't raise nearly as much without the work of Jazirvar, executive vice president of Petroleum Club, Kroblin said.
"It gets overlooked every year, but the Jim Thorpe Museum donates the space for the event," he said. "It's really hard to quantify how much that means to the event."
Jazirvar said a big problem with charities are the expenses, but by keeping it simple, Thirst continues to grow without taking funds away from those who need it.
"Our committee is three guys," he said. "We want almost 100 percent of the money to go back to the charity. That's what charity events should be about."
Kroblin said it's a must-attend event for local oenophiles. This year, he's particularly excited about having Savage wine from Santa Barbara, California, and Eric Kent Wine Cellars from Santa Rosa, California.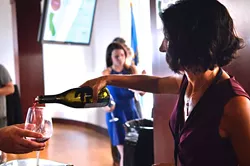 And because it's also the 10th anniversary of Thirst Wine Merchants, the company will have a special "greatest hits" table with some of the most expensive, exclusive and hardest-to-find wines the company has distributed.
"People can sample some stuff they might never get to try otherwise," Kroblin said.
Thirst for a Cause also features silent auction items and rare bottles available for bidding. Since 2009, the event raised nearly $200,000 for those in Oklahoma's hospitality industry, which is a neat feat for an evening regular guests call "Christmas for winos."
Other wineries scheduled to appear and pour are 32 Winds, Adelsheim, Angeline Vineyards, Blackbird Vineyards, Bonny Doon Vineyard, Canyon Lakes Winery, Casa Smith, Charles Smith Wines, Dalla Terra Winery Direct, Darms Lane Winery, Domaine de la Côte, DuMOL, The Eyrie Vineyards, Evening Land Vineyards, Failla Wines, Famille Sichel, K Vintners, Lail Vineyards, Marietta, Martin Ray, Martine's Wines, Mouton Noir, Raptor Ridge, Sandhi, Scarpetta, Scribe, Squadra, Sixto, Skurnik Wines, Vine Connections, Vine Street Imports and Well Oiled Wine Co.
Tickets are $75 in advance or $89 at the door and can be purchased by phone at 405-942-9463 or online at okrestaurants.com.
Print headline: Thirst-y work, More than a fun evening, Thirst For a Cause organizers count two lives saved among the event's accomplishments.