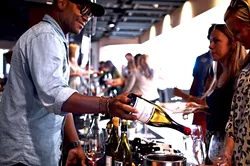 Scribe Winery and Leonetti Cellar join this year's Thirst for a Cause event lineup 6:30 p.m. Wednesday, Aug. 26 at Jim Thorpe Museum, 4040 N. Lincoln Blvd.
They join the list of more than 200 wines from 35 wineries to be poured at Oklahoma Hospitality Foundation's annual charity fundraiser, presented by the Oklahoma Restaurant Association.
The event also includes food from 10 local restaurants, and new additions include Ludivine, Guernsey Park, Mahogany Prime Steakhouse and West. Chef Jonathon Stranger also will prepare food.
"Jonathon said he wanted to be there, but he refused to bring pre-made food," said Alex Kroblin, who works with the event and is founder and owner of Thirst Wine Merchants, a local distribution company. "He will be cooking to order at the Ludivine table. This is a first, too."
Event proceeds go to help hospitality industry employees pay for medical-related needs.
The newbies
Until recently, Leonetti's world-class wines were available via mailing list only, and since direct shipping is illegal in Oklahoma, they were unavailable to state residents. In July, Kroblin began representing the brand throughout the state.
"This is a winery that is on top wine lists around the country," he said. "The winery is legendary."
The Leonetti family planted its first vineyards in 1974 on land it had farmed since 1906 and became the first commercial winery in Walla Walla, Washington, in 1977. It specializes in big, red wines, most notably Bordeaux varietals and sangiovese. Thanks to Walla Walla's geological anomalies, the rich fruit is tempered by strong minerality from the area's rich soil and gives the wines a structured flavor with remarkable complexity.
Critic scores for these beverages are typically in the mid to high 90s.
However, unlike Leonetti, Scribe doesn't grade its selections because owners (and brothers) Adam and Andrew Mariani refused to submit them for scoring. In a market dominated by aggressive marketing and critic tastes, Scribe does things differently.
"These guys are the new generation of wines," Kroblin said. "They have attracted a huge following by relying on word of mouth."
The Marianis founded the Sonoma, California, winery in 2007, and its reputation quickly grew. Kroblin said he heard about Scribe while attending tastings on the West Coast.
"For the 'pursuit of balance' crowd, Scribe was en vogue," Kroblin said.
Scribe focuses on traditional California varietals, most notably chardonnay, pinot noir and cabernet, but the wines are anything but California traditional. Its riesling is perhaps one of the driest available in this state, without any hint of residual sugar.
"They make very lean, low-alcohol wines," Kroblin said, "and they didn't want scores because they want you to taste their wines and decide for yourself what they're like."
Tickets for Thirst for a Cause are $75 in advance and $89 at the door and are available at okrestaurants.com. Learn more about Oklahoma Hospitality Foundation grants at okrestaurants.com/foundation_basics.php.
Print headline: Healthy drinking, Thirst for a Cause, an annual fundraiser to help hospitality service workers pay medical bills, offers over 200 wines and food from more than 10 local restaurants.