Garett Fisbeck
Lunch Special at Pierre Pierre Creperie
Never underestimate the appeal of food wrapped in other food.
Corndogs. Burritos. Turduckens. Giant tacos made out of a folded pepperoni pizza filled with a whole beef brisket and a bowl of Caesar salad.
But if you want to get classy — and we're talking a top hat and a monocle and a ball gown made of several smaller, lacier ball gowns classy — then you need to taste the miracle that is the crêpe.
What is a crêpe?
Have you ever had a pancake and said, "What if this was thinner and stuffed with either sweet or savory filling?" That's a normal thing to say out loud.
And it's kind of crazy that you've been saying it for so many years without anybody taking you to Pierre Pierre Crêperie, 7 NW Ninth St., and saying, "Yeah, it would be this."
And what a this this is! It's a this that can be incredibly versatile. For instance, there's this: The General.
Like all savory crêpes on the Pierre Pierre menu, The General is $9 and includes your choice of a soup or a salad. (Go at lunch and your $9 purchase will also include a Sara Sara cupcake.) So far, this is my favorite on the menu, filled with sautéed wild mushrooms, tender braised onions and tangy, slightly chilled, slightly melting goat cheese.
It's a classic flavor combination, and with good reason. The thin crêpe holds back the flavorful interior until you breach it with a knife and fork, spilling forth into a delicious mess.
Garett Fisbeck
Augustus Gloop at Pierre Pierre Creperie in Oklahoma City, Monday, March 23, 2015.
If you require meat in your meal, then you might like The Boz, which has plenty of crisp bacon and crunchy green onions and is topped with cream cheese. It's a good choice but less complex and interesting than The General.
You can build your own crêpe as well, but can you really trust yourself? You didn't even know what a crêpe was a minute ago. Are you going to mix chicken with zucchini and feta? Or ham with jalapeño and more ham? Will you go triple ham? Is that even allowed?
Sure, maybe you'll beat the expectations and deliver a truly wonderful recipe that wows the owners so much they'll beg to put it on the menu and name it after you. But, more likely, you'll figure out that they know what's good and you should just listen to them.
And, at $9 apiece, do you want to take the chance on a bland crêpe? Probably my one complaint is that these seem a little pricey for what you get. (If I had a second complaint, it was that the chicken tortilla soup was way too salty.)
What I'd really love is to see some of the brunch crêpes ($9, with potato cake and a drink) added to the regular menu. A crêpe Benedict sounds just as good Wednesday night as it does Sunday morning. Ditto for the Speedy, which is huevos rancheros, onions, potato, red pepper and mozzarella topped with pico de gallo.
Pierre Pierre's grilled cheese ($9, with choice of soup or salad) is not a crêpe in any way; it is, instead, a grilled cheese sandwich. It eschews the usual cheddar for a mix of mozzarella and goat cheese with a liberal filling of onion marmalade between two buttery pieces of Texas toast.
This is better than the grilled cheese you make at home. It just is. Stop fronting.
Surprise fact: White chocolate is not technically chocolate, nor is it something anybody enjoys eating. It was briefly used as a substitute for coal as the default gift for naughty children until it was deemed "too cruel." But, you know, it's pretty good in the Violet ($5) crêpe. Honestly, the mixture of sweet blueberries in syrup and cream cheese would probably be good without it, but the white chocolate shavings pair surprisingly well.
The Augustus Gloop ($5) is one of Pierre Pierre's best sellers, which is understandable, because the combo of Nutella, strawberries and shaved chocolate sounds like a winner. And it is, if you're sharing, because this is so rich that it's almost overpowering. It's good — make no mistake — but I was only a few bites in before I had to tap out.
Pierre Pierre is not Oklahoma City's first crêperie, nor, I hope, is it its last. For those who enjoy foods wrapped in other foods, however, this should definitely be a stop on the Oklahoma City Food-Inside-Other-Food Tour. Wow ... I should start a tour company.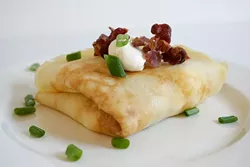 Garett Fisbeck
The Boz at Pierre Pierre Creperie in Oklahoma City, Monday, March 23, 2015.
Garett Fisbeck
Grilled Cheese at Pierre Pierre Creperie in Oklahoma City, Monday, March 23, 2015.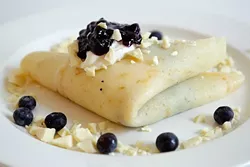 Garett Fisbeck
Violet at Pierre Pierre Creperie in Oklahoma City, Monday, March 23, 2015.
print headline: Yes, yes, please, please, This crêperie's taste selections will have you coming back for more.