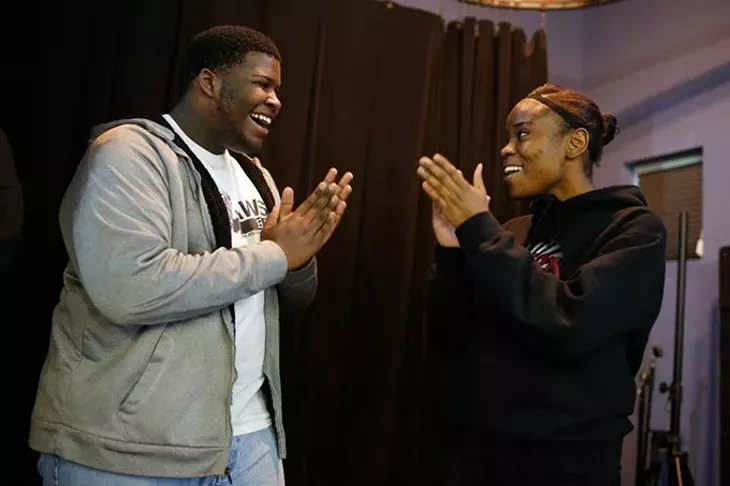 Garett Fisbeck
Denzel Graves and Malaysia Glover sing in music class at Seeworth Academy in Oklahoma City, Friday, April 24, 2015.
Malaysia Glover was born in shackles.
Both her parents were incarcerated on the day of her birth, which sentenced Glover to a childhood of bouncing between the homes of relatives. Despite that instability, she thrived in school during her early years, developed a passion for fine arts and appeared to have a chance at breaking free from the prison of poverty she was born into.
But the pressures of life were slowly building up, and when a close friend was killed during Glover's freshman year at Oklahoma Centennial High School, she began a downward spiral.
"I was going through a depressive state," Glover said. "I couldn't think right, and it caused me not to eat. I became so depressed that I made myself so sick that my kidneys began to fail. I missed a lot of school and couldn't get work done, which made it worse."
After falling behind on her studies, Justice Alma Wilson SeeWorth Academy in Oklahoma City was recommended as her best option. Over the past two years, Glover was able to catch up academically and is on track to graduate this spring, a feat most students facing similar challenges don't accomplish.
"They've helped me find jobs, they understand my living circumstances and they also help me get back and forth to school," Glover said about SeeWorth and its staff of teachers and principals. "Literally, my principal is like a father to me."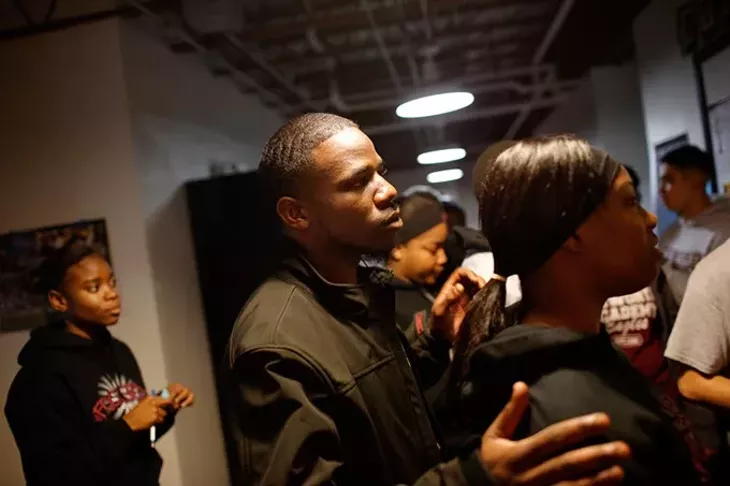 Garett Fisbeck
Kollin Bruner does security during lunch at Seeworth Academy in Oklahoma City, Friday, April 24, 2015.
Success
Like most alternative schools in Oklahoma City, SeeWorth has its share of students who have been kicked out of a traditional school for fighting, gang activity or drugs.
But most of the 450 high school students there have grown up in an environment where a specialized learning program is the only way for them to not only avoid a life of prison or poverty but live to see the age of 18.
Although the state of Oklahoma, using limited data, grades SeeWorth as an "F" school, its teachers and administrators say they have a school that is beyond successful, especially when factors like giving kids a second chance at life, developing aspirations for the future and unlocking academic potential are factored in.
It's not wonky math, said Janet Grigg, SeeWorth's executive director and superintendent.
"If you give me a ninth-grader who is reading at a first-grade level, do you think I can get them reading at a high-school level by the end of the year? Probably not," she said. "But I can get them reading at a sixth- or seventh-grade level by the end of the year. Well, the state considers that a failure. I don't."
Grigg calls her role as director "the hardest job [she has] ever had," but she is quick to call her students the real heroes of SeeWorth.
"I don't know how they do it," she said. "These students do not think beyond tomorrow, and it's not because they can't; it's because they have just been in this mode of trying to survive and get by today."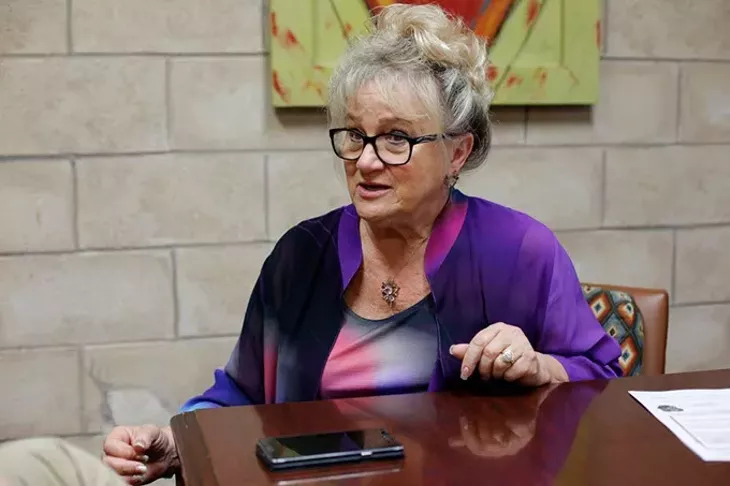 Garett Fisbeck
Director Janet Grigg at Seeworth Academy in Oklahoma City, Friday, April 24, 2015.
Fighting
Steve Davis is literally fighting for the lives of the students sitting in front of him. With the bravado of a holy man, Davis' lecture turns from a verbal listing of do's and don'ts to a passionate plea for his students to deeply consider their paths in life.
Like a typical high school class, most students stare down at their desks. Some scribble on notebook paper, counting down minutes until it's over. Davis, however, locks eyes with a young man as he is looking up. Just like that, Davis has his attention, and he doesn't let it go.
"I take this [job] very personally," Davis said after class. "When I come to school every day, for me, it's not about a job; it's really about a calling on my life."
Davis is in his first year at SeeWorth but has worked with at-risk students for more than 20 years. He shares a story similar to many of his students: growing up in poverty with an abusive, alcoholic father. But what was different about Davis was his willingness to consider a better future.
"I always was a dreamer, and I don't know where that came from; it was just in me," Davis said. "What I have found for a lot of these young people is the dreaming is not there. It almost makes it easier for them to quit or play the victim."
Indeed, test scores and letter grades can't always measure resilience and emotional growth. Instead, a few words written on a dry erase board offer that proof.
Not too long ago, a male student expressed frustration with his home life and shared that his mother is unemployed and he often goes hungry. Then, he comforted himself. In the long run, he said, this struggle will make him a better man.
"That student told me he didn't want to live like this when he grows up, and he wrote on the board, 'You have to learn how to struggle,'" Davis remembered. "I said, 'Son, you don't know how profound that is.'"
Garett Fisbeck
Stevie Taylor talks with students in between classes at Seeworth Academy in Oklahoma City, Friday, April 24, 2015.
Family
Stevie Taylor was sitting in front of her parents' tombstone seven years ago. It was a ritual she had developed over the past year, ever since her mom and dad had been killed in a car accident.
"My life was going to hell in a handbasket," Taylor, a SeeWorth special education teacher, said about that time in her life. "I didn't know what to do with myself."
As she mourned, she also felt an urge to embrace something bigger than herself.
"On my way home [from the cemetery that day], I passed SeeWorth, and I walked in there with my not-so-great clothes on and asked what this school was about," Taylor said.
Armed with a special education degree she had not used in years, she got the job. She is now in her seventh year with the school.
Walking between buildings during a passing period, she holds multiple conversations with students, many of which tower over her petite frame. Seconds after entering her math class, she is writing equations on the board and asking her students questions.
Taylor's energy is abundant yet controlled, and her compassion is apparent.
"All they want is someone to care for them," she said. "Day after day, they have been put down, and you just have to build them up."
The teacher-student relationship does more than fulfill many youths' need for parental-type bonds; it also gives staff credibility as it challenges students to change their lives.
Garett Fisbeck
Diamond Alexander sits in a class at Seeworth Academy in Oklahoma City, Friday, April 24, 2015.
"The greatest shock I got when I first came here," said Art Schofield, the school's academic principal, "was [when] I asked a young man what his goal in life was and he said to 'live until I'm 35.' That kid said that was a tough goal considering the crew he runs around with, but I said, 'Son, you've got choices.'"
For many students, the best thing SeeWorth offers is alternatives. That's why there is a lot of anxiety on Fridays, Taylor said, as students prepare to leave school for two days. That's also why most teachers at SeeWorth don't assume that their jobs are done after the final bell rings.
"The teachers here are more like family to these kids," Schofield said. "We've got some of the staff here that have taken [students] home with them, provided for them, given them jobs. The students know that we care for them and we try to protect them."
Students find supportive educators, including some who also grew up with similar struggles. Kollin Bruner is a campus security guard and a 2008 SeeWorth graduate. In the eighth grade, fighting and his association with a gang left him homeless. His Amateur Athletic Union basketball coach recommended he go to SeeWorth, so he did.
"I always liked the school because that's where I knew I was going to get something to eat every day," Bruner said. "I felt like everybody cared about me. Most of them get it."
Bruner went from skirting the law to earning a criminal justice degree. Eventually, SeeWorth hired him.
"I know exactly what they are going through," Bruner said about the students he interacts with every day. "At another school, these [students] know they can get kicked out and nobody cares. But here, if they leave school, they know somebody will find out what's going on."
SeeWorth doesn't suspend its students, Taylor said. However, there have been times when a student's actions demand drastic correction. School leaders understand that for many kids, the next destination after this school could be a jail cell.
"We do everything but suspend," Taylor said. "I have kids that just can't make it, and instead of suspending them, I am going to bring them with me and they are going to follow me for a day. Anything we can do to keep them from getting back on the streets, we will do it."
In the late 1990s, Alma Wilson, a former Oklahoma Supreme Court chief justice, partnered with former Oklahoma first lady and schoolteacher Kimberly Ann Henry and other community leaders to develop strategies to better serve at-risk students.
In 1998, Wilson helped launch SeeWorth as a public charter school.
"We are all about prevention here," Grigg said. "Justice Wilson died in 2000 and didn't get to see what she has done, but from there, we have grown to serve over 1,000 students annually."
Garett Fisbeck
Steve Davis teaches life skills at Seeworth Academy in Oklahoma City, Friday, April 24, 2015.
Saved
Diamond Alexander knows what she wants from SeeWorth.
"I just want a way out of all this," she says before listing off colleges she'd like to attend and career paths she'd like to follow.
Alexander, a junior, was raised by her mother while her father bounced in and out of prison. After struggling in school, her mother gave her a choice between home school or SeeWorth. She grudgingly picked the latter. Less than a year later, Alexander admits that she's thriving.
"I always have hope and know that I'm going to be successful someday," Alexander said. "I just always have that mind-set; that's what gets me through."
Alexander works a part-time job to help her mother, who often works multiple jobs while raising four kids. If Alexander goes to college in two years — which she plans to do — she knows her decision will impact her family at home.
"I know it will be hard for a little bit," Alexander said. "But we have all talked about how it will be better for us all [for me to go to college]."
Even as students plan for higher education and careers, Grigg said it's not uncommon for some upperclassmen to "dig their heels into the sand" as they near graduation.
"They know in their minds but they don't know in their hearts yet that they can make it on their own when they graduate," she said. "But it's not like they can't come back, because they can come back anytime for help."
Grigg recalled two students who graduated several years ago after moving past their histories of gang activity. The two young men came by to say goodbye and pick up care packages from the staff. That night, they were caught up with a friend who killed two people. The crime sent the two students to Oklahoma State Penitentiary in McAlester for 50 years.
"All it takes is one time for you to be at the wrong place at the wrong time," she said.
Grigg has a list of similar stories, and it sometimes causes her to second-guess what could or should have been done differently. Then, she collects herself and focuses on the many positive and remarkable achievements made by so many SeeWorth students.
"I can't save the world, but I might be able to save this [student's] life," she said. "We've certainly saved a lot more than we've lost."
Print headline: Worthy vision, This local charter school aims to change more than just grades. Justice Alma Wilson SeeWorth Academy also changes lives for many of OKC's most at-risk youth.