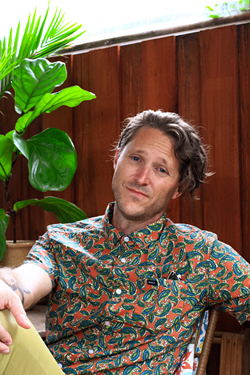 Touring for a living can be brutal. Behind the fun and obvious thrill of making music, eking out an existence on the road is a treacherous way to pay the bills. And that's assuming you get along with your bandmates.
I've had a behind-the-scenes look at touring life since 2005, when bands first started crashing on my couches. I know the look in a band's eye when they've survived another dangerous overnight drive and why having biscuits and gravy steaming and ready upon arrival can be a life-altering flicker of hospitality. I love artists; I wouldn't do what I do if I didn't.
The last 18 months have been ghastly for the live music industry. Ghastly. However, there are glimmers of light on the horizon. Bands are moving around the country and playing music again with some success. Most festivals are happening, although some big names have held off until next year. Venues are surviving; the Shuttered Venues and Operators Grant has fulfilled its goals of saving venues for the near future. Thank you, as always, to everyone who tweeted, emailed or called their elected official last year on our behalf.
Musicians and their teams have not been as fortunate. The financial impact of not touring regularly over the last 18 months has forced many tours out on the road sooner than some may have preferred.
Being on the road is trying. Being on the road right now is beyond taxing. Tours this fall have not been the roaring comeback many of us hoped for after a disastrous 2020. Instead it's been an extra layer of strain and stress as artists navigate smaller crowds, their own COVID-19 measures and the changing politics from city to city. Many tours have shifted to require vaccines and/or negative tests, but that varies by region and genre. Nothing is less rock and roll than stopping for temperature checks, but at the same time, nothing is more rock and roll than touring during a worldwide pandemic.
Samantha Crain, who just finished a month-long tour in the UK opening for The Staves broke it down well:
"Making money on a tour is based on the idea that you get to finish the tour. You put a lot of money into starting a tour. The stressful part of it is, that at any moment, if anyone gets COVID, the whole thing comes to a halt. The tour stops whether the artist recoups their expenses or not."
The risk of a breakthrough case severely impacts the financial outcome of touring. Many artists have postponed their tours yet again and some have canceled altogether. A breakthrough case on a tour may force an artist to cancel multiple shows. Those losses are sometimes enough to kill the financial viability of the tour. The tour might be able to stay afloat by rescheduling smaller markets like Wichita, Tulsa and Oklahoma City, but if that breakthrough case hits when you're in NYC or headed into a festival … Well, it can ruin the entire run. As quickly as you're re-acclimating to life on the road, you're trying to figure out what to do with a rented van and a pile of unsold merch while you quarantine in a town that's not your home.
Imagine spending thirty or forty days away from home and family, working day in and day out, only to return with less money than you started. This is the human cost of musicians touring today. We've all been quick to blame an artist for how they've chosen to navigate the pandemic with live crowds and fans, myself included. But we're quickly approaching the two-year anniversary of the first documented case.
As Sam said: "I'm stuck between a rock and a hard place. I've got to make a living, and I've done my part and continue to do my part."
Patton Magee, lead singer for the North Carolina rock band, The Nude Party, told me this a few hours before their first show back on the road since March 2020:
"I think the impetus has been unfairly put on musicians, especially small musicians to continue taking the hit and we just can't do it anymore. We got vaccinated, we're doing our part."
"I remember our booking agent, coming into this period [of COVID], and being like, 'Just so you guys know, we're entering the lean days now, the fat days are over.' Those were the fat days? Sleeping on the floor, getting paid $20 bucks a day? Even when everything is well and good, you're still skimping by at this level," Patton said.
Ticket sales for certain genres have been slower as well. Consumer confidence in the face of the Delta variant has understandably sagged and struggled. It's taking more effort to sell the same amount of tickets. Many folks with tickets aren't coming to the show at all. A sold-out concert on paper and a sold-out crowd are totally different realities right now.
Overall, the live music industry is in much better shape than it was this time last year and there are reasons to be excited for the future of music here. Oklahoma City band Husbands have their next album recorded and they've just signed with a booking agent after playing the mega-indie-buzz Treefort Fest in Boise. 19-year old Josh Fudge took a gap year when COVID-19 hit, writing and releasing an album. Spotify fell in love with it and Josh has amassed more than 150,000 monthly listeners — more than enough to land him with a booking agent from a major agency and management. Samantha Crain hits the road later this fall for a run of shows with American Aquarium.
Seeing tour buses and vans in the neighborhood around Tower Theatre and Ponyboy again feels great. The shows, regardless of crowd size, mean more right now, even if there's not much socializing with the band at the merch table. We're all still in the middle of surviving an event that will be a dividing line of our lifetime. Whether you're attending live shows yet or not, find a way to support a band this fall. Like the rest of us, they're trying their best.