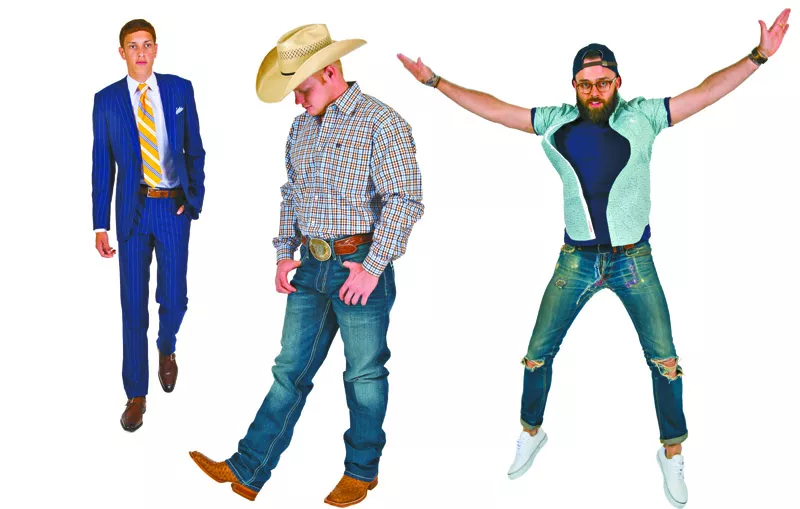 Men's fashion is not an oxymoron. While some men succumb to whatever is the least soiled in the laundry pile or baggy khakis and a crumpled polo shirt, it doesn't mean all men couldn't care less about their attire.
A man must look good. Go for a job interview in a Metallica T-shirt and you had better be applying for a roadie position with the band. But looking good isn't a chore; it can be easy if you follow a few guidelines. Whether it's business or fun, retailers around the metro keep both the fashion savvy and the sartorially challenged looking great.
The best advice for men came from Jacob Peregrin, a fashion buyer at locally owned and operated store Blue Seven.
"Be confident," he said. "Don't try too hard."
The well-dressed man
Mr. Ooley's is a one-stop-shop for the man who wants to look his best. For decades, the Ooley family has dressed some of the sharpest looking gents in the metro. If you're headed to work downtown or to dinner, go all the way with your wardrobe.
Tips and things to avoid:
Starch: Only light starch if necessary.
Make sure your suit is properly tailored. No one needs slim pants with a billowy jacket.
Keep your shirt tucked in.
Only button the top button of the jacket.
(Buttoning the top two is OK if it is a three-button jacket.)
Steer clear of gaudy ties with cartoon characters or brand logos, unless you are a pediatrician or something. You are an adult, after all.
A polyester suit belongs in one place: on the rack at the thrift store.
Styles come and go, but one thing that never changes is the look of a well-fitted suit tailored to its wearer.
Rather than oversized collars and ties with knots the size of a grapefruit — thanks 1970s — today's well-dressed man opts for a more subtle look.
Those with a narrow silhouette especially benefit from flat-front trousers; narrow lapels; shorter jackets; and a slender tie.
Shirt collars must match the tie. A skinnier tie calls for a diminished collar while a bit wider tie sits nicely under a slightly larger collar.
A collar with a good cut and spread is vital to the overall suit. After all, it is the fashion foundation for your head. From the Boylston to the Cambridge and English Spread, there are many choices when it comes to collars. Don't be afraid to branch out and mix it up.
Ties and collars aren't just for suits. A well-coiffed man should wear a good shirt-and-tie combination even if it isn't mandated by a dress code. Button-down collars are versatile and look good at the office or the bar.
Dress up your suit with a pocket square, but keep the jewelry to a minimum. Cuff links are not always necessary, so you might want to opt for a nice watch because watches are not just for telling time in the fashion world
Coordinating accessories is a nice trick that adds a certain pop to one's attire. Subtlety and minimalism are the keys to coordination. Match the color of your socks with the pocket square or tie, or your belt and shoes, but not all of them. Do not get identical designs. The goal is to align the tone of your clothing for an underlying theme of balance that will be noticed both on a conscious and subconscious level.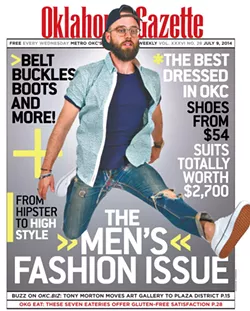 Check out the July 9 issue of the Oklahoma Gazette for metro area retailers and products.
Hip and casual
You might be closing in on 30, but that doesn't mean you have to dress like an old man. At Blue Seven, the inventory includes items that will liven up a wardrobe without drawing undue attention to the wearer.
While you might not have the physique of an 18-year-old, slim-fitting jeans are essential. Not to be confused with the skinny jeans you see in the Plaza District, slim-fit jeans should remain close to the leg but not tight and uncomfortable. Unless you are working manual labor or going two-stepping, avoid "boot-cut" or "loose-fit" jeans. Make sure your jeans fit: The pant leg should end comfortably at the top of your shoe but should not rest on the top of it, bunched up like a theater curtain.
For a fun night in Midtown, between Automobile Alley and the Asian District, hip is the way to dress — and the style is easy to personalize.
Tips and things to avoid:
Avoid jeans with sequins of any kind. No self-respecting man should don oversized crosses or fleurs-de-lis on his jeans.
Also, no back-pockets with buttons.
You don't have to look disheveled to be hip or casual, but it doesn't hurt.
Few men can actually pull off a fedora — chances are you aren't one of them.
The threads should coordinate throughout your pants — no opposing thread seams.
The casual look can be complemented with accessories. Try a watch or a bracelet, but not an arm full of them. Remember, minimalism is essential. Sunglasses — maybe by TOMS — are always necessary. Always. If you can stomach a necklace, go for it. But try to avoid gold or silver chains, especially ones with crosses. There are more subdued and fashionable ways to express your faith.
The same rules apply with a casual wardrobe as with a formal one; don't wear slim pants with an oversized shirt. Choose the shirt similar to the way you choose the jeans: a close, comfortable fit. Even if you are brewing a beer baby in your belly, don't try to mask it with a baggy shirt — that just makes it look worse. A shirt should be snug on top to accent the shoulders but looser over the gut. If you are a fit man, by all means, go tighter, but not so tight that your nipples can double as construction cones.
There has been a considerable fashion-as-art movement in OKC. Local artists using T-shirts as a medium for their art is not necessarily a new thing, but there has been a growing number of people doing this, and Blue Seven sells many of them — and a lot of them feature Oklahoma-centric designs. You can even find "alternative" Thunder apparel that allows you to support the team and a local artist while still maintaining your street credentials in the Paseo Arts District.
When autumn comes, top it all off with a Penguin cardigan, which you can also find at Blue Seven. Blue Seven helps men dress up their appearance with all sorts of goodies, from ink pens to wallets. Many of these items are made by craftsmen, and some donate a portion of the proceeds to charity.
Western
Remember, driving a pick-up truck to work from Edmond doesn't make you a cowboy. If you are going to wear boots and a hat, you have to sell it. Tener's is the place to go for Western wear.
Tips and things to avoid:
Steer clear of Mo Betta-style shirts with overly splashy colors.
Match your boots with your belt, but don't fret if they're not an exact match.
Cowboy hats don't need feathers or other flashy adornments.
Keep those boots looking a little rough.
Maybe people will think you've actually been out riding on the range.
Fortunately, the Western look is both timeless and pretty easy to put together, even for style-challenged gentlemen.
Rhinestone suits might be out of fashion — if, in fact, anyone other than wealthy entertainers ever wore them — but "bling" has made quite an appearance in Western fashions in recent years.
There are no hard and fast rules in Western wear, Cassie Wynne, a buyer at Tener's, said. A belt and boots don't need to match exactly unless one is wearing dress attire.
A pair of Wrangler jeans and a western shirt purchased 20 years ago will likely be as in-style now as it was then. Spend any time in Stockyards City and you'll quickly see that cowboys are always in style.
"Most of it is pretty easy and laid back," Wynne said.
Some Western fashion does mirror mainstream fashion, and some opts for flashier attire with a Western flare.
It's hard to mess up the Western look. Grab some jeans, a cowboy hat, boots, a belt buckle and a hat and get ready to hit the town.