Jacob Threadgill
Plant-based tacos are available at 405 Street Tacos in section 215.
Chef Andrew Murin has worked in Chesapeake Energy Arena longer than the Thunder has been in Oklahoma City.
During Murin's 16 years of leading food services for the concourse-level concessions, he has seen the menu offerings change over time, with increased emphasis on Oklahoma influence and the use of local ingredients from within a 400-mile radius.
Now, Murin's duties with Savor... catering include operating Budweiser Brew House — Chesapeake's full-service restaurant that partners with 13 surrounding farms for produce and protein, making it one of the only farm-to-table full-services restaurants located in an NBA facility.
"We started the farm-to-table concept [at Budweiser Brew House] last year, and it was very successful," Murin said. "I've seen a lot of changes in my time here, and I haven't seen another arena provide local options like this at an affordable price."
The use of local purveyors was a theme throughout the Thunder's food court event, which unveiled new food offerings throughout the arena, from suite-level to upper concourse, club level and the courtside club.
"We don't want the menu to be cookie-cutter," said chef Ryan Craig of Levy Restaurants, which operates food services in suite- and club-level concessions. "We want it to scream Oklahoma. It's very important. We enjoy finding local vendors that want to be on the Thunder platform."
Concourse-level concessions
Murin was most excited to unveil new items at the Wing'n It vendor, which is available in sections 111 and 315. In addition to standard chicken wings like Buffalo, this season, it will have four new flavors: dry rub mango habanero, Kickin' Bourbon, chipotle verde and what Murin refers to as the MVP, which is a personal favorite of his.
The MVP wing is inspired by the Ghanian dish kelewele, which is spiced and fried plantains. Murin said he was inspired after trying the spice blend at Edmond's Kafutoh African Foodmart, 16600 N. Western Ave. The MVP wing includes fried plantains served with the chicken wings.
"It's got a lot of interesting flavors like chilies and nutmeg that you don't normally see in a chicken wing blend," Murin said. "I took the habanero out of the blend to make it a little less hot because I wanted the wing to sell."
Jacob Threadgill
Chesapeake Energy Arena executive chef Andrew Murin introduces new dishes available for the 2018-2019 Oklahoma City Thunder season at the Thunder Food Court.
At the former Backyard BBQ stands, which have been renovated during the offseason to become Chop N' Block BBQ, Murin is excited to unveil a brisket hot dog. A pretzel bun is topped with a brisket hot dog, sweet and smoky beans and coleslaw, which is available in sections 115 and 317.
In section 116, Jack Daniels' Old No. 7 is offering an enormous 10-ounce Bavarian-style pretzel, which is served with beer cheese and Jack Daniels molasses mustard.
Alley Coop in section 332 has a new chicken tender that is showcased in the chicken shack sandwich, which is chicken tenders on a brioche bun with lettuce, tomato and Thunder sauce — Murin wouldn't give away the secret ingredients, but it closely resembled most secret sauces that are a blend of ketchup, mayonnaise and spices.
Angie's Southern Kitchen features house-baked mini pies that are available at its 109 section but can also be found at other locations throughout the stadium. Oklahoma pecan and buttermilk pies will be on the menu throughout the season and will be joined by a rotating seasonal pie, which was a margarita pie — a lime and sweet and sour custard with citrus cream.
New items at the Budweiser Brew House include shrimp ceviche, which Murin said he wanted to add to the menu after not having the traditional shrimp cocktail last season. The chilled and marinated shrimp is equal parts ceviche and gazpacho with plenty of tomato juice and cucumber in addition to Latin flavors.
A standout from the new Brew House menu is the Impossible pasta, which uses the plant-based Impossible brand meat substitute to create a meatball that is served with fresh vegetables and a red lentil pasta in a white wine sauce.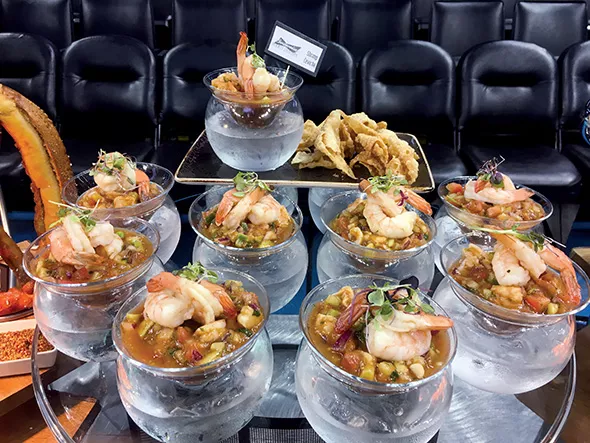 Jacob Threadgill
Shrimp ceviche at the Budweiser Brew House is a take on the classic shrimp cocktail with Latin flavors.
Club-level concessions
The Impossible brand has made an impact throughout the stadium — mirroring its establishment on menus at restaurants across the city. The Gastro Pub in section 207 will feature an Impossible burger with veganaise.
It will also be offered at 405 Street Tacos in section 2015, which increases the vegan offerings throughout the stadium, after only offering a black bean burger last season.
"We felt like the Impossible is the next level and way better quality than making a black bean burger taste like beef," Craig said. "Impossible is the best vegan meat substitute item that I've ever had. In the taco, I can't tell a difference."
Thunder Drive in section 201 is offering chef-crafted savory pastry pockets designed for easy portability by fans headed quickly back to their seats. Taco and pepperoni pizza versions are available, but a caprese version with pesto, tomato and mozzarella was a hit during the Thunder Food Court.
Suite items
The private suites will continue to serve an item each home game built around a signature item from the opponent; for example, games against the New Orleans Pelicans will feature Cajun food.
The suite level has added a giant 50-ounce porterhouse steak cooked to desired temperature and served with red wine demi-glace and horseradish sauce that is carved to-order and able to serve six people.
Suites will also receive sausages from local Schwab's and a poached shrimp bucket with cocktail sauce, lemons and horseradish.
"Our chef team works vigorously through the summer, and even our front-line staff comes up with ideas; we have an open-door policy and listen to every idea," Craig said.