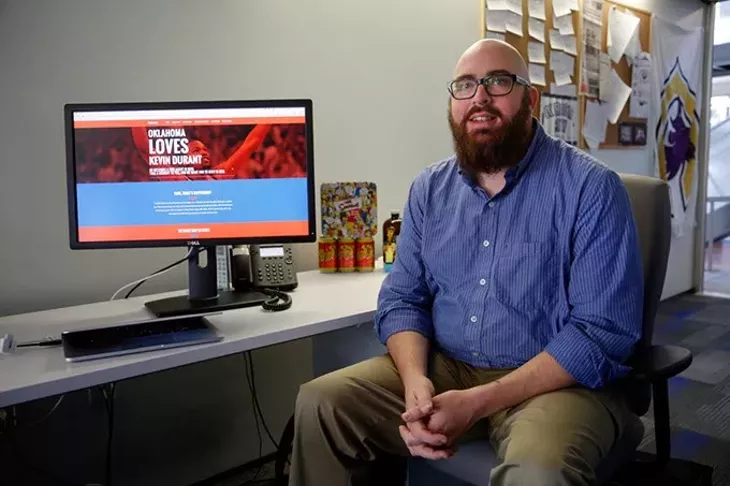 Garett Fisbeck
Ben Parker poses for a photo in front of his computer in Oklahoma City, Tuesday, Nov. 17, 2015.
At the end of the 2015-16 NBA season, Kevin Durant will likely face what could be the toughest decision of his professional career.
After eight years playing for the Oklahoma City Thunder, Durant becomes a free agent and ultimately decides if he should stay with the Thunder or play elsewhere.
If you are a Thunder fan, there's legitimate reason to worry. Fans of LeBron James and Ken Griffey Jr. witnessed their beloved stars leave for offers in their hometowns at the peak of their careers.
Its no secret Washington Wizards fans want Durant, a native of Suitland, Maryland, which is located a mile outside of the District of Columbia. When the Thunder visits the nation's capitol, signs reading, "KD2DC" and "Come Home KD" greet the team.
Thunder fan Ben Parker understands Wizards fans' desire to lure Durant, a talented player and a professional basketball icon. The grassroots efforts in Washington, D.C., go beyond game posters as fans post social media messages using the hashtag #KD2DC and sport T-shirts — one in particular reads, "KD Homecoming 2016."
Parker decided Oklahomans needed to react.
"If people in other cities are going to start doing this, we should have a site to tell [Durant] how we feel and that we want him to stay," explained Parker, who serves as director of technology for the Oklahoma Public School Resource Center.
"I had extra time on my hands, and I do Web design for fun," he said. "I put two and two together, and it took off."
The campaign
Okloveskd.com
, Parker's labor of love, has collected over 5,000 hits and hundreds of messages supporting Durant in a Thunder jersey for seasons to come. The easy-to-use site urges fans to leave messages for the 2014 NBA MVP by using their Twitter and/or Facebook accounts. Twitter comments are displayed on the website by fans using the hashtag #oklovesKD.
The goal of the campaign is twofold for Parker. The OKC man wants fans to express their support to Durant and spread the message when they are at Chesapeake Energy Arena, hanging out with friends or visiting the grocery store by wearing a T-shirt. Parker sells blue T-shirts that read, "Keep KD in OKC 2016," in sunset orange. Proceeds from the $25 T-shirts benefit The Children's Hospital at OU Medical Center.
Parker selected the children's hospital based on his own experience. He suffers from a slight form of hemophilia and received services from a children's oncology ward when he lived in Las Vegas.
"I have a soft spot in my heart for kids and families in that situation," Parker said. "If there is something I can do to help the facility, I do it."
While it's still early in the NBA season, Parker's impressed with Thunder fans' response. Messages don't have to address Durant's basketball skills; as Parker likes to share, Durant is a community hero. (
Oklahoma Gazette
readers named Durant Best Community Leader in its Best of OKC 2015 readership poll.)
"After the Moore tornado, he was out working," recalled Parker, who also mentioned the Kevin Durant Charity Foundation work. "He wasn't asking for anything. He wasn't out for publicity. He just put on work gloves and got after it. I think it is admirable how much he has jumped in and become part of our community. … Anybody like that, you want to keep around."
Print Headline; #oklovesKD, Thunder fan Ben Parker urges fellow Kevin Durant admirers to send their messages to the basketball star.