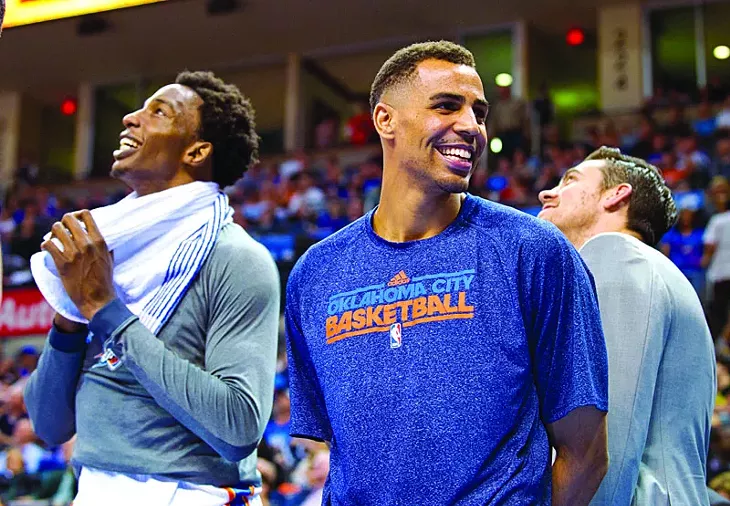 Shannon Cornman
Thabo Sefolosha supports his team members during a season game.Photo/Shannon Cornman
Oklahoma City Thunder's Thabo Sefolosha is on the top of his game when it comes to charity.
What's one thing that tugs at Oklahoma City Thunder guard Thabo Sefolosha's heartstrings the most? It's his work with IMBEWU (pronounced eem-BE-woo), a Swiss nonprofit organization that supports young, underprivileged children in South Africa. Born in Switzerland, Sefolosha would often visit his South African father's home, Mamelodi, on the outskirts of Pretoria, South Africa. He was awestruck at an early age by the social work that was needed there. "It's about 30 minutes outside of Pretoria, a township started historically during apartheid. The government moved the population outside of the city," Sefolosha said. "The country itself is beautiful, but when you go in and see the struggle in Mamelodi, it's difficult to have a positive image." He said there is not a lot for kids to do there now, unemployment is high and the public school system is not great at all. Thabo, in the South African Tswana language, means "joy," and Sefolosha has indeed brought joy to the town of Mamelodi. The after-school program developed by IMBEWU and Sefolosha has grown and currently assists about 160 children between the ages of 8 and 18. Sports play a large part in reaching the kids. "That was very much the idea. Sports helped me in a lot of different ways, by learning and by becoming an adult. We can teach and learn so much from sports through the guidance and support in these after-school programs," Sefolosha said. He said AIDS also is a huge problem in the country. "So through games and sports, we try to educate them about health issues; this is not spoken about in their homes," he said. "There are many young ones. We can follow them throughout their high school. We try to stay close to them to give them guidance." There are three soccer fields for sports and exercise available to the kids. Two huge shipping containers were procured by IMBEWU and serve as after-school classrooms in which kids do homework and eat a nutritious snack. A small library is also tucked away in one of the shipping containers. "When I go back in the summer, I note how a lot of the kids' stories are similar in a lot of ways," Sefolosha said. "Many of them have lost one or both parents to AIDS, many parents are unemployed and most of these kids have five to seven siblings." Is Mamelodi changing? "There is still a lot of work to do; a long and slow process," he said. "It's difficult to change their situation overnight. The government is currently doing more to help the minorities there." Sefolosha said his Thunder teammates have helped raise funds for the project. "They have donated shoes and clothing. It's been a success all the way," he said. Bertille, Sefolosha's wife, is also involved with IMBEWU. "We are working on something that is near [and] dear to us. We just wanted to be hands-on, to say, 'That's what we do,'" he said.