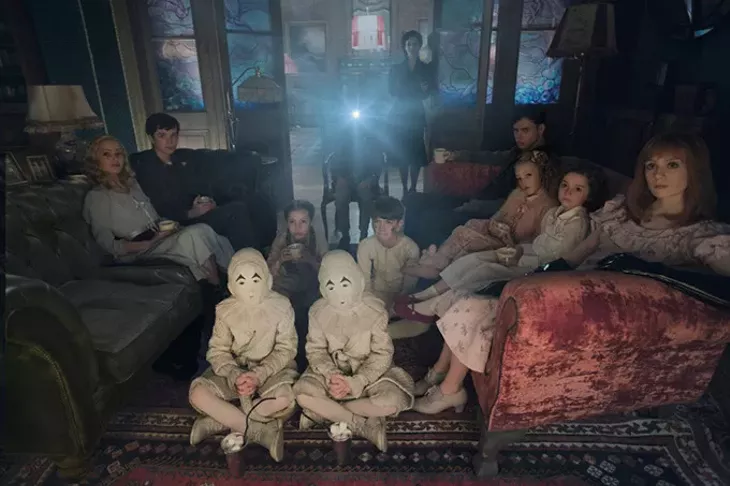 Photo Credit: Leah Gallo
DF-02825modified - Seated on the floor: the twins (Thomas and Joseph Odwell), Fiona (Georgia Pemberton) and Hugh (Milo Parker), Left to right: Emma (Ella Purnell), Jake (Asa Butterfield), Horace (Hayden Keeler-Stone), Miss Peregrine (Eva Green), Enoch (Finlay Macmillan), Claire (Raffiella Chapman), Bronwyn (Pixie Davies) and Olive (Lauren McCrostie) - are the very special residents of MISS PEREGRINE'S HOME FOR PECULIAR CHILDREN. Photo Credit: Leah Gallo / Twentieth Century Fox
The Hunger Games have ended, and Hollywood still thirsts for a new franchise. This is how Tim Burton found himself directing a film based on the debut novel of an author whose collection of strangers' photos inspired a book with a sensibility dark and angsty enough to attract him.
Miss Peregrine's Home for Peculiar Children is Burton's attempt at a weird mix of Harry Potter and mutant X-Men coated with a Gothic polish of A Series of Unfortunate Events.
The film centers around peculiars, children (all well-acted) who genetically inherited strange qualities like floatation, fire control or being filled with live bees. These youths exist within a plot laden with time loops and travel, yet cow before milquetoast protagonist Jake (Asa Butterfield). His grandfather told him stories of these children before he was killed, leading Jake on quest for closure that gets him engulfed in their world.
The universe-building setup of "a semi-special white boy is the most special of all the special kids" tosses viewers into a classroom instead of the action. Seventh Son tried this, as did The Sorcerer's Apprentice and the Percy Jackson films, without success.
The movie gets fun when it cuts loose from these restrictions.
Butterfield's somewhat mannequin-like performance is pushed to its creaky limits and tamps down otherwise warm Chris O'Dowd, who portrays Franklin Portman, into a suffocated father figure. Then Jake finds the Home.
There, Eva Green is Miss Alma LeFay Perigrine, the guardian of these special children. She's a shapeshifter with Sherlock's brain and a knack for turning back the clock. Miss Peregrine makes her home a sort of time-bubble to protect those who would be ostracized and persecuted by unpeculiar society. This sanctuary repeats the same 24-hour period as the children remain ageless in Peregrine's unchanging 1940s. The excitement comes just before the day resets, as Nazi planes close upon the Welsh home on a bombing run.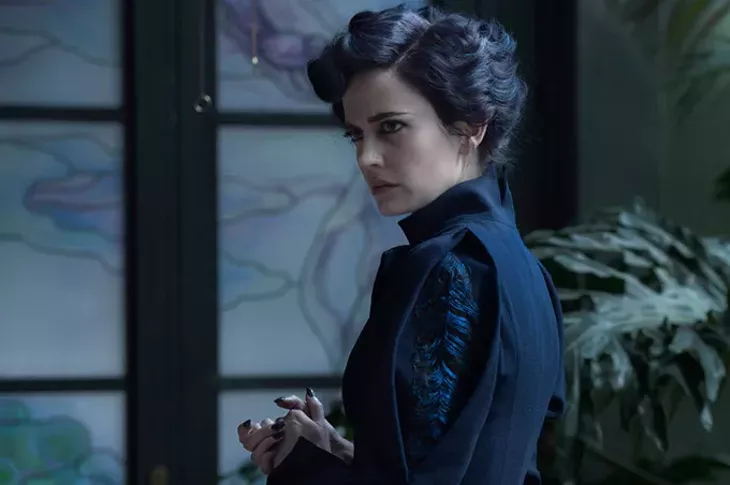 Photo Credit: Jay Maidment
DF-04244 - Eva Green portrays Miss Peregrine, who oversees a magical place that is threatened by powerful enemies. Photo Credit: Jay Maidment. / Twentieth Century Fox
All is well, if a bit stifling, in this repetitious paradox until the inevitable baddies rear their heads. Evil peculiars (whose cruel reasoning is nonsensical, complicated and morbidly hilarious) hunt these sanctuaries. This development is the first real drama in the film and doesn't come until late. However, it does introduce us to villainous Barron, played by a pupil-less and sharp-toothed Samuel L. Jackson, whose propensity for enhancing films with wacky malefactors has increased from his Nazi-costumed role in The Spirit to the lisping streetwear enthusiast in Kingsman: The Secret Service.
Jackson has fun with this role, which is a credit to him and to the movie's ending and finally pays off the story's intermittent weirdness.
Some of this peculiarity manifests in its characters, like the little girl with a monstrous mouth on the back of her neck, and its special effects, including a delightfully low-fi stop-motion cockfight between two creations that look like they leapt from Toy Story scoundrel Sid's workbench. Some is more action-oriented, including a final battle with an inventive and macabre mechanic that makes for an entertainingly violent Silly Symphony out of Disney's "The Skeleton Dance."
These goofy highs are hamstrung by Jake's description, which manifests in a brief montage, of his time-hopping adventures.
I'm not sure I'd see the sequel, but the cute oddballs buzzing about Jake's feet have certainly piqued my interest in the peculiar.
https://youtu.be/XMz81UGwHEw
Print headline: Peculiar fun, Director Tim Burton's big-screen adaptation of this bestselling novel is dark and a little campy, but entertaining.