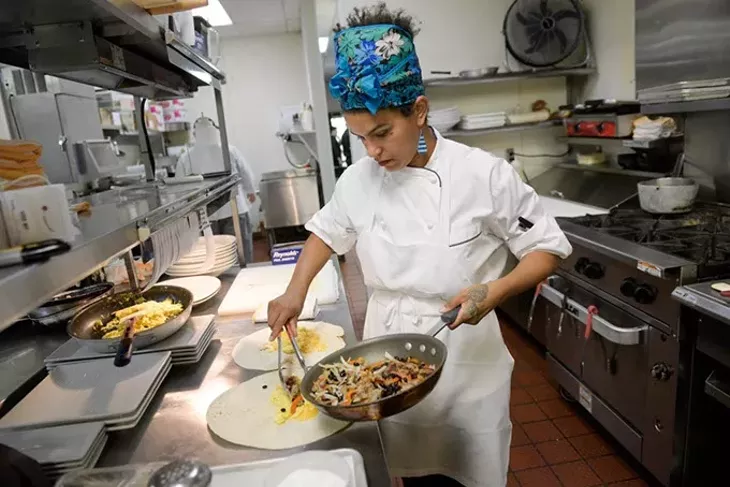 The Lobby Cafe & Bar breakfast chef Angela Renee Chase prepares sausage and egg breakfast burritos. | Photo Garett Fisbeck
As with so many other things, bears have winter figured out.
Look at their track record: They eat salmon, they are somehow simultaneously adorable and ferocious and every tree is basically a spa package is to them. Perhaps no bear achievement is more impressive than conquering winter by sleeping through it.
As appealing as hibernation is — bears literally sleep off pounds — it's not as practical for humans.
"Winter is so tricky. Everything about it is telling our bodies to hibernate and eat heavier foods," said Nourished Food Bar co-owner Lindsey Riddle.
As a certified nutrition counselor, Riddle studied how closely brain function is linked to food. A car won't run well if it doesn't have the right fuel. The same is true for the human body.
Filling up on whole, unprocessed foods is easier on the digestive system, Riddle said. It's also better for the brain.
Both are reasons Nourished, 131 Dean A. McGee Ave., Suite 115, focuses on reducing the amount of processed foods customers eat. The restaurant's fall menu features a beet salad, hummus sandwich and vegetarian chili.
People often think comfort food is inherently unhealthy, but vegetarian chili ticks off all the boxes for a great winter meal. It's warm and filling and the blend of tomatoes, chili peppers and beans are great mood lifters.
"A mindset we've encountered a lot is people thinking about what they can't have or what they have to leave out," Riddle said. "We try to think more about how to make the most out of the inherent flavor and goodness in the foods we eat."
She and co-owner Jamie Conway make Nourished's baked goods using healthy fats, nuts and seeds for craveable treats that are good for the body and mind.
Fighting downtown traffic is not great for the mind or body, Riddle said. That's why Nourished now delivers meals daily to a few yoga, cycling and barre locations across the city. Learn more at nourishedfood.co/meal-subscription.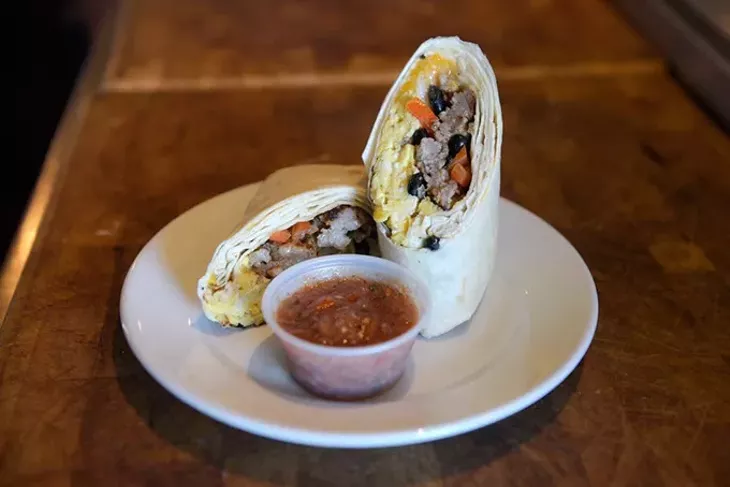 Garett Fisbeck
Breakfast burrito at The Lobby Cafe & Bar, Monday, Nov. 14, 2016.
Wake-up call
Scientists are divided on whether breakfast really is the most important meal of the day, but The Lobby Cafe & Bar chef and baker Angela Renee Chase is partial to it.
She joined the restaurant, 4322 N. Western Ave., in August to cook its grab-and-go and short order breakfast menus.
One of the most popular items is the breakfast burrito, a simple blend of eggs, cheese, meat and a few vegetables wrapped in a tortilla. It's a potent combo for fighting through a chilly winter morning because it includes fast-burning carbohydrates for a quick burst of energy and slower-burning protein that keeps diners feeling full longer.
Much of the credit goes to the eggs, which are loaded with protein as well as iron, selenium and vitamins A and B, but nobody would eat them if they don't taste good.
"I use oil and butter together. It gives them more flavor," Chase said.
She keeps them fluffy by starting them at high heat and slowly turning the temperature down, creating eggs with a solid consistency that don't leach moisture into the tortilla.
Another way she reduces the moisture is by cooking the meats — ham, bacon or sausage — separately from the eggs. Animal fats mess with the binding proteins in eggs, leaving them watery, so Chase adds them to the pan at the last minute.
Texture is especially important in breakfast burritos because they have to be portable as well as edible.
Go fish
Fish gets a lot of love as a "superfood," and Riddle said that's well-earned praise. When fish is prepared correctly, it is low in calories and high in flavor and gives us heart-healthy omega-3 fatty acids.
Healthy fats are mood-lifters, she said. They're also vital building blocks in a healthy diet.
Salmon is a particularly popular choice on local menus and with nutritionists. The pink fish has vitamin B6, riboflavin and niacin, which the body uses to convert foods into energy. And it tastes great, too.
E.S. Founder's, 741 N. Phillips Ave., inside Embassy Suites Oklahoma City Downtown/Medical Center, serves pan-seared salmon covered in savory herbs over a bed of sauteed spinach and quinoa. The expertly cooked salmon filet wards off the cold and keeps the palate engaged. Pan-searing releases deeper herbal flavors that help cut through the fish's fat and keep it from feeling too rich. The bed of mild quinoa (pronounced KEEN-wah) soaks up the juices so diners get more of the enticing taste and keeps the dish from seeming watery.
Quinoa is also available at Coolgreens, with locations in Oklahoma City, Norman and Edmond. It's a new addition to the menu, but it's something the restaurant has been planning for a while, said marketing director Ginger Myers. The South American seed has a texture similar to rice or couscous and contains protein and about twice the fiber of other grains.
The new quinoa menu is just now rolling out with options including an island-inspired bowl with mango and black beans and the Cali veggie bowl with red peppers and fresh avocado. The restaurant spent the last year conceptualizing and testing the new items, and Myers said everyone is eager to see how customers respond.
Quinoa is a natural ingredient for the salad-focused restaurant because it works with the eatery's stable of toppings and provides guests a more filling choice than lettuce and spinach-based dishes. It's also light enough that it won't weigh diners down for the rest of the day.
Bears might have time to nap all winter long, but Oklahoma City has work to do.
Print Headline: Power up, 'Tis the season to feel worn down, but some Oklahoma City restaurants have dishes to help you plow through the winter.