After a series of unprecedented setbacks in 2021, Guthrie's Pollard Theatre Company is finally able to reintroduce itself for its 35th season.
"For a brief moment it seemed impossible, but now we are ready to move forward. Our board and company feel freshly invigorated," said Timothy Stewart, who is rejoining as the director of development.
The Pollard's aging historic building felt the brunt of the issues. Season 34 was halted when lightning struck the building and damaged sound equipment, but the company was able to regroup for Christmas. Following a second hiatus, Pollard finished the season in May with You're a Good Man, Charlie Brown.
"We've had our fair share of catastrophes, but we're getting our footing. We believe our jade anniversary is the perfect time to launch a new trajectory. We're looking toward a promising horizon with exciting ventures ahead," Board President Suzanne Hirzel said.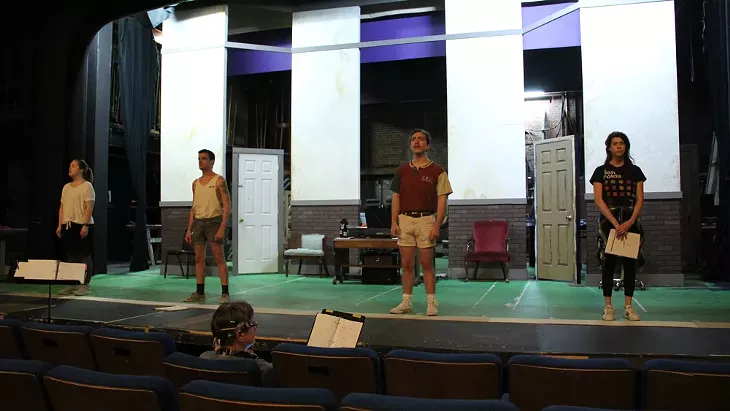 Photo provided
Cast members rehearse [title of show.]
Opening in September with the Tony-nominated musical comedy [title of show] which features theatre artists writing the very show that the audience is watching.
"It's an irreverent but charming tale about the authors of [title of show]...writing [title of show]. It includes adult language and is sprinkled with quirky, offbeat humor that theatre patrons will love. It's a show for anyone on a journey of creative self-expression, and even more so, it's a production for the young at heart," Artistic Director Jared Blount said.
With a hilarious script and a promising cast that includes Pollard favorites Seth Paden (Disaster!, Ghost: The Musical) and Erin Heatly (You're a Good Man, Charlie Brown, Rent), as well as newcomers Maddy Billings and Jordan Harris.
[title of show] emerged from the New York Musical Theatre Festival in 2004. Friends Jeff Bowen and Hunter Bell developed the story while creating another. They concluded that their conversations about their writing process were more interesting than the finished product and [title of show] was born. With the help of some friends, the pair create, write, and imagine their potential success. They enter the work — which they can't seem to give a title — into the festival despite obstacles and setbacks.
[title of show] remains perpetually unfinished, having undergone changes and re-writes with each new production. This one-act musical received a Tony nomination in 2006 and performed off-Broadway. Only been produced once in Oklahoma by the now defunct Ghostlight Theatre Club in 2010, [title of show] remains relatively obscure even within the theatre world.
"Yes, the premise is a little wacky, but it contains a story that we all identify with. Anyone with a hobby or a passion can relate to these characters. It addresses the doubts and fears that plague the creative process, but it also recaptures the dreams and imagination we had as children," Stewart said.
"It does have some obscure theatre references, but that shouldn't scare anyone off. The story is universal and inspiring. It's about friendship, chasing dreams, individuality and creativity. Oh, and it's hilarious," said Erin Heatly, who joins the cast as Susan.
[title of show] runs Sept. 2 - 17 at the Pollard Theatre, 120 W. Harrison Ave.
Following the first show of the season, they present a re-imagined staging of the holiday play they're most known for — A Territorial Christmas Carol. The Pollard's take on the Dickens classic was penned by Oklahoma playwright Stephen P. Scott. The infamous role of Scrooge was portrayed for thirty years by original company member James Ong until his untimely death in 2018. The Pollard previously filled the interim with the American version, It's A Wonderful Life: A Live Radio Play.
"Over 150,000 patrons have attended over 1,000 performances of A Territorial Christmas Carol through the years. Bringing it back is no small task. It must be larger than life; it must be special. I believe once audiences return to that magical world and see the direction it's headed, they'll feel right at home. However, our patrons are in for some delightful surprises as well. And that is what it's all about — starting fresh while keeping intact the essential spirit of the production's legacy and history," Blount said.
The Pollard Theatre continues with Clue: On Stage in March and closes out with the cult classic Little Shop of Horrors in the latter part of next June.
Visit thepollard.org