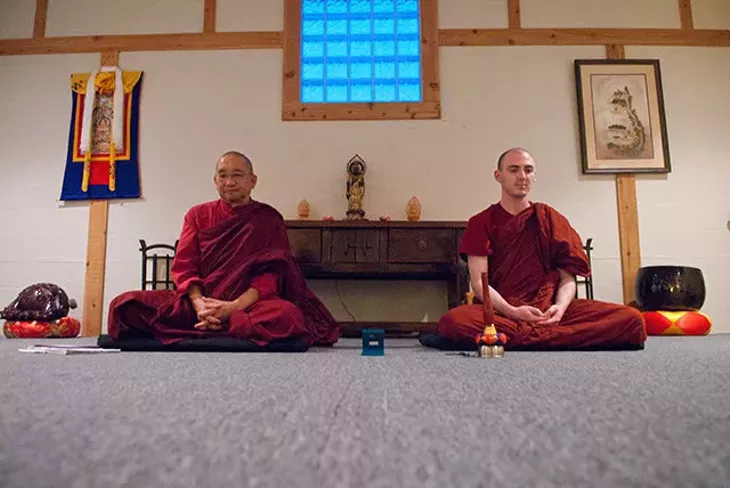 Left, Ananda and Santikaro, conduct a Vipassana Meditation at Windsong Dojo on Tuesday evening, 8-26-14. mh
"We're calculators, but we don't know how to hit 'clear.' Mediation is that clear button. It helps us approach the next problem in the simplest way," Nick Lowry, Windsong Dojo owner and sensei, said after one of his classes.
Although the dojo, 2201 NW Interstate 44 Service Road, is primarily focused on the martial arts of aikido, judo and jodo, Lowry has opened up a space at the back of the property for small groups specializing in meditation and slow movement marital arts, such as tai chi, to host classes available to the public.
Windsong Innerspace events take place seven days a week and range from prenatal yoga classes on Wednesdays at 7 p.m. to Zen Buddhism meditation and studies on Sundays at 6:30 p.m. The majority of the events are free, but some require a small fee.
On Tuesdays,Theravada monks from the Oklahoma Buddhist Vihara host a session on Vipassana meditation. Thervada is the oldest surviving Buddhist school, and Vipassana is one of the oldest mediation techniques. Mindfulness of breath combined with ruminations on actions and emotions serve as the core of the technique.
During a class on Aug. 19, two monks, Bhante Santikaro and Bhante Ánanda, dressed in crimson robes, led the mediation in the narrow backroom at Windsong Innerspace. They sat in front while attendees sat on opposite sides, facing one another. Bhante Santikaro opened the meditation class by ringing a bell and speaking softly.
"Joyfully breathe in," he said. "Joyfully breathe out."
Sitting, legs crisscrossed on Zafu and Zabuton cushions, seven class attendees inhaled and exhaled in unison. After a 10-15 minute period of silence, Bhante Santikaro spoke.
"Now think of your enemy," he said. "Wish your enemy well."
Bhante Sanitkaro continued in this manner: brief instruction and extended periods of silence.
The class is designed for beginners, although the group consisted of both laypeople and practitioners.
Several studies have linked meditation to a reduction in stress.
In a recent report issued by the Mayo Clinic, meditation was found to help gain perspective on stressors, increased self-awareness and reduced negative emotion. The report also proposed the practice might help with anxiety disorders, insomnia, chronic pain, high blood pressure and asthma.
Buddhism-based classes are not the only ones offered at Windsong Innerspace.
Like meditation, studies have found tai chi to be effective at reducing stress.
The martial art also bolsters balance and flexibility. A 12-month 1998 study by the National Taiwan University Hospital in Taipei, consisting of 38 participants aged 58-70 found at the end of the program the subjects had achieved numerous health benefits.
On average, participants experienced an 11-degree increase in thoracic and lumbar flexibility and an 18 percent increase in muscle strength of the knee extensor.
Lowry said the meditative and slow movement martial arts are important to the community because they make practitioners more responsible with their lives.
Print headline:
Mindful silence: Eastern practices like tai chi and meditation help balance the stress of life, and classes are available around the metro.