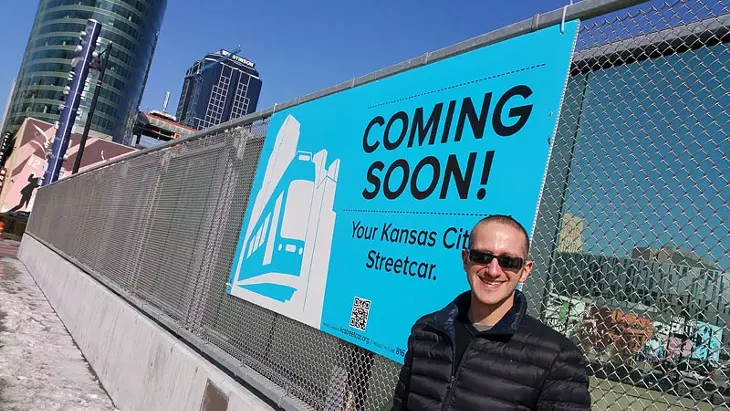 Ben Felder
David Johnson of the Kansas City Streetcar Authority offered a tour of KC's new downtown line that is similar in size to one planned for Oklahoma City.
As Oklahoma City prepares to build a downtown streetcar system, Kansas City, Mo., is laying track on its own streetcar line that offers a glimpse of what OKC might expect when it begins construction in a couple years.
David Johnson, the author of KCLightrail.com and a member of the board of directors for the Kansas City Streetcar Authority, invited me to walk the two mile line with him while I was in Kansas City this past weekend.
While Oklahoma City's system will cost $130 million and be funded through the MAPS 3 sales tax, KC's line is $102 million with a combination of sales tax, property tax and 30 percent federal funding.
Starting at the most southern end of the Kansas City line at the iconic Union Station, which serves some bus transit and an Amtrak station, Johnson and I walked north along Main Street through the Crossroads district, into the central downtown business district and the Rivermarket, where the system ends.
While Oklahoma City's system will be a one-way figure eight loop, Kansas City's system will run both ways on the same streets. Both cities will have similar miles in total track, but Kansas City's will travel a total distance half the size of OKC's line because it has two-way tracks. While that makes Oklahoma City's streetcar line technically longer, Kansas City riders can travel both directions on the same street.
"That's a horrible choice," Johnson said about a one-way loop system like the one planned for Oklahoma City.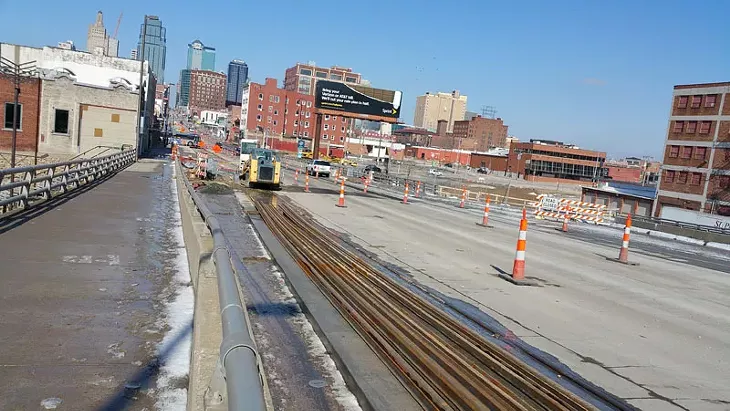 Ben Felder
Streetcar rail is being placed along Main Street south of downtown Kansas City.
Oklahoma City's route is settled, but there are still choices to make concerning fares, shelters and the car design.
Kansas City's streetcar, which will be managed by an independent agency, will be free to ride. Oklahoma City's line will be managed by the city's transit authority.
"We really wanted to eliminate the barrier to [ride]," Johnson said about offering free rides.
Like Oklahoma City, downtown KC has seen a lot of urban renewal in recent years. But, like Oklahoma City, there are still many vacant lots and sites that are prime for development.
"This has been a parking lot for like 50 some years," Johnson said pointing to an empty lot with streetcar construction in front of it. "It sat there on the market for a very long time. The streetcar comes along and the price [for the land] nearly doubles and gets snathed up by an out-of-town developer [who will build an apartment building]."
Another vacant lot one block down the road has a rendering sign in front of it showing a planned office building. The rendering includes an image of what Kansas City's streetcar shelter will look like in front of the future building, which includes a concrete sitting wall, raised sidewalk for level boarding and a simple orange shelter with a minimal glass ceiling.
The shelter appears much smaller than what some OKC transit planners have initially proposed, and when asked why it's not bigger, Johnson said he didn't see the need.
"Some would argue that [our shelter's] functionality is fairly limited, however, in a high-frequency system the [average] you will be waiting for a streetcar during peak time is five minutes and off peak you might wait nine [minutes]," Johnson said.
"Our shelter's cost less than the Max shelters," Johnson said, referring to Kansas City's bus rapid transit line that uses rail-like shelters. "And we have more weather than you have [in Oklahoma City]. For a climate like Oklahoma City I would say make it elegant, but don't gold plate it."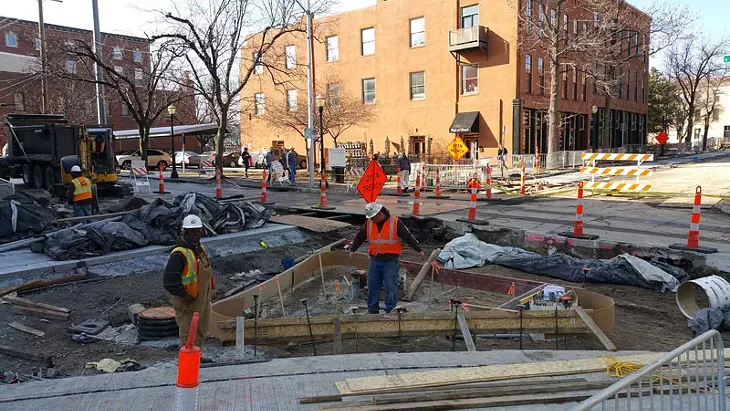 Ben Felder
Construction is well underway in the Rivermarket, one of the downtown neighborhoods that will be included on the two-mile line.
Oklahoma City's streetcar was one of several MAPS 3 projects but has had its fair share of critics. In Kansas City, voters in downtown approved a tax increase but the city faced a lawsuit challenging the funding mechanism. When asked his response to skeptics, Johnson said streetcar systems have been successful almost everywhere they have been built.
"All you have to do is travel [to streetcar cities] to see the benefit," Johnson said. "No cities regret it. There is no reason not to do it other than if we are willing to pay for it. We had an election and it solved that problem."
Critics of both streetcar systems also say the routes are too short.
"I ask people who walk it with me if they want to walk back," Johnson said. "It actually covers some ground and it's actually kind of a long walk."
While Oklahoma City's line will be a loop, both directions of the system stay within one block.
Like Oklahoma City, Kansas City has hopes of extending the initial streetcar line. Although, Kansas City had a line extension fail at the ballot last year.
Construction in Kansas City is causing traffic delays and some streets are entirely shut down, a growing pain that business owners directly feel. But there are signs along the route that advertise the coming streetcar and several storefronts display green "Downtown Streetcar Supporter" signs in the window.
During the two-hour walk Saturday that included numerous stops, Johnson showed the same kind of passion many transit advocates in Oklahoma City display when they talk about the future of public transit. Johnson also recognized several people who were passing by who shared their excitement for the new streetcar line, a scene that is similar in Oklahoma City where young urban residents often remark to each other about the joy they have watching their city grow.
"This is exciting," Johnson said. "This will change things in Kansas City."
Streetcar advocates back home hope it will change things in Oklahoma City, too.