For the 15th year in a row, the Central Oklahoma chapter of The American Institute for Architects has gifted the Gladys Kravitz that lives within each of us with the perfect excuse to prowl our way through the most interesting-looking homes and businesses in the metro Saturday from noon to 5 p.m. Refreshments will be offered at AIA headquarters, 1300 N. Shartel Ave.
The buildings may be visited in any order, which adds to the fun of the tour. Tickets are $15 each in advance or $20 the day of the tour and can be purchased online at aiacoc.org. Proceeds benefit the projects of AIA Central Oklahoma, including a scholarship fund, according to executive director Melissa Hunt.
Eric Schmid's work on the Jesus Saves Building near downtown is among the nine highlighted on the tour. Each location was designed or renovated by architects.
"The building used to house a Bible rebinding business, and the guy who owned it added 'Jesus Saves' to the front," Schmid said. "The current owner, Tarena Self, acquired the building. Together, we did a total intervention. The only things we kept were the brick walls."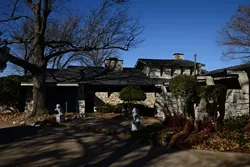 Krogstad House
3209 Robin Ridge Road
This home was built in 1964 and designed by Robert Reed, and it shows clear influence from one of his professors, Bruce Goff, at the University of Oklahoma. The home was commissioned by one of the initial developers of Quail Creek. It is now in the hands of owners Lynne Rostochil and Chuck Hodges, who bought it in 2015 and commissioned Ken Fitzsimmons, AIA of TASK Design, to enlarge the kitchen, add a master bedroom and laundry and update the patio area.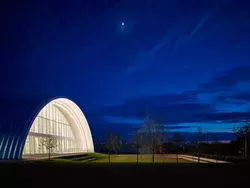 American Energy
Partners Fitness Center
911 NW 67th St.
American Energy Partners Fitness Centers is an unused basement structure that was transformed into a sports and leisure facility for employees. The resulting masterpiece houses two racquetball courts, an adaptable climbing wall, a basketball court, fitness studios, locker rooms and a cafe. Outdoors, employees enjoy a running track, courtyards, terraces and a sunken retention pond, which can be used as a volleyball court. It is an innovative, complete reinvention of an existing concrete structure to create a bold venue for health and fitness. The project was designed by Allford Hall Monaghan Morris.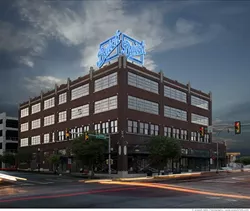 Buick Building
1101 N. Broadway Ave.
The Buick Building was completed in 1924 and was originally designed by architect Solomon Layton. It is now home to Broadway 10 Bar & Chophouse and four suites of private corporate offices, which were designed by Fitzsimmons Architects. It will soon house a breakfast and brunch restaurant. The building went through the national historic tax credit program for its rehabilitation, which began in 2012. Shortly afterward, tenants moved in and created custom spaces.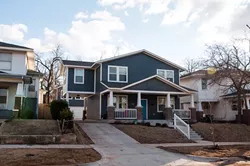 Positively Paseo Home
322 NE 15th St.
This home was designed by John Postic, AIA, of Studio Architecture and is owned by Clint and Carey Carter. It is one of the stars of a historic neighborhood within sight of the state capitol. STUDIOArchitecture worked with Positively Paseo, a nonprofit community housing development organization that focuses on revitalizing historic neighborhoods around downtown Oklahoma City, to design the house with a collage of details and styles present in Classen's North Highland Park. This project is unique because it is designed to blend in, not stand out.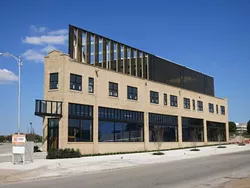 PLICO
126 Harrison Ave.
PLICO was built in 1924 by C.F. Meadors and was originally the Como Hotel. It has been vacant and boarded up for the past three decades. The project includes the renovation of the two-level flatiron building and the construction of a modern rooftop addition, boardroom and outdoor deck. The architect on the project was Elliott + Associates. After being occupied for 64 years and then boarded up for 27, PLICO is now one of the few flatiron buildings in Oklahoma City and has become the eastern gateway into downtown.
Jesus Saves
36 NE 10th
Jesus Saves is an adaptive reuse of a former bindery originally constructed in the mid-1930s. Allford Hall Monaghan Morris has brought this historic structure back to life. A contemporary spin on the original graphics and signage references the building's character and history. A new steel structure, staircase and a minimal number of walls were inserted into the building to divide it into two residences, one above and one below.
Photograph: Joseph Mills/josephm
Wanzer QuadPlex
2x2
1161 NW 57th St.
This is one of the four homes that make up the 2x2 micro-community in Meadowbrook Acres. On the ground floor is an open living space with 10-foot ceilings opening to a private courtyard. Upstairs is the spacious master suite with a spa-inspired bath and large soaking tub. Two more bedrooms, another bath and a large balcony are also on the second floor. This home features Italian kitchen systems, high-end finishes and appliances and energy efficient lighting and mechanical systems. The architect of the 2x2 project is 405architecture, and it is owned by Meadowbrook Modern.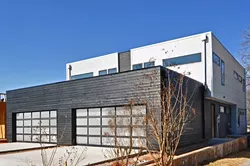 sideXside
1171 NW 56th St.
Meadowbrook Modern and 405architecture are known for creating living spaces with straightforward, modern architecture. The two homes of sideXside occupy a former single-family lot in Meadowbrook Acres, and each has an open floor plan, high ceilings and lots of gorgeous natural light.
The Arc
616 NW 21st St.
The Arc was occupied by Sunbeam Home until 2015, when it was purchased and converted to office space. The two-story midcentury modern brick structure was designed by Bill Howard, AIA of Howard, Samis and Davies. The ground floor consists of a waiting room and reception area and a series of offices. The second floor is an executive office with an enclosed deck and an open library. There is a large meeting room in the basement. The outside of the structure incorporates vertical windows in the small offices, large windows at each of the corners of the building and a mansard roof. The Arc is owned by Midtown Builders.
Print headline: Artful engineering, AIA Central Oklahoma's 2016 architecture tour includes nine buildings designed or renovated by architects.