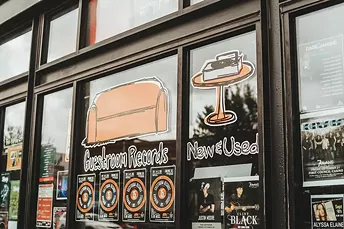 Alexa Ace
Guestroom Records, which is celebrating its 15th anniversary, has thrived in the digital era.
If you're a fan of vinyl in the Oklahoma City area, chances are you've stepped into Guestroom Records at some point.
Maybe it was the Norman location, 125 E. Main St., with its concrete floors and industrial brick wall. Or perhaps you stopped by the newer, bigger Oklahoma City location at 3701 N. Western Ave., which features a lime-green interior and lots of classic album paintings for sale by Steve Keene, the artist who designed Pavement's Wowee Zowee album cover. There might have been a Klaus Schulze album playing at the time, the store filled with dreamy orchestral music.
Both locations, of course, carry thousands of new and used records and CDs.
The story of Guestroom Records begins in Norman, with Justin Sowers and Travis Searle. While attending the University of Oklahoma in 2000, the two students lived in the same dorm, had mutual friends and worked at Pizza Shuttle together. And both loved music.
"I've just been into music for a long time, ever since I was little," Sowers said. "I started collecting records when I was probably 12 or so."
Sowers admitted that the 1995 cult classic Empire Records served as a big influence on his aspirations. At the age of 15, he decided he wanted to open a store, too. Sowers said he and Searle "fell into" the idea of opening a place together.
"I don't know that there was an exact moment," Sowers said. "We talked about what we would want to do in a record store. Then it just became talking about what we would want to do in our record store."
Vinyl solution
Their first endeavor in 2002 was a kind of door-to-door record delivery service.
"We bought some used records, took some records out of our collection and then also opened up deals with distribution companies and sort of had like a little distro in a Rubbermaid tub," he said. "We had a pad of phone numbers and just, once a month or so, we would call up and ask, 'Hey, do you have any money? We're taking the tub around tonight.'"
If someone said yes, they would take the tub to the customer's house for them to peruse. They did this, Sowers said, for about six to eight months.
Then Sowers and Searle bought a large personal collection from a collector in Norman. Their inventory outgrew the tub, so they began selling out of Sowers' garage. After about half a year, they got a call.
Suzy Thompson, who helped establish the Opolis music venue in Norman, spotted an available property on Crawford Avenue. Sowers and Searle went for it. They were both in their early 20s.
"It was terrible," Sowers said with a laugh. "It had been an auto garage, but then it'd been vacant for, like, eight months or something. But it was super cheap and a pretty decent location."
With some help from Sowers' father, they got set up and moved in by 2003. Both friends chipped in savings and large portions of their personal music collections, totaling about 5,000 CDs and records.
"I went from 2,000 records to — I think I kept 40," Sowers said. "It was like breaking up with a girlfriend. It was pretty rough. But my record collection is vastly superior these days."
They happened to open their store long before the widespread resurgence in vinyl's popularity. At the time, Napster and iTunes were going strong and chains like Tower Records were dying. Sowers called it a "dark day" for record stores. In Norman, the local Hastings, Borders and Barnes & Noble were still selling music. But Guestroom Records found quick success as the only shop in the area selling vinyl.
"It had been a long time since Norman had seen a really dedicated indie record store," Sowers said.
The store at 119 N. Crawford Ave. was a bit rough around the edges, but its proximity to Opolis meant bands would stop by often and Sowers and Searle could see shows once a week. Still, they got too big for the former garage and moved onto Main Street in 2005. The move gave the store a higher profile, Sowers said, and made them "a little more serious."
"We'll never move from there," he promised.
Alexa Ace
Guestroom Records carries thousands of new and used vinyl releases at its three locations.
Western migration
In 2007, they began planning to open another location in Oklahoma City. Sowers lived in the area around NW 36th Street and Western Avenue, but Searle actually spotted the storefront for rent on the corner. It was within their budget, so again, they went for it. Their friend Will Muir joined them.
"There were, conservatively, 400 hooks in the ceiling," Sowers said. "It was a vintage clothing store that had stuff hung everywhere."
Currently, the OKC location carries around 5,000 CDs and 40,000 records. Sowers said it's busier than the Norman location and has a different personality.
"With Norman, there's the transient student population," he said. "Every year, you've got an entire new set of people that has to find out about you and an entire set of people that moves away."
They now have a third store in Louisville, Kentucky, the result of Searle moving away and taking the inventory of a former Bricktown store with him. The Bricktown location didn't work out around the same time Searle and his partner Lisa were looking to move. They opened the Kentucky store in 2013. Muir now manages the Norman location.
Stacks of wax
The three friends also started a record label together, Guestroom Records Records, which puts out intermittent releases.
Recently, Sowers secured a rerelease of Soulful Proclamation by Messengers Incorporated for Guestroom's label. It's a 1972 album by an OKC soul/funk group. The store gave out the limited reissue during Record Store Day in 2018. Guestroom Records Records also just reissued Can't Get Past the Lips, the first album by Oklahoma indie rock band Broncho.
For the store's birthday celebration Friday-Saturday, Guestroom will have a 15 percent off sale in both locations, free beer from COOP Ale Works and giveaways. Live acts, including the Oh Johnny! Girls, Tyson Meade, Locust Avenue, Net and LCG & the X, will perform at the Norman location. Sowers said they want to show appreciation for the support the Oklahoma City and Norman communities have given them over the years.
Sowers is proud Guestroom is a place for local artists to hang posters, play gigs or have a place to "meet somebody [from] Craigslist so you can buy a guitar."
"It's not two guys in a garage anymore," Sowers said. "And then two guys in a glorified garage after that on Crawford Street. We're bringing a lot of new product in, and we have a lot of customers that depend on us and a community that depends on us as a center. We know that's important. And it's rare. And we don't take it lightly."
Visit guestroomrecords.com.