Ben Felder
Those participating in the first Trailhead OKC hike gathered to begin the 6.2 mile walk.
Downtown was their forest, sidewalks - where they existed - their trail.
Seventy five residents took part in the first Trailhead OKC urban hike on Sunday, completing a 6.2 mile journey through nearly every corner of downtown Oklahoma City.
"It's kind of an adventurous thing to go walking through [Oklahoma City]," said Addison Ball, who organized the event. "Currently, the infrastructure here in Oklahoma City is not perfect for walking and there is also a stigma that walking is not an option. But it's actually a nice thing to do."
Inspired by his travels to Europe and Asia, where walking long distances can be a normal part of life, Ball wanted to encourage the activity in his hometown. Expecting just a few people to show up, he was overwhelmed by the interest shown when a large crowd of adults, children and a few dogs, came to walk through the streets of downtown together.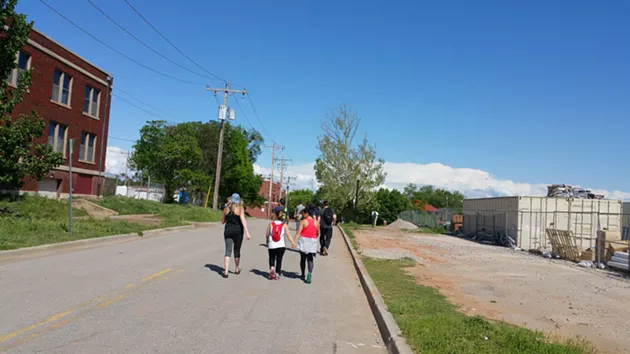 Ben Felder
Some downtown streets were without sidewalks, demonstrating the work left to do to increase Oklahoma City's pedestrian infrastructure.
"All the new shops and bars that have been popping up lately were exciting to see," said Jeff Nivitanont after completing the walk.
While the route took hikers passed abandoned buildings and vacant lots, there was also plenty of new construction and new businesses to see. The group hit every neighborhood in the urban core - Midtown, Film Row, Bricktown, etc. - and often stopped traffic when crossing the street due to the crowd's large size.
If large crowds for events like Open Streets and Better Block, events centered on pedestrian activities, show a desire by the community to nurture street-level life, then the 75 who showed up for the Trailhead demonstrated an appetite for Oklahoma City to continue its efforts to become a more walkable city. OKC has spent millions in recent years constructing sidewalks across the city, and while many of those new sidewalks were a part of Sunday's hike, there were moments when sidewalks abruptly ended, highlighting the city's unfinished work.
"We live in a car culture and hopefully by actually getting people out to walk around it will encourage more people to do it," said Addison, who plans to announce the next Trailhead event soon. "But it's also fun to explore the city."
Ben Felder
The first Trailhead urban hike completed a 6.2 mile journey through downtown Oklahoma City.