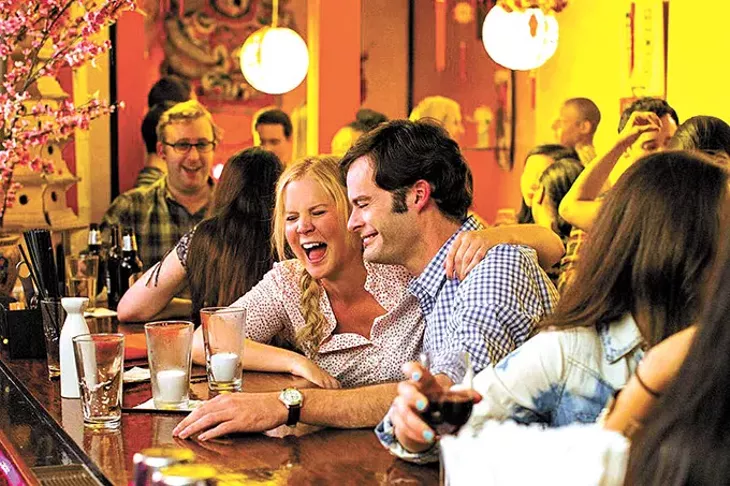 Amy Schumer plays Amy Schumer in a movie about how difficult it would probably be to date Amy Schumer. And it's great.
Anyone who has heard her standup act or watched her wildly popular and groundbreaking sketch comedy show, Inside Amy Schumer, has already met the heroine of her new movie, Trainwreck.
Amy plays a writer for a men's magazine called S'NUFF who leads the kind of lifestyle that would be idealized by such a periodical. She drinks frequently. She smokes pot. She sleeps with a lot of guys, despite being in a relationship with muscle-bound Steven (played by WWE professional wrestler John Cena).
Her reckless behavior is modeled after her father, a multiple sclerosis patient beautifully played by Colin Quinn, while her sister Kim (Brie Larsen) has gone the other way.
All of this is place setting for the main course: Oklahoma's own Bill Hader as a successful sports surgeon who falls for Amy's charmingly charmless charms. She grudgingly returns his affections, and a movie love-montage follows.
Most comedic romances are a foregone conclusion, but with director Judd Apatow at the helm of a Schumer-penned script, Trainwreck feels like it could go off the rails at any time. Part of that is down to the unflinching eye the film casts on Amy's problems. She drinks too much. She gets too high to function. As much as she cares for Hader's Aaron, she's so uncomfortable with a real emotional connection that she sees every roadblock as an opportunity to give up.
If that sounds dour, then you don't know Schumer. She's someone who can mine humor from the bleakest terrains — check out her hilarious takedown of boy bands, music that glorifies butts and even the military's issues with rape — and the wide-open landscape of a New York City romance gives her ample opportunities to pile on the laughs.
Trainwreck walks the line between serious and funny, sweet and offensive, poking holes in hoary old movie stereotypes.
Schumer hits all the right notes and goes deeper as an actress than she's usually allowed to on TV. Her comedy is physical without losing the subtle touches.
Hader, who made his name on Saturday Night Live, makes an affable, believable leading man. As Aaron, he's a smart, accomplished goofball who rightly wins over Amy. And the reality of their relationship is the reason it's easy to worry about them as the rough patches begin to appear.
NBA all-star LeBron James is a scene-stealer playing himself. He's not asked to lift any heavy dramatic loads, but he does a fine job as Aaron's cheapskate multi-millionaire best friend.
Professional chameleon Tilda Swinton is hilariously hateable as Amy's boss, and the able, seasoned comedic team of Jon Glaser, Vanessa Bayer, Mike Birbiglia and Randall Park keep the action moving with plenty of laughs.
It's a surprisingly sweet film made all the sweeter by the contrast of a heroine who can't understand why living her father's dream life isn't making her happy. She didn't choose to be in a romantic comedy, but that's what makes her a perfect fit.
Print headline: Sweet debris, Trainwreck is a hilarious look at dysfunction.